Some Fans Worry the MCU is About to Introduce Too Many New Characters
Some people could never blame Gwyneth Paltrow completely for not being able to keep up with all the MCU characters and plots. While ardent fans tore into her for not doing her homework while playing Pepper Potts, it really is like reading a mile-long who's-who list keeping up with every Marvel character.
Now with some original Avengers killed off or off to the side at the moment, Marvel is going to introduce some all-new superheroes. A few fans are getting a little worried too many new characters are being introduced too fast.
Is there a good argument made here the MCU is taking major risks with a large group of new characters? Even Kevin Feige said it was risky a while back when discussing The Eternals.
Why fans think the MCU might mess up with too many new superheroes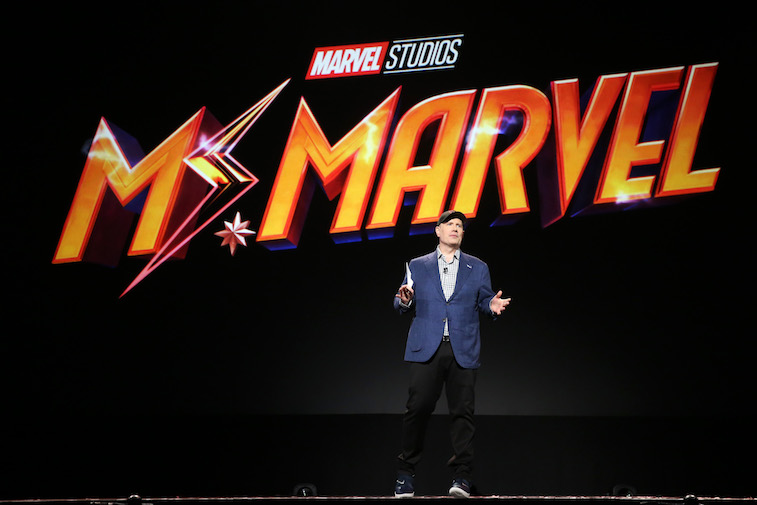 Reddit fans are doing more deep-dives recently about what the future of the MCU holds. A thread there recently noted adding more characters to the existing Avengers mix might not work as well as advertised.
One reason for that is the possible new Avenger leaders (Dr. Strange and Scarlet Witch) still need more character development in their own movies. Of course, this is already going to be happening thanks to Disney+'s WandaVision, plus an upcoming Dr. Strange movie sequel.
Within a year, though, more characters will be added to the fray, including The Eternals, and Shang Chi. In addition to them, The Fantastic Four might be soon rebooted, not including adding new MCU versions of the X-Men.
If one can argue the latter characters will never see light of day until Phase Five, adding a large ensemble in one movie might cause fans to feel a little overwhelmed.
What did Kevin Feige once say about 'The Eternals'?
Some might remember back to when Feige noted to SYFY Wire that The Eternals as being the MCU's biggest risk to date. Having him admit to this was eye-opening, if still noting the risk being worth it. Since the film tackles a large swath of history, it might feel like a standalone film anyway for a while.
Nevertheless, the film does have a large roster of new characters everyone has to remember. According to Inverse, about 10 new characters are in the movie, based off the legendary comic book stories. This is more characters than what everyone saw on-screen when the MCU first began.
Over time, though, fans have grown accustomed to the expanding cast list and keeping track of what happened to each superhero. When the Endgame finale occurred, media analysts had to create lists to keep track of who died and who was still alive.
What makes the upcoming larger character roster more interesting is Feige said (in the above interview) many characters getting movies now were supposed to be introduced earlier.
The plan to juggle multiple MCU characters was apparently in place all along
With the above Feige comment, Marvel perhaps never felt threatened about having to give character development to dozens of characters at once. They might figure the most loyal fans are up to the challenge of learning about multiple characters without feeling confused.
More casual fans might not feel the same way. If going by the above Reddit thread, not all fans are on board without giving some serious exploration of existing Avengers first.
At least this is the obvious plan over the next couple of years, with many fans on social media saying they trust Feige's judgment. By now, most people know he has the magic touch when it comes to story.
Besides, with Disney+ shows soon available, a lot of characters can be introduced or developed between two different platforms. This is already a game-changer, if streaming becoming more of the dominant force for a while in the age of COVID-19.