Some People Feel Sorry for Hunter Fieri But 'He Seems Like a Good Kid'
Guy Fieri is a household celebrity name among foodies and culinary fans across the world. Guy's fiery personality, infinite charm, and brilliance in the kitchen have made him a fan favorite on Food Network. 
Fans also love how Guy includes his family in nearly everything he does, bringing his sons on his shows and creating special series focusing on family. It's clear that he enjoys sharing his passion with his wife and sons. His older son, Hunter, also has remarkable culinary skills and hopes to follow in his dad's footsteps–and even outdo him–one day. 
Who is Hunter Fieri?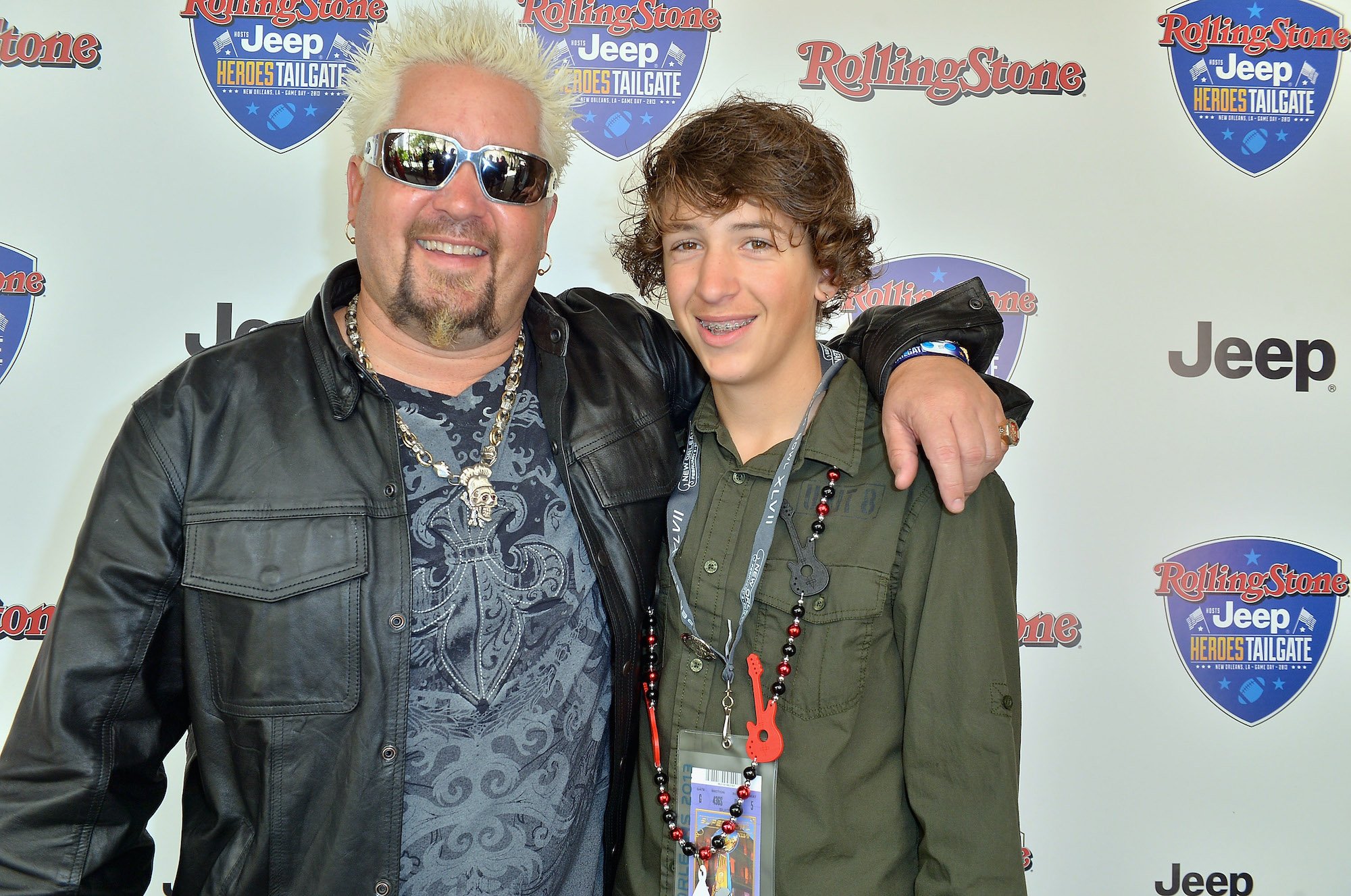 Hunter Fieri is the son of world-renowned chef, Guy Fieri. The younger Fieri was born in August 1996, and attended The University of Nevada Las Vegas like his father. His dad's alma mater status probably influenced Hunter's decision, but he also chose it for its stellar hospitality program. 
When Hunter graduated from high school, he spent a month in Europe with his dad. They made 13 stops across the continent, including Greece, France, Italy, and Switzerland. The trip appeared on a five-episode special called Guy and Hunter's European Vacation. 
Hunter didn't always plan to become a chef like his dear old dad. When he was younger, he had dreams of becoming a Supercross racer. He loves motorcycles, and enjoys being active outdoors. He also played basketball and soccer. 
Is Hunter on his dad's shows?
Hunter and his dad, Guy, have a fantastic relationship. They are close and have a lot in common, although Hunter is a bit more laid back than his dad. Guy has a flair for the melodramatic, with a loud, boisterous personality that is incredibly infectious. His son is quieter, with a calmer presence, preferring to observe rather than be observed. 
Hunter has appeared on several of Guy's television shows. He appeared as a co-host and as a judge on the popular game show, Guy's Grocery Games. He also joined his dad on Guy's Big Bite, Guy's Family Cruise, and Guy Fieri's Family Reunion. He enjoys working closely with his dad, but he aspires to be more than just "Guy Fieri 2.0." He wants to create something that is all his own, while still showing the influence his dad has had on him. 
Some Food Network fans have weighed in on Hunter's television appearances. They think he's definitely likable, but they question his drive and talent. One Redditor said, "Yeah, I love Guy, but his kids definitely didn't inherit his personality or his charisma." Another added, "He seems like a good kid. Nothing against him at all, I just don't think he is television material."
Still other comments on Reddit showed how some fans feel sorry for the younger Fieri, trying to live up to his dad's enormous name. "Yeah, I'm sort of sorry for the kid, because he grew up in the lengthy shadow of his father, and he doesn't seem to have the same drive, talent, or skill set, not even close." 
Does Hunter plan to follow in his dad's footsteps?
Although Hunter had different interests when he was younger, he definitely plans to follow in his dad's footsteps–to some extent. He actually plans to do even more than his dad, joking that he has to "one-up dad, of course." 
The 24-year old aspiring chef has plenty of experience under his belt. First, there's all the practical experience that comes from growing up with a dad who is a phenomenal chef. In addition to that, Hunter interned under Caesar's group during his time at UNLV. Caesar's group includes restaurants owned by acclaimed chefs like Bobby Flay and Gordon Ramsay. 
In high school, Hunter began really honing his culinary skills in high school with a side job. He had a mobile pizza trailer called Kulinary Gangstas, which specialized in Neapolitan pizzas. He and a friend created unique pies that were quite a hit with the public, and they enjoyed two successful years in business. 
Hunter is proud to make his own way in the food industry, despite his famous dad's connections. Guy doesn't believe in nepotism, and says that he never pulls any strings to connect Hunter with his famous friends. In fact, Hunter reached out to Gordon Ramsay and nearly spent a semester abroad, training under the distinguished chef. Unfortunately, there was a problem with his course credits being approved, and he wasn't able to go during college. 
The young chef seems to have a solid plan for developing his culinary career. He plans to have restaurants, cookbooks, television shows–the whole nine yards. Hunter definitely wants to set himself apart from his dad, but he wants to make sure his dad's influences are evident in his own creations.