What Song Made Marilyn Manson Famous?
Marilyn Manson has been a celebrity staple in the shocker-rock genre since the 1990s. The star has been making headlines for decades, with controversies that are just as big as his hits. It can be hard to imagine a time of rock 'n roll without him — especially since he drew his stage name from two other very public figures, only increasing his sense of familiarity. But before he was drawing crowds and sparking protests, Brian Hugh Warner was just a performer with a troubled childhood, desperately awaiting his big break.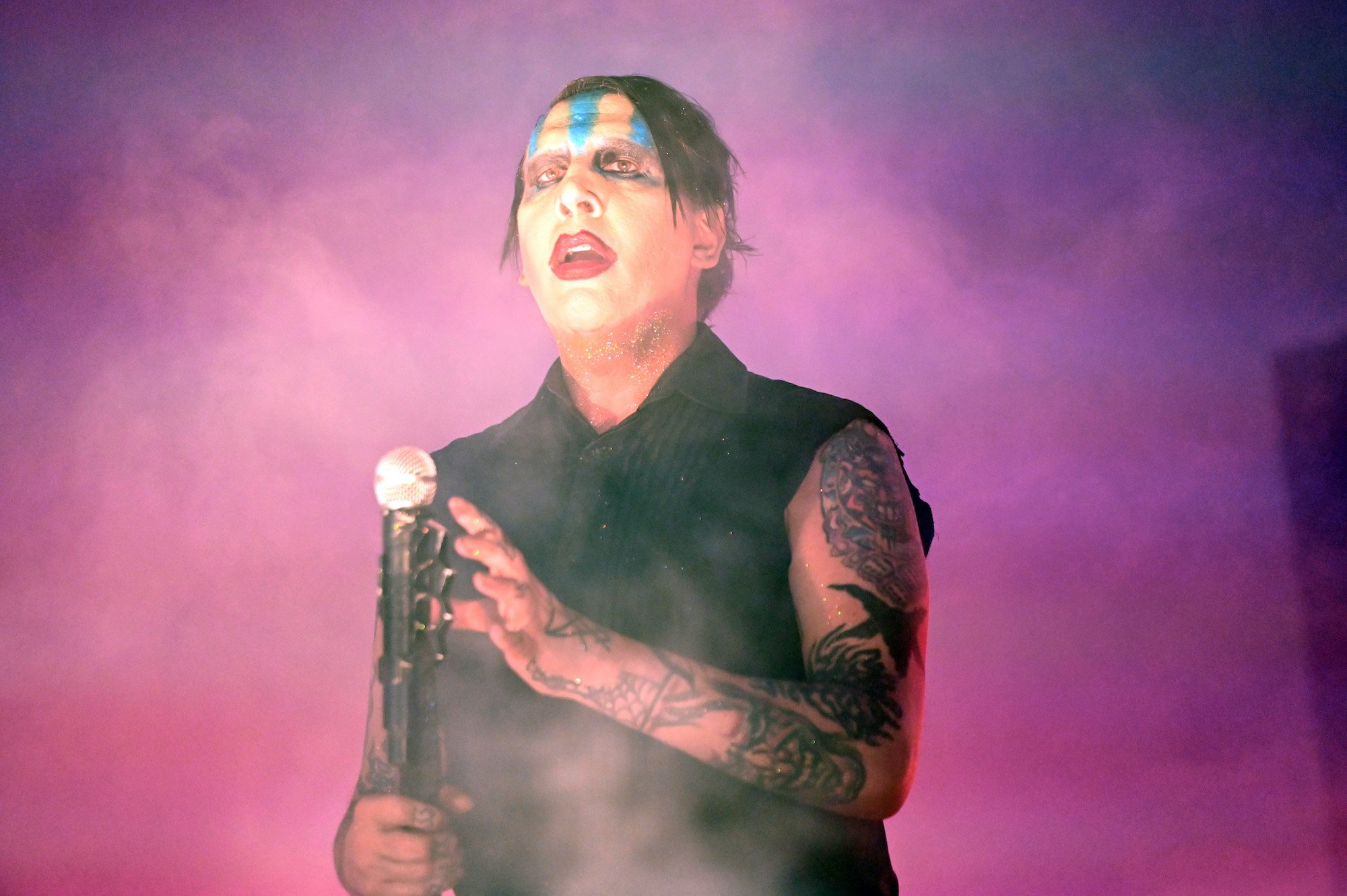 Manson channeled childhood trauma into rock music
According to Biography, Manson's rise to stardom was even harder than most. As a child, he experienced repeated sexual abuse from a neighbor. Confronting this horrific trauma on a daily basis caused the boy to act out and feel isolated from his peers. His family's post-high school move to Florida provided a semblance of a fresh start, but a lot of irreversible damage had already been done; understandably, Manson continued to struggle with coping. 
It was at his community college, Broward, that Manson finally found an outlet. He got involved with the journalism department and eventually began writing, giving him the opportunity to interview big stars in the rock genre. In an interview with The Guardian, however, Manson shared that the very first star he wrote about was himself. At the time still going by Brian Warner, he told the story of Marilyn Manson — a prolific rock performer. At the time, he hadn't written a single song. 
According to the interview, Manson "created a fake world maybe because [he] didn't like the one [he] was living in." It would appear that he was not just a journalist, but a fortune-teller. Before long, Manson appeared as a star — just as advertised. 
A famous cover helped the singer gain a cult following
No longer willing to sit on the sidelines of the music scene, Manson started his own band and signed with a record label in 1993. The company, Nothing, was owned by Trent Reznor, a fellow rocker who Manson had previously interviewed. His first album, Portrait of an American Family, achieved more success than Manson had ever previously experienced. Still, it was a follow-up EP that would take things to the next level. 
Just one year after his album release, Manson put out Smells Like Children. The sixteen-track record featured a cover of Eurythmics' "Sweet Dreams (Are Made of These)," which was presented as the EP's first single. His wildly popular take on the pop-y original earned him a VMA nomination for Best Rock Video. Listeners became very interested in the dark voice behind the familiar song, and Song Facts credits the cover as "[paving] the way for Manson's next record, Antichrist Superstar, to debut at #3 on the US albums chart."
The future of Manson's career remains uncertain
Manson has continued to release albums and tours, decades after he first debuted his stage performance. From the beginning, however, the star has been plagued by alarming allegations of abuse and misconduct. In recent months, the onslaught has only intensified, with many fans and even his own record label distancing themselves from the controversial figure. 
Most notably, Vanity Fair reported on the brave testimony from Manson's ex, Evan Rachel Wood. The actor recounted years of alleged abuse and quickly saw her experiences echoed by many other women. Manson took to Instagram to deny the accusations.