A Song Paul McCartney Wrote for Peter Asher Knocked The Beatles' 'Can't Buy Me Love' off the Charts
Paul McCartney wrote a song for Peter Asher, and it did so well that it knocked The Beatles' "Can't Buy Me Love" off the charts. Asher got to know Paul well when he started dating his sister, Jane, in the early 1960s. Thanks to Paul and his song, Asher's career skyrocketed.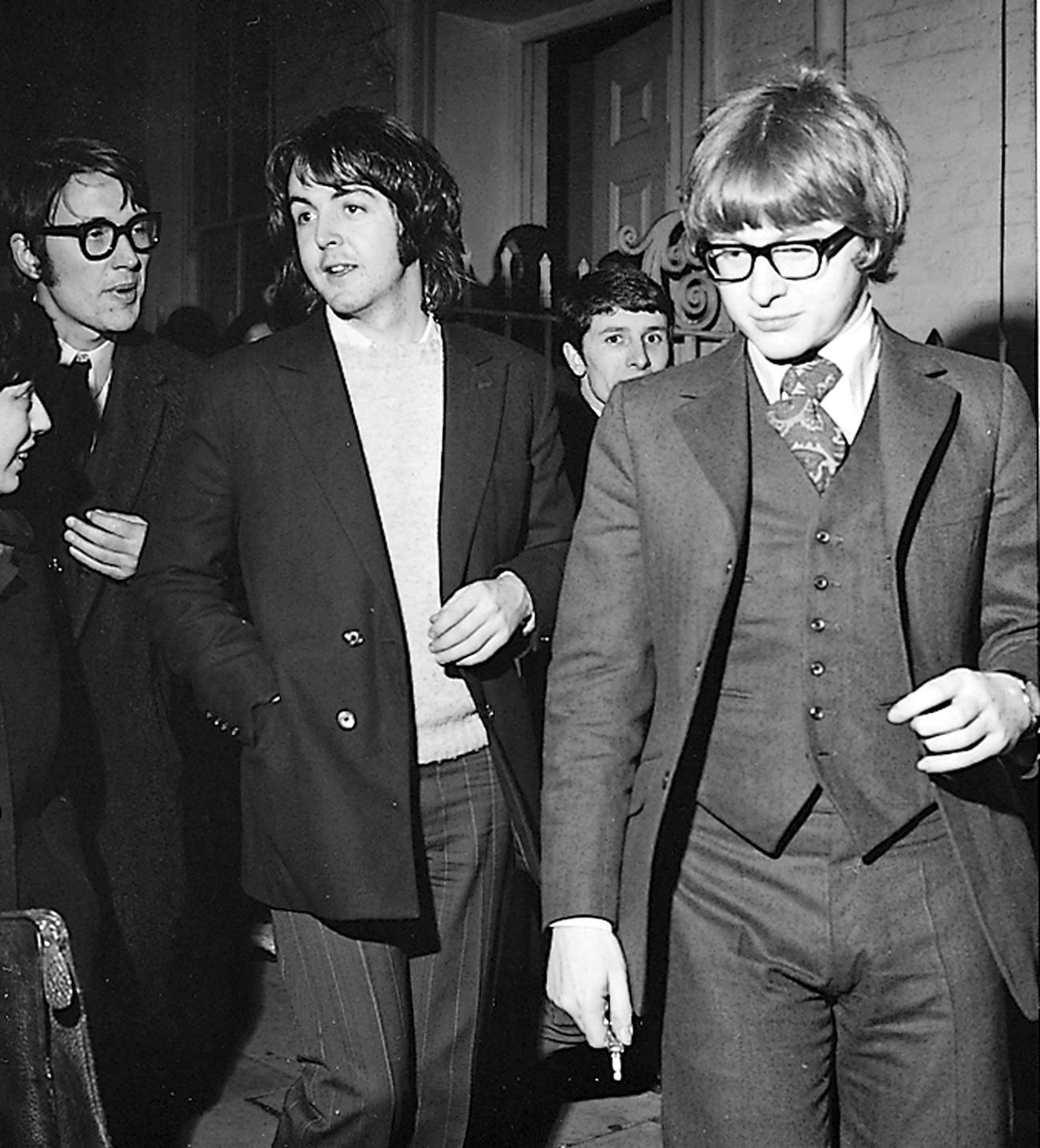 Paul McCartney wrote many early Beatles songs while living with Peter Asher and his family
In The Beatles' early career, their manager, Brian Epstein, arranged for them to move into a London apartment. However, Paul thought it was miserable.
In The Lyrics: 1956 to the Present, Paul wrote that his then-girlfriend Jane Asher and her family must've invited him to live in their fancy home in Marylebone after hearing him complain that the apartment "had no soul." Paul wrote, "This gesture was in the long tradition of giving a garret room to a starving artist."
Paul lived in the attic next to Asher. He said it was a real eye-opening experience because he'd never been around classy people. Paul wrote, "The family knew all about art and culture and society, whereas I'd never known anyone who knew about going for auditions, or had an agent.
"It was really nice staying in that house. Lots of books to read, art on the walls, interesting conversations; and Margaret was a music teacher. It was at least a home, and I'd sorely missed that since I'd come down from Liverpool and since my mum had died six or seven years before."
Living at the Ashers,' Paul wrote many of The Beatles' early songs, including one for Jane, "And I Love Her." Asher got to see the singer-songwriter in action.
Asher told Forbes, "It all goes back to Paul living at our family home in London, when he was going out with my sister. He and I shared the top floor. He was in the guest bedroom. We obviously got to know each other, and I heard a number of songs in various stages of being written."
Another song Peter heard Paul work on was "A World Without Love."
Paul McCartney gave Peter Asher a song that knocked The Beatles' 'Can't Buy Me Love' off the charts
In The Lyrics, Paul wrote that "Can't Buy Me Love" was a big deal for The Beatles. It reached No. 1 in the U.K. and the U.S. However, it was knocked off the No. 1 spot in the U.K. by "A World Without Love," a song Paul wrote for Asher.
"I'm pretty sure it made number one in the U.S. too," Paul wrote. "That was a song I'd written when I was sixteen at home in Liverpool.
"I didn't think it was strong enough for The Beatles, but it did pretty well for Peter and Gordon's career. The song starts off with the line 'Please lock me away,' and when I would play it, John would respond, 'Yes, okay,' and we'd joke that that was the end of the song."
Peter told Forbes that after The Beatles' label, EMI, signed Asher and Gordon Waller, Asher remembered that Paul and John had the unfinished "A World Without Love." He asked Paul for the song, but the bassist had to finish the missing bridge.
"When the session was just a few days away, I had to nudge him," Peter said. "Finally, he went into his room for an amazingly short eight minutes and came out with the bridge, 'And so I wait, and in awhile/ I will see my true love smile.' It went on our list, and that was that."
Asher has Paul's handwritten lyrics of 'A World Without Love'
In 2018, Asher told Express that Paul wrote the lyrics and chords of "A World Without Love" on a piece of paper for him. Asher joked that if things in the music business turn sour, he'll sell them for a large sum.
"You'd better believe I've locked it away in a safe for the time when the music business goes completely to hell and I can run to Sotheby's like the wind," he laughed. Joking aside, Asher said, "I owe Paul a huge debt of gratitude and it changed my life forever."
Asher said he and Paul don't see each other very often, but when they do, it's "very friendly." The last time they met, he recalled, "I said to him 'Do you realise it's 50 years since you gave us 'World Without Love'? If I've forgotten to thank you in the interim, let me thank you now. Who knows what my career would be were it not for that song?'"
Paul was glad that Peter and Gordon got the success they deserved with "A World Without Love." However, he definitely learned to make sure the songs he gave away and Beatles tunes didn't come out simultaneously.