'Sons of Anarchy' Was Not The Original Title and 10 Other Fun Facts About the FX Hit
Sons of Anarchy was a big hit on FX for seven seasons, becoming the cable network's most-watched drama. It also spawned the popular sequel Mayans MC. The story of Jax Teller (Charlie Hunnam) and the SAMCRO crew was the epitome of badass TV during its run from 2008 to 2014. Here are 10 fun facts about the beloved outlaw biker series.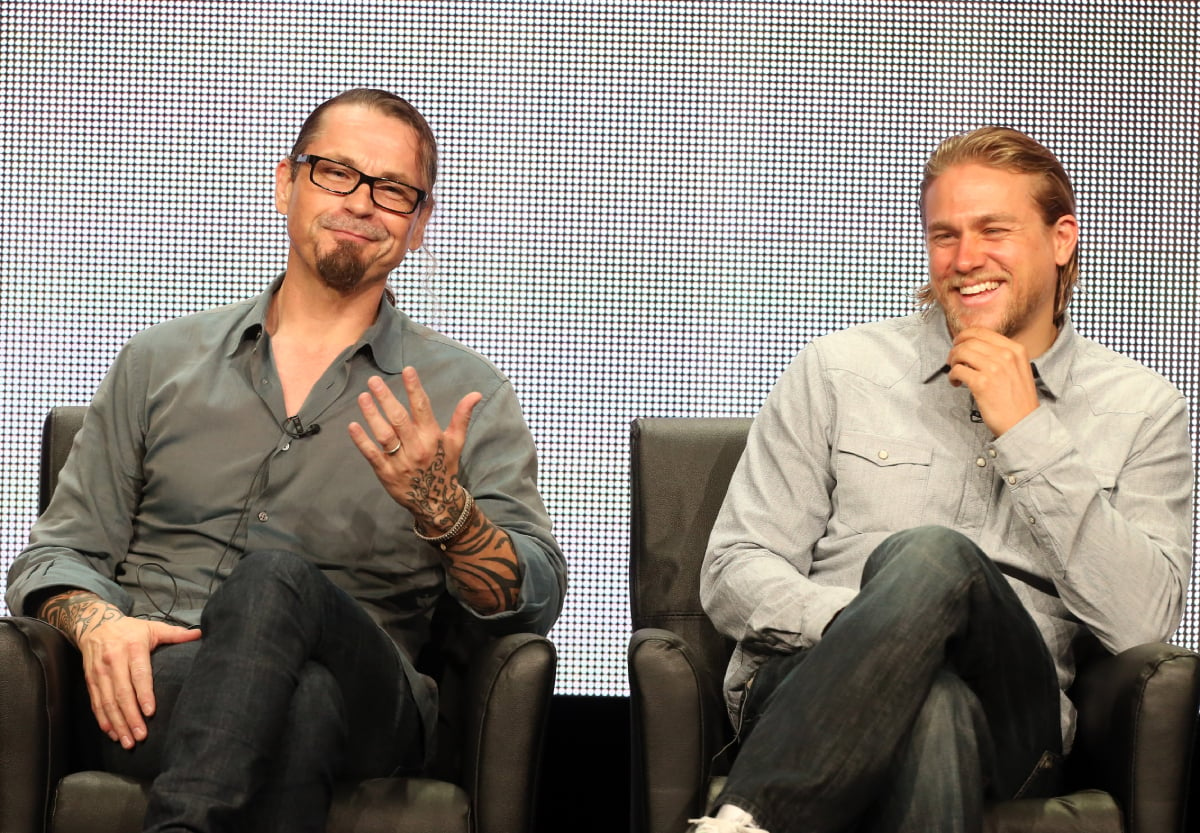 10. 'Sons of Anarchy' was not the original title
It's hard to imagine the show with any other name. But there was a time when the series didn't have the title Sons of Anarchy. Originally, the show was called Forever Sam Crow.
9. Kurt Sutter wrote the part of Gemma for his wife
Sons of Anarchy creator Kurt Sutter married Married…With Children star Katey Sagal in 2004. Since then, they've collaborated on several projects. Fans know Sagal as Gemma Teller, and that's because Sutter had his wife in mind when he created the part.
"If you asked him, what he would tell you probably is when he came into my life, I already had two children, and he's their stepparent, and I was very protective of my children," Sagal told NPR.
"He hadn't been around that kind of energy quite so much, so I think that's what was the springboard for Gemma. It was not so much the heinous things she does; it was that at her core, her motivation is her children, is her child. At any cost, she will protect him and her club."
8. Creative cursing
FX wouldn't allow the F-word in Sons of Anarchy scripts, so characters used "Jesus Christ" instead. But that substitution didn't work for one FX exec.
"There was one season where they were, like, counting my 'Jesus Christs' because somebody on the Fox food chain thought it was so blasphemous," Sutter told Entertainment Weekly.
7. 'Sons of Anarchy' and Shakespeare
According to Sutter, Sons of Anarchy was influenced by Hamlet. Both stories centered around family. Jax was the "Hamlet" character who was caught between pleasing his mom, Gemma and stepfather, Clay (Ron Perlman), and honoring his dead father John, one of SAMCRO's founding members.
"I don't want to overplay that but it's there. It's not a version of Hamlet, but it's definitely influenced by it," Sutter explained.
6. 'The Shield' connection
Before he created Sons of Anarchy, Sutter was a writer and executive producer on The Shield. Fans who watched both series probably noticed a lot of familiar faces because Sutter had some actors from The Shield appear on SOA.
They included CCH Pounder, Kenny Johnson, Benito Martinez, Ally Walker, Katey Sagal, Jay Karnes, David Rees Snell, Emilio Rivera, Walton Goggins, Jeff Kober, and Kurt Caceres.
5. Walton Goggins convinced Kurt Sutter he could play Venus Van Dam
When Sutter invited the former cast members from The Shield to make a cameo, he was originally against Goggins appearing. According to Goggins, Sutter didn't think the audience would accept him as anybody else.
"We went back and forth, like how would we do it? I wouldn't want to do it as anything that would be compared to The Shield," Goggins told Entertainment Weekly.
RELATED: 'Sons of Anarchy' Star Charlie Hunnam on Returning as Jax Teller — 'I Would Never, Ever Put That Cut Back On'
"And then I just said to Kurt, 'I'll do it if I can be a transgender. I would like to play a transgender.' He said, 'No, you wouldn't.' I said, 'Oh yes, absolutely, I would. Let's do it as a transgender.'"
For six episodes, Goggins played the role of Venus Van Dam and began a romance with Tig. The name was a play on Goggins' Shield alias Cletus Van Damme.
4. Ron Perlman wasn't the original Clay Morrow
When they shot the pilot episode, actor Scott Glenn played the role of Clay Morrow. But later, Sutter decided to go in a different direction. Perlman eventually took over the role, and they reshot Clay's scenes.
3. Tig Trager's phobia
Kim Coates appeared in all 92 episodes of Sons of Anarchy as Tig Trager. One of his character traits was that he suffered from pediophobia, AKA the fear of dolls. In real life, Sutter has the same phobia.
2. From 'Sons of Anarchy' to 'Yellowstone'
During the first two seasons, Taylor Sheridan played the role of David Hale, Charming's Deputy Chief of Police. But in the season 3 premiere, he was killed off the show.
The reason they killed Hale was that Sheridan wanted to move onto other projects. Sheridan's exit from SOA ended up inspiring him to create the hit Paramount drama Yellowstone.
1. The CEO of FX wasn't a fan of the violence
It's no secret that Sons of Anarchy had some insanely violent moments. But according to Sutter, it was always "organic" not "gratuitous."
"When we're f**king burning a tattoo with a blowtorch off a guy's back, that is one of the most extreme decisions these guys may be making, but it's real to the world," he told GQ. "I love being able to do things like that, and playing in worlds that allow me to do that."
John Landgraf, CEO of FX, wasn't always on board with Sutter's ideas, though.
"It's a violent world and a violent show. He's portraying really tragic, dark consequences of violence. Kurt wants to show it in very graphic detail, and I want to leave more to the imagination," Landgraf said.
Sons of Anarchy is available on Hulu.