'Sons of Anarchy': Charlie Hunnam Was Kicked out of a Bar for Similarities to Travis Fimmel
Sons of Anarchy star Charlie Hunnam and Rust actor Travis Fimmel have some striking similarities beyond a remarkable jawline frequently covered by a bushy beard. As such, the two apparently get mistaken for each other from time to time. Perhaps most notably, Hunnam revealed he was once ejected from a bar for his resemblance to Fimmel.
How did Hunnam react? And what does he do when fans ask him for Fimmel's autograph by mistake?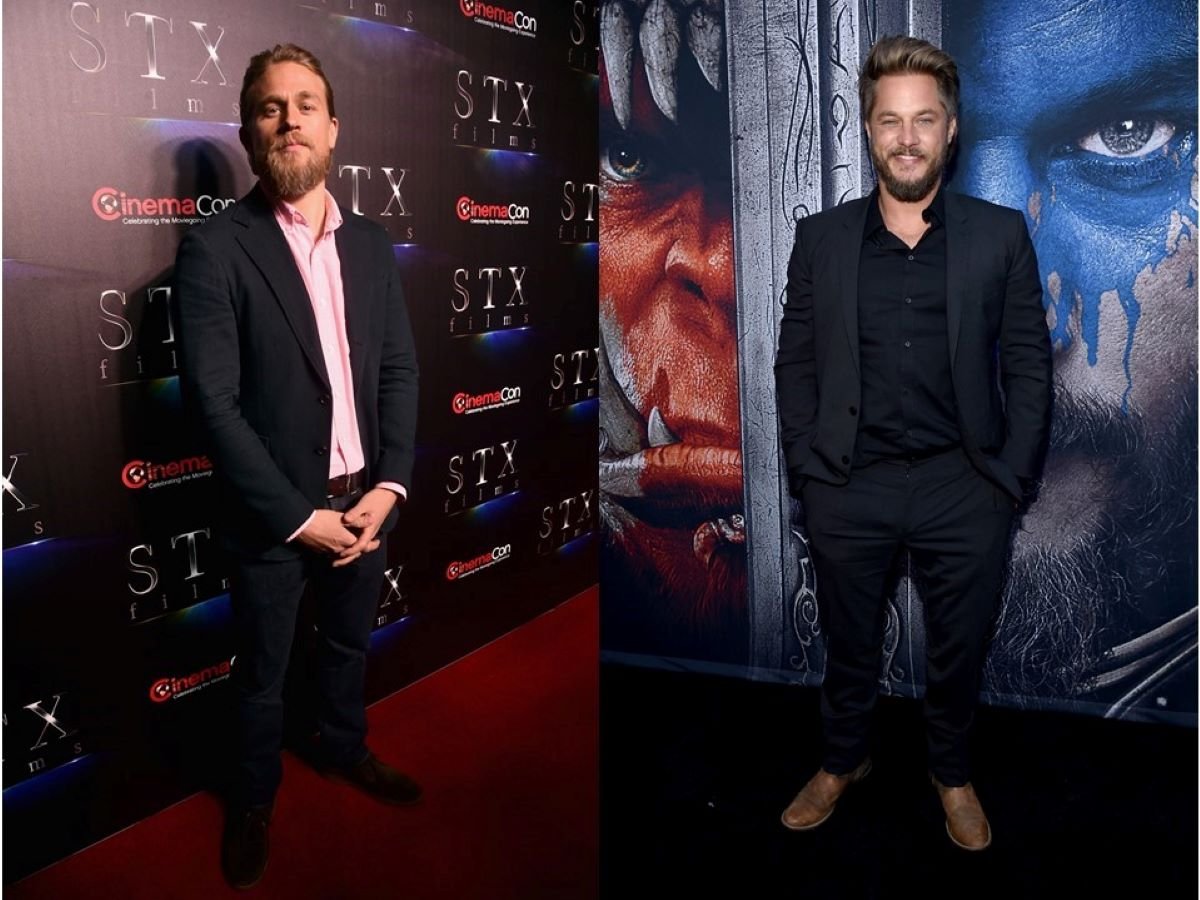 Charlie Hunnam said he often gets mistaken for Travis Fimmel
In an interview available on YouTube with a fansite called "Vikings Brazil," Hunnam admitted that he often gets mistaken for Fimmel. But he also shared another fun fact – the two actors were almost neighbors. They lived about three blocks from each other for 10 years.  
"I know him a little bit. Not so well," Hunnam said of Fimmel. But he dished a little more about what he knew of Fimmel's behavior. "He's, like, a little crazier than I am. You know? He loves to have a drink."
Living only blocks away from each other, having similar features, and working in the same industry, the two were sure to show up in some of the same places. And apparently, that once got Hunnam in a bit of trouble.
While beginning the story, he laughed, "I'm really giving you some gossip now."
What did the bartender say when Charlie Hunnam walked into a bar? 'Nah uh, dude. Get out!'
The Sons of Anarchy star shared how Fimmel's drinking antics caused trouble for him when he was asked to leave a bar he'd never even be to. It seems he was confused for the Vikings star and as soon as he walked in, he was told, "Nah uh, dude. Get out!"
He said he was puzzled at first, and they explained: "We told you you're not welcome in here anymore."
When he told them he'd never been there before, he said they thought he was just messing around. And he wasn't able to convince them to let him stay.
While Hunnam apparently left the bar without realizing what happened, a friend pointed out that he'd been mistaken for Fimmel. And that wasn't the only time. "I get mistaken for him all the time," Hunnam noted.
Charlie Hunnam signed autographs as Travis Fimmel
While talking to Vikings Brazil, Hunnam shared he so frequently is mistaken for Fimmel, he has had fans ask for an autograph and then hand him a picture of Fimmel. So, how does he respond to receiving requests from Fimmel's fans?
He said, "I've signed pictures of him before," before clarifying he doesn't sign his own name. He admitted, "I sign 'Travis.'"
How many fans are walking around showing off pictures of Fimmel that were actually signed by Hunnam? The world may never know.
Travis Fimmel was cast in 'Rust' before production halted
Currently, Fimmel is working on the Western Rust with Alec Baldwin and Jensen Ackles. The movie's progress was halted when two people were shot by a loaded prop gun during rehearsals. Tragically, 42-year-old director of photography Halyna Hutchins was killed in the accident.
Production on the film was halted for the duration of the incident's investigation. Though Fimmel hasn't spoken publicly about the shooting at this point, he notably isn't very active on social media where other stars paid tribute to Hutchins. So, most fans probably won't be surprised to not hear from him there.
Prior to Hutchins' death, TV-lovers were eager for the movie's release due to the intrigue of seeing Ackles and Fimmel acting alongside each other. But others would much rather see Fimmel and Hunnam cast as confusingly similar brothers.
RELATED: Which 'Sex and the City' Hunk Might Have Been Modeled After a 'Vikings' Actor?