'Sons of Anarchy' Creator Kurt Sutter Confirms the Real Motivation Behind Jax Teller's Final Choices
Sons of Anarchy creator Kurt Sutter just addressed some of the biggest questions surrounding his hit biker series. Taking to Twitter, Sutter answered a slew of questions from fans about the show, offering a rare look into some of the most significant developments in the drama. From Jax Teller's (Charlie Hunnam) final choice about his sons to why it took him so long to turn on Gemma (Katey Sagal), here is what Sutter had to say about Sons of Anarchy.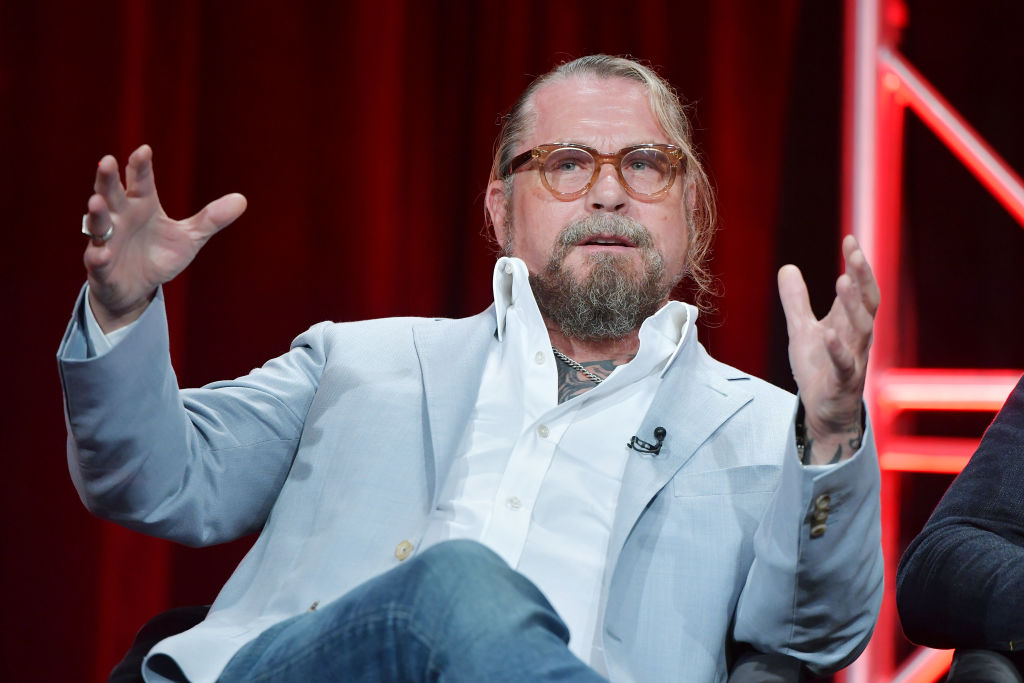 Sutter talks about Jax's difficult decision
For the majority of Sons of Anarchy, Jax kept a detailed account of his thoughts in a series of journals. He always meant to pass on these entries to his sons, Abel and Thomas, so that they could better understand the decisions he made.
But in the final season, Jax burned the journals and informed his ex, Wendy (Drea de Matteo), that he did not want his boys to grow up idolizing the outlaw life. He then settled all of the club's debts before giving up his own life.
During Sutter's Q&A session, a fan asked him if Jax's decisions in the final season had anything to do with Tara's (Maggie Siff) death at the end of season 6. Sutter revealed that "many things factored into that fateful decision," including Tara, the club's activities, his father's death, and what happened with Gemma.
"The mayhem had to end with him. He did not want his sons to follow in his path," Sutter noted. "It's why he told Wendy to tell his boys that he was a monster. A murderer. He never wanted them to romanticize the life the way he did. He wanted his Abel and Thomas to create a new branch In the Teller family tree. An honest, peaceful branch."
Sutter confirms a 'Sons of Anarchy' theory about Jax's death
Speaking of Jax's death, fans have long pointed out that his final moments were very symbolic of Jesus's death in the bible. As Jax rode his Harley head-on into a semi, he spread his arms open wide, a position that could be interpreted as a sign of the cross.
The cameras then panned to the side of the road where a group of crows is shown eating bread around a puddle of blood. This scene is practically the same shot as the very first scene in season 1, which also featured a group of crows eating roadkill at the side of the road.
A fan asked Sutter if the final moments of the series were meant to be a "biblical reminder." The Sons of Anarchy creator hilariously confirmed that the symbolism was deliberate and was meant to show how much Jax sacrificed for his family and club.
"Reminder? Arms outstretched as the son dies, thorns, bread, blood…" Sutter shared. "If I hit you over the head any harder with Christian symbolism, the Vatican would've sued me for copyright infringement."
What about Jax's devotion to Gemma?
During the first six seasons of Sons of Anarchy, Gemma continuously put things in motion to protect her family and the club. More often than not, her actions created more chaos than solved problems.
In season 6, things got so far out of hand that Gemma murdered Jax's wife because she wrongly thought she was going to snitch on the club. Yet Jax continued to trust Gemma until the very end.
One Sons of Anarchy fan asked Sutter why it took so long for Jax to realize that his mom was a dangerous influence. In response, Sutter revealed that Jax trusted Gemma all of those years because she was his mother.
"Jax trusted Gemma because, no matter how much chaos she created, she was his f—— mom. And he knew her maternal love was strong and genuine," Sutter shared. "That's why he trusted her. That's why Gemma knew when Jax found out about the betrayal, he could only do one thing. The outlaw thing. In the rose garden."
After learning that Gemma was the one who killed Tara, Jax did the unthinkable and killed his own mom. This put into motion Jax's final plan, which was to get his sons to safety and square the club away.
Sutter dishes on potential 'Sons of Anarchy' sequel
Apart from answering some of the show's biggest questions, Sutter also teased that he has a Sons of Anarchy sequel in mind.
Sutter revealed that he has always viewed the franchise as having four parts. Following the release of Mayans MC, Sutter hoped to develop a prequel titled The First Nine and a sequel that would focus on Jax's sons.
"I had this revelation between SoA and Mayans," Sutter stated. "That the SoA mythology would be four shows. Sons of Anarchy, Mayans M.C., First Nine and Sam Crow. First Nine would be a limited series. Nine episodes. It would end before we began to tread on history we created in Sons. Sam Crow would be the fate of Wendi, Nero, Abel and Thomas."
Unfortunately, Disney fired Sutter from Mayans MC last year. He is still under contract with the studio, but his future remains uncertain. Unless Disney gives up the intellectual property to Sons of Anarchy, Sutter cannot move it to another studio.
Fans can stream all seven seasons of Sons of Anarchy on Hulu.