'Sons of Anarchy' Creator Kurt Sutter Teases Sequel, Could Charlie Hunnam Return as Jax Teller?
Kurt Sutter is opening up about Sons of Anarchy like never before. It has been six years since FX's hit biker series ended, yet fans are still looking forward to whatever Sutter has planned next. Although he is no longer a part of the show's spin-off, Mayans MC, Sutter recently teased that he has a Sons of Anarchy sequel in mind. What are the chances that Charlie Hunnam returns as Jax Teller in Sutter's next chapter?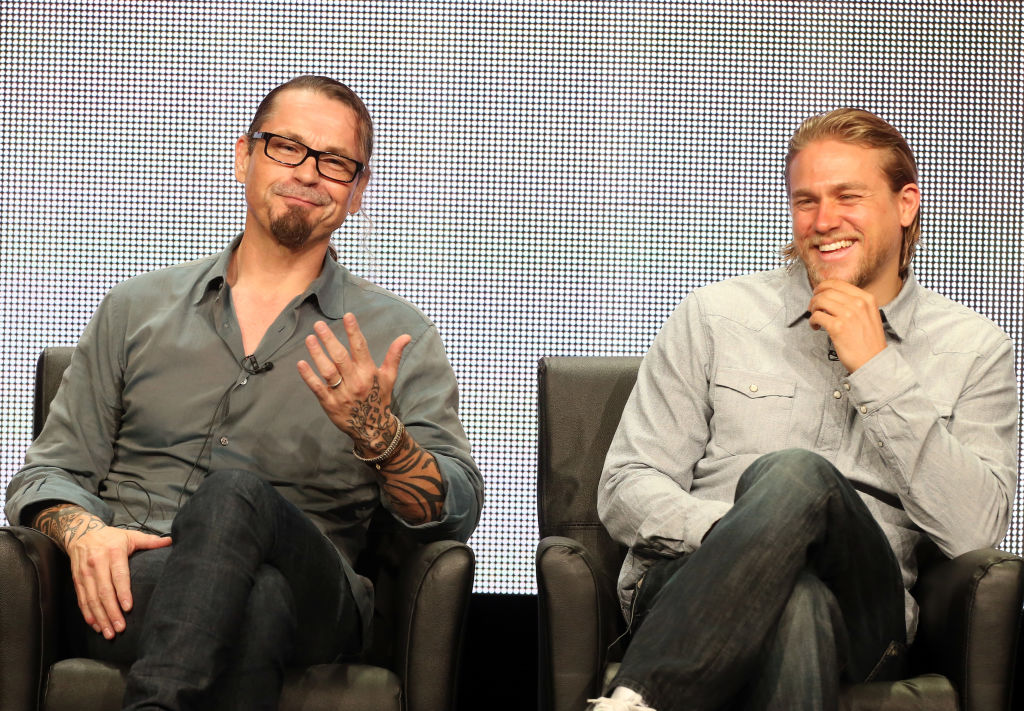 Sutter reveals plans for the 'Sons of Anarchy' universe
After moving forward with development on Mayans MC, Sutter confirmed that he always envisioned the Sons of Anarchy universe as being composed of four different shows.
Following Sons of Anarchy and Mayans MC, Sutter revealed that the third series would be a prequel, First Nine, while the fourth would take place after the events in Mayans MC. The First Nine would explore the biker gang's origins while the last chapter would follow Jax's sons, Abel and Thomas.
"I had this realization between SOA and Mayans. That the SOA mythology would be four shows," Sutter shared on social media.
At the end of Sons of Anarchy, Jax settled all of the club's debts in stunning fashion before giving his own life. He also instructed Wendi (Drea de Matteo) to raise his boys thinking their father was a murderous criminal.
Jax hoped that this would steer them away from the outlaw life, a goal he pursued before meeting his own end. Sutter has not revealed what he plans for the sequel, but it sounds like one of Jax's sons might find their way back into the club.
Sutter hosts Q&A session with fans
Taking to Twitter, Sutter recently hosted a special Q&A session with fans, who asked him a slew of questions related to Sons of Anarchy and the future of the franchise. Last year, Disney fired Sutter from Mayans MC, leaving his co-creator, Elgin James, to helm the spin-off by himself.
With Sutter no longer a part of the franchise that he created, he addressed the possibility of making a Sons of Anarchy sequel. According to Pop Culture, Sutter admitted that the chances of a sequel are not good. He is, however, open to the idea.
"At this time, the prospects are not looking great," Sutter shared. "I don't own the Sons of Anarchy IP, Fox/Disney does. But I never say never.
It is unlikely that Disney will give Sutter the intellectual property to Sons of Anarchy, which is the only way he can pursue a sequel. The series remains one of FX's most popular dramas and has been highly lucrative for the studio.
Fans, of course, were very disappointed by the comments. Without Sutter at the helm, it is unclear if FX will release anything else related to Sons of Anarchy. But the good news is that Sutter is open to the idea of making a sequel if the opportunity presents itself.
Will Hunnam return as Jax Teller in a 'Sons of Anarchy' sequel?
The big question, of course, is whether or not Hunnam will return to reprise his role as Jax. Charlie Hunnam's character gave his life at the end of Sons of Anarchy, so anything set after those events would prevent him from returning.
The only way he could reprise the role in a sequel would be in the form of a flashback or vision sequence. Mayans MC incorporated flashbacks pretty heavily in the first two seasons, opening the door for a cameo or two from Hunnam.
That said, Hunnam does not seem very interested in getting back into Jax's headspace anytime soon. According to Cinema Blend, the Sons of Anarchy star revealed that he has no plans on reprising the role of Jax and gave the character an emotional farewell when the series ended.
"No, no… I had the deepest experience of my career coming out of that. I had become that character, had become so deeply integrated into who I was, I literally didn't realize until the day we wrapped and we put him to rest and I felt I went through a period of two or three weeks of, like, real bereavement," Hunnam stated.
Given how Sutter does not hold the intellectual property to Sons of Anarchy, it may be several years before he is able to develop a sequel. A lot can change in the interim, including how Charlie Hunnam feels about returning for a quick cameo.
The third season of Mayans MC, meanwhile, is scheduled to premiere later this year. Fans can stream all seven seasons of Sons of Anarchy on Hulu.