'Sons of Anarchy' Prequel 'The First Nine' Shelved Amid Kurt Sutter Disney Drama
Now that Kurt Sutter is no longer running things on Mayans MC, the Sons of Anarchy creator's other projects are officially in jeopardy. Mayans MC is in the middle of another successful year and Sutter seemed ready to start work on his Sons of Anarchy prequel, The First Nine. But sources say that project has been shelved amid Sutter's beef with Disney, leaving fans to wonder if it will ever become a reality.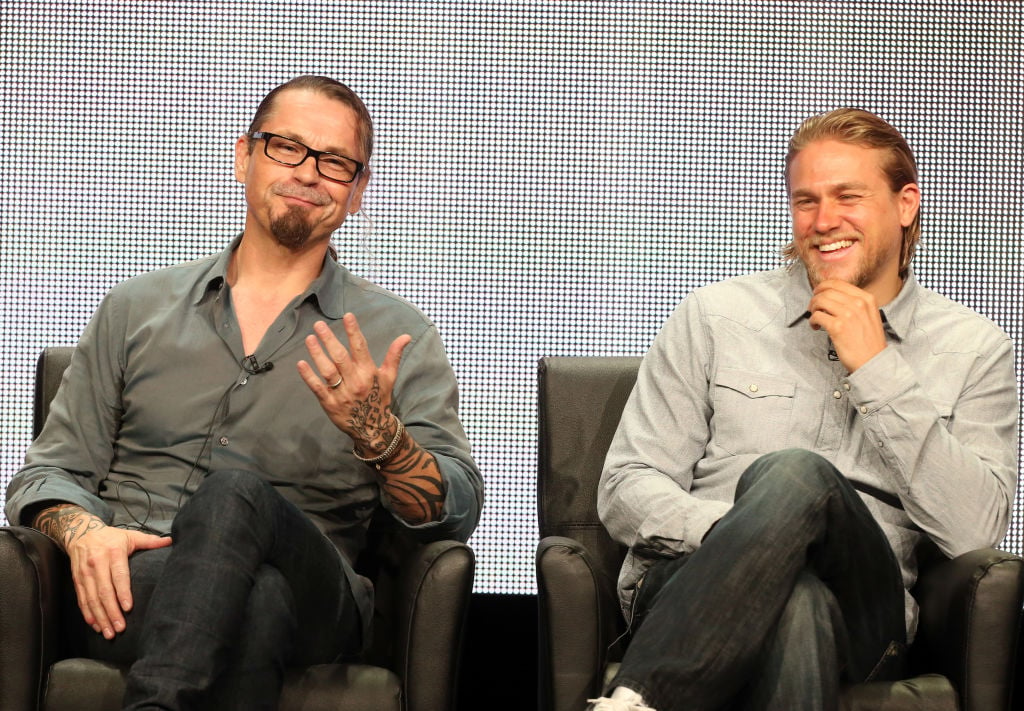 Disney pushes pause on 'The First Nine'
Sutter has been pretty open about his plans to create a prequel that explored the origins of SAMCRO. There is little doubt that Sons of Anarchy fans would have loved another spin-off, but those hopes were dashed after Disney fired Sutter from Mayans MC.
In a new interview, Sutter opened up about his other projects in the Sons of Anarchy universe and revealed some pretty sad news.
According to Pop Culture, Sutter confessed that the chances of The First Nine ever becoming a reality are very slim. Now that Disney owns Fox, they have the rights to the series and are not going to let Sutter take it to another studio.
"As of now, the possibility of doing that doesn't look that hopeful. It's their property. They're not going to let me take it somewhere else," Sutter explained. "Right now, that relationship is in flux. With time and a shift in attitude, will we be able to do it? I don't know. Hopefully. Maybe."
Shortly after Sutter got fired, fans expressed their hopes that Sutter would continue the show with another company, like Hulu, Netflix, or Amazon. But without owning the rights to the property, the future of The First Nine is out of Sutter's hands.
Will we ever get another 'Sons of Anarchy' spin-off?
Fans, of course, are not happy about the situation. Mayans MC has been successful in its first two seasons, leaving fans hungry for more from Sutter and his team.
But with Sutter now out of the franchise, there is no telling what will happen next. Even the future of Mayans MC remains a mystery at this point.
Sutter developed the spin-off with co-creator Elgin James, who will presumably take control from here on out. Disney, however, has not confirmed that season 3 is going to happen, so it is possible that the series will get canceled in the near future.
As far as The First Nine goes, at least Sutter has not completely ruled it out down the road. And who knows, perhaps Sutter can repair his relationship with Disney as time wears on.
In the meantime, Sutter's overall deal with FX remains intact, which opens the door for his potential return to the franchise.
Sutter opens up about 'Sons of Anarchy' prequel
Prior to his firing, Sutter was very open about developing a Sons of Anarchy prequel. In a previous interview, Sutter revealed that he would likely start the prequel once Mayans MC was up and running.
But unlike the spin-off, Sutter only planned to produce 10 episodes for the prequel. But each episode would have much longer than usual, which was better tailored to Sutter's style of storytelling.
The First Nine was going to focus on the original founders of SAMCRO, including Jax Teller's (Charlie Hunnam) father, John Teller. Fans would have also seen a younger version of Opie's (Ryan Hurst) dad, Piney, as well as a slew of new characters.
The story would have been set in the years following the Vietnam War and explored why the group decided to start the club in the first place.
Why did Sutter wait to start the prequel?
With Sutter clearly having the prequel laid out in his mind, fans have wondered why he didn't start working on is before diving into Mayans MC. Turns out there is a good explanation for why Sutter waited on the prequel.
In a previous interview, Sutter explained how he never wanted The First Nine to extend beyond the first season, which is why Mayans MC seemed the next logical spin-off.
Sutter wanted to take advantage of the loyal fan base Sons of Anarchy had created and did not feel like a min-series would have satisfied fans. While fans were grateful that Sutter continued the franchise, many are deeply disappointed by the fact that prequel will likely never see the light of day.
For now, we can only hope that Disney continues the Sons of Anarchy spinoff Mayans MC and later brings Kurt Sutter back into the fold.