'Sons of Anarchy' Star Charlie Hunnam Gifts Army Veteran With a Rare Coin
'Sons of Anarchy' star Charlie Hunnam made a visit to Austrailian Army veterans even more special with a rare coin.
Charlie Hunnam recently honored an Army veteran with a rare Sons of Anarchy coin. The actor was in Australia a few weeks ago filming his upcoming show, Shantaram, when he took a break from production to visit a veteran's hospital in Victoria. Hunnam was so moved by an interaction he had with a former soldier that he later sent her the coin along with a special video message.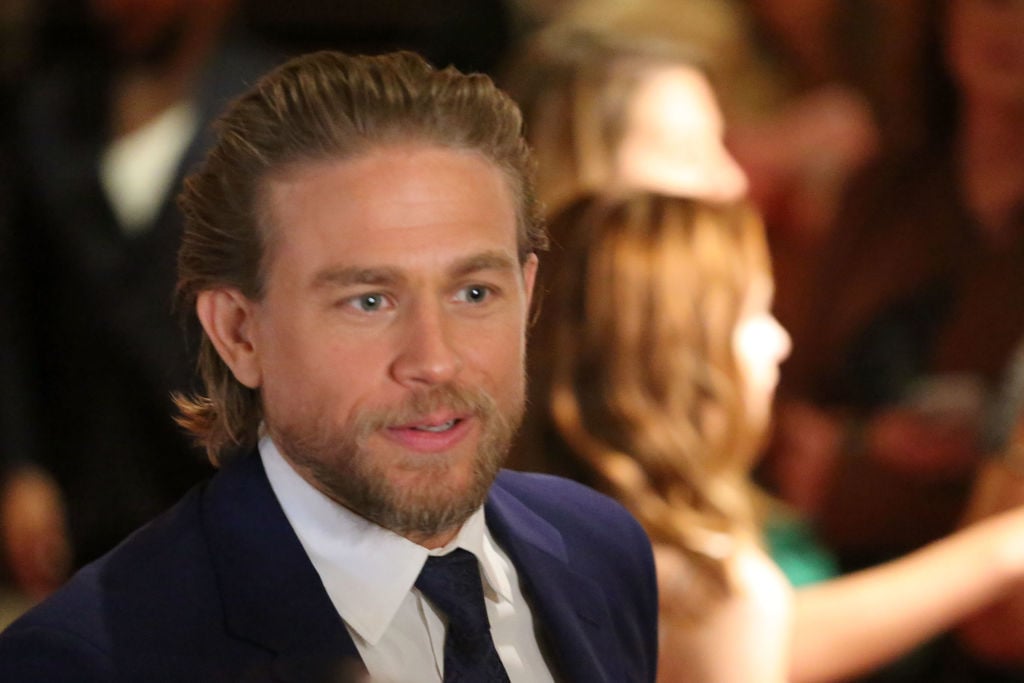 Charlie Hunnam spends times with veterans
Last month, Hunnam spent several weeks in Melbourne to film his new series, which is set to premiere on Apple TV next year.
During some downtime, the Sons of Anarchy star paid a special visit to the Heidelberg Repatriation Hospital, located in Victoria. While touring the Veterans Psychiatry Unit at the hospital, Hunnam gave a lucky veteran the Sons of Anarchy coin as a token of encouragement.
According to Daily Mail, David Dent, who helps organize musical fundraisers for veterans, opened up about Hunnam's visit and his special moment with the veteran.
"He was very keen to lend his time and an ear to the men and women in Ward 17," Dent shared. "'Charlie was so humble, with no ego, and no arrogance. He really cared."
Dent and Hunnam, meanwhile, posed together for a photo back in September. Hunnam's long-time girlfriend, Morgana McNelis, was also on hand for the picture.
Hunnam made a name for himself starring on Kurt Sutter's popular biker drama, Sons of Anarchy, a role that earned him fans around the world. While Hunnam is getting ready for his latest television project, his former showrunner has been getting very nostalgic lately.
Kurt Sutter shares another 'Sons of Anarchy' throwback
Over the past few weeks, Sutter has been posting throwback photos of Charlie Hunnam during his days on the set of Sons of Anarchy. The images have been a huge hit with fans, who cannot wait to see Hunnam return to the small screens.
In Sutter's latest offering, the Sons of Anarchy creator shared an image of Hunnam performing a scene with Sonny Barger, a former Hells Angels gang member who appeared on the series as a guest star.
The image garnered over 17,000 likes in a matter of hours, with many fans expressing how much they have missed Hunnam and the show.
Unfortunately, Sutter was fired from the show's spin-off, Mayans MC, a few weeks ago. Although fans would love him to take the franchise to another platform, FX (and Disney) owns the rights. Unless that changes soon, the world that Sutter created will stay on FX.
Fans call for a 'Sons of Anarchy' reboot
With Sutter no longer a part of Mayans MC, there has been growing support for Sutter to reboot the series and pick up where he left off.
Before he was fired from the Sons of Anarchy spin-off, Sutter expressed an interest in developing a prequel titled The First 9. The show was going to focus on the founding of SAMCRO in the 1960s and feature some of the founding members of the club.
Sutter has also thought about a Sons of Anarchy spin-off that would explore what happened to Jax Teller's (Hunnam) sons after his death. But now that Sutter is no longer a part of the franchise, those projects have been put on the backburner until further notice.
FX is, however, continuing Mayans MC with executive producer Elgin James taking over for Sutter. The network recently revealed that it has purchased a third season that will premiere next fall.
Why did Sutter get fired?
Sutter originally thought he was fired because of complaints made by some of the cast and crew about his abrasive behavior on the set of Mayans MC.
But as it turns out, he now believes a joke aimed at Disney is what really got him fired.
In a recent interview, Sutter explained how he wrote an irreverent joke about Disney in the season 2 premiere of the Sons of Anarchy spinoff. The joke, which was about Disney's founder, Walt Disney, offended some network executives, who asked Sutter to remove it from the script.
Sutter ended up changing the joke so that it was less controversial, but the final version was still aimed at Disney. The studio was apparently not impressed by the move and fired Sutter a few weeks later.
Sutter has not commented about his future plans for the Sons of Anarchy universe.