Sophie Turner Finds It Weird That Joe Jonas Wears Jeans Around the House While Self-Quarantining
though they love being quarantined together, there's one thing the singer does that's a little off putting to Turner — and that's that he lounges around the house in jeans.
Sophie Turner is managing social distancing very well during the coronavirus outbreak.
In a recent interview, The Game of Thrones actress revealed that she and husband Joe Jonas have been taking self-isolation in stride and are enjoying being on lockdown together.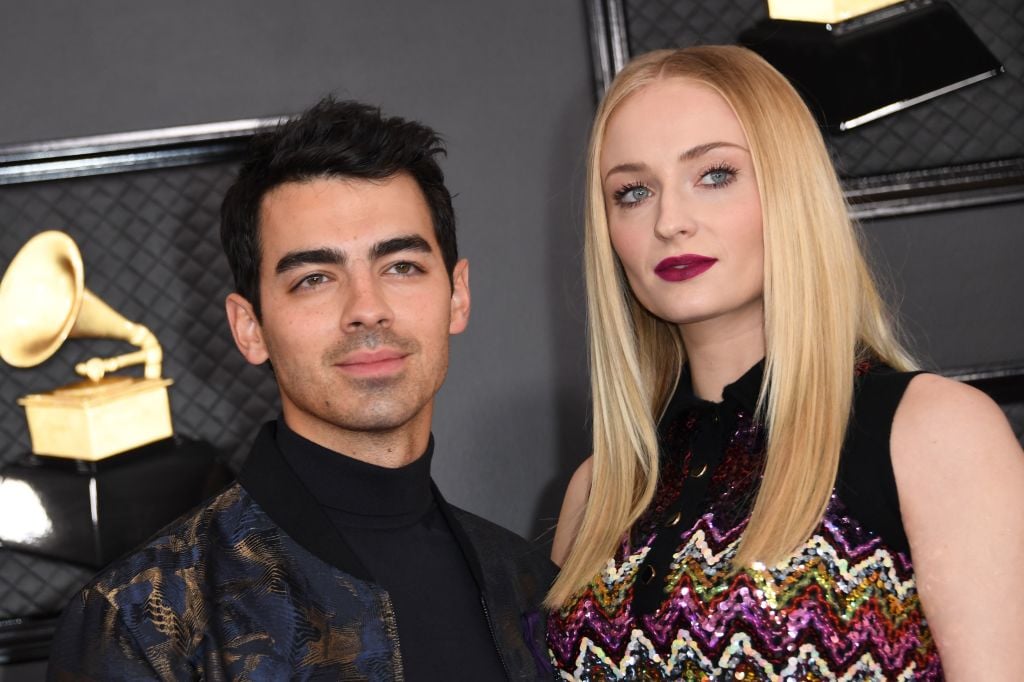 But even though they love being quarantined together, there's one thing the singer does that's a little off-putting to Turner — and that's that he lounges around the house in jeans.
Turner admits she's always loved staying home
Although self-quarantining has been an adjustment for many people amid the coronavirus pandemic, it hasn't been a difficult transition for Turner.
While joining Conan O'Brien for an at-home version of Conan, the actress revealed that she "loves" being quarantined with husband Jonas and admits that she enjoys the business of staying home.
"I'm kind of loving it," she said. "Yeah, I mean I'm an introvert. I'm a homebody. Just like, if I could stay at home all day I would, so this is great for me. I leave the house once a day anyway to walk my dogs and then that's it."
While the actress has been enjoying every second of social distancing, she admits that being isolated from the world has been a tough adjustment for her husband, who she says is "social butterfly."
"Everything seems to be working out in my favor here because Joe's a real social butterfly, so I struggle to lock him down and have him just spend time with me… It's like prison for him, but it's great for me," she added.
Though being home all day has taken the Jonas Brother singer some getting used to, he and Turner have been making the most out of social distancing.
To pass the time, the couple has been connecting with fans on social media. While Turner has been holding candid Q&A sessions on her Instagram Stories, Jonas has taken to DJing on Instagram Live. He's even recruited Turner to be his bartender and hairstylist.
"He's started doing that really, really loudly when I'm trying to read my scripts. He's DJing at home," the actress told Conan. "… But it's fun! I pour him his drinks. I pour him his alcohol. I give him tequila shots. He'll text me and be like, 'What time is it?' I'll reply from the kitchen, 'Shot time,' and bring him a shot of tequila."
Jonas' loungewear doesn't sit well with Turner
Although being home together has been going pretty well for the couple, the mom-to-be took some time to share the one thing her husband does that she isn't too keen on.
While on the topic of social distancing outfits, Turner told the late-night talk show host that her husband hasn't fully grasped the loungewear concept, which she finds to be a little weird.
"I mean, this is something that's only kind of come to my attention since this quarantine thing, but I saw…it was like a meme online or some comment or something and someone said, like, 'If you're wearing denim pants at home, like, what does that say about you as a person?'" she said. "Like, are you a psychopath? And Joe does that. Joe wears denim trousers at home—where no one can see him. I'm not wearing denim trousers. This is the most dressed up I've been in days." 
When Conan confessed that he too has been wearing jeans while self-quarantining, Turner quipped, "Why do that to your groin, Conan?"
Unlike Jonas and Conan, the X-Men: Dark Phoenix star has been sporting sweatpants during the coronavirus pandemic and was even donning a pair while interviewing with the talk show host.
"I love this. This is great, isn't it? You don't have to get dressed up. I'm wearing my sweatpants," she said as she showed the camera her comfy pants. "I'm business on top, party on the bottom."