Sorry, 'Sons of Anarchy' Fans, But Charlie Hunnam Is Sick of Talking About His Abs
As a leading man on both the big and small screen, Sons of Anarchy alum Charlie Hunnam has always put in the work to keep himself in great shape. He even took his fitness to the next level for his role in 2017's King Arthur: Legend of the Sword.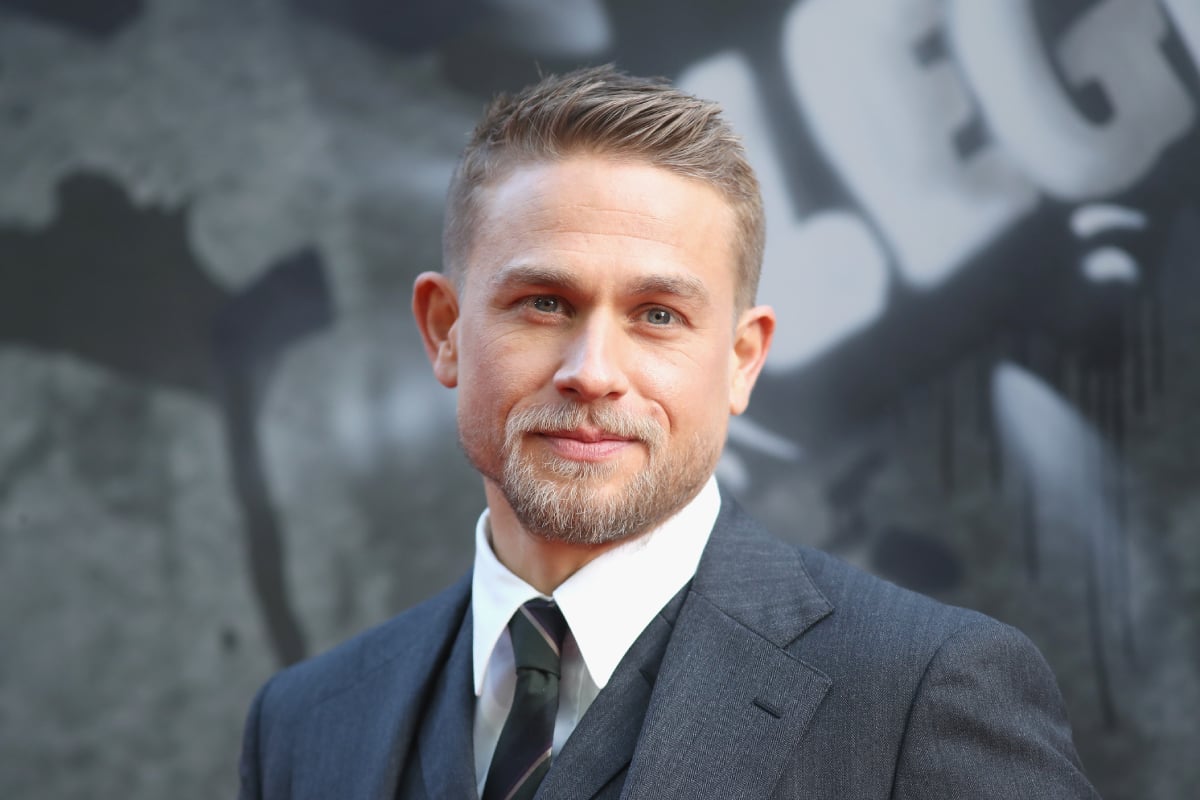 But the actor doesn't want to be reduced to "a bit of a pretty boy." The 40-year-old says he's had enough conversations about his appearance during his career, and he's done talking about his abs.
The 'Sons of Anarchy' star says he did 1,000 push-ups every day preparing for 'King Arthur'
While walking the red carpet for the premiere of King Arthur in May 2017, Hunnam told E! News that his fitness routine to get ready for his role included 1,000 push-ups every day.
"I mean there were some days I didn't hit the goal and I would try to recoup the next day," Hunnam admitted. "On the days where I was fighting 14-hours a day, I let myself off and went home, and said 'Okay, let's knock a zero off this equation—100 is good enough for today."
King Arthur director Guy Ritchie heard Hunnam's claim but wasn't buying it. Ritchie was skeptical of the number, saying "not so much." He added, "you'll get 50 out of him at the most. And there's like a half an hour break."
Hunnam gained 22 pounds of muscle for his role in the film and weighed in at nearly 190. But as soon as that project wrapped, he quickly cut the weight. In a matter of weeks, Hunnam slimmed-down below his natural weight of 165 lbs. for his role as Percy Fawcett in Lost City of Z. He cut even more weight to achieve the jailbird look in the remake of Papillon.
Charlie Hunnam reveals the number of his 'movie star weight'
Hunnam says that when he's really working at it – like he did for King Arthur – his "movie star weight" is around 85 kilograms, or 187 pounds. To achieve that goal, he didn't hire a personal trainer.
Instead, he continued to eat clean and his fitness routine included the same go-to workout moves, like pull-ups, press-ups, dips, and squats. But, he made one major change – he drastically upped the workload.
"I always do the same stuff, just at a different volume, at a different level of intensity, and to different ratios," he told Men's Health. "It's not rocket science. I just ate more and did press-ups like a motherf**ker."
He explained that a typical workout session could include 150 pull-ups, 400 bodyweight squats, and 750 press-ups. In addition to his strength training, Hunnam also spent hours boxing and learning how to sword fight.
The final fight scene in the movie took five, 11-hour days to shoot, and his training prepared him for that both physically and mentally. Hunnam says that when you're training in a combat discipline everyday, it gives you "the eye of the tiger."
The 'Sons of Anarchy' star is done talking about his abs
Yes, Hunnam's an action star with a tough guy persona, and he's put in the work at the gym to achieve an enviable physique. But that doesn't mean Hunnam wants to keep talking about it. He learned how to fight at a young age and has been training ever since. But, his tough guy days are over.
"I realized it was stupid and antithetical to how I perceived myself, which was as much more of a gentle artist," he said. "I still train, I still want to know that if I ever was in a position where I had to defend myself or somebody I love, I've got the tools to do it."
Hunnam doesn't want to walk down the street feeling fear. However, he also doesn't want "to project this idea" that if you mess with him, it will be "a bad day for you."
RELATED: Charlie Hunnam's Longtime Love Morgana McNelis Was Unimpressed When He Got Ripped for 'King Arthur'
The Sons of Anarchy star is also done talking about his abs. He told On Demand Entertainment that he enjoys having an active life, but it can be somewhat reductive in his industry.
"It's easy for people just to reduce you to being like a bit of a pretty boy," Hunnam said. "After having to have a lot of conversations about abs in my life, I certainly felt like 'you know what? I'm sort of tired of talking about this.'"
Charlie Hunnam says it's nice to be found attractive on screen, but it's also nice to be taken seriously.
Sons of Anarchy seasons 1 through 7 are available on Hulu.