'South Park': Why Matt Stone and Trey Parker Now Think It's 'Wrong' To Offend
The South Park creators Matt Stone and Trey Parker are known for their offensive humor. Their Comedy Central series has no problem poking fun at any given topic, whether it's a group of celebrities or a religious organization. Yet over the years, Parker and Stone have seemed to change their tune. They now think it's "wrong" to offend and go out of their way not to.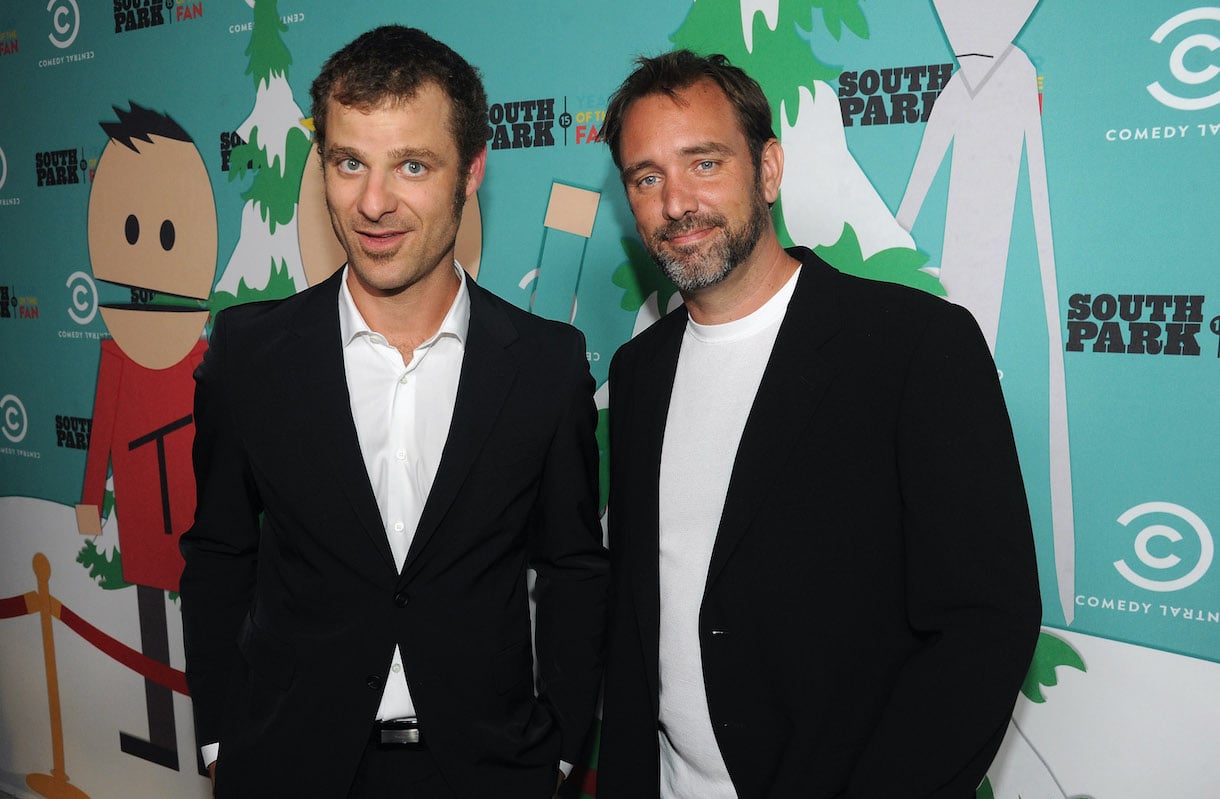 How did Matt Stone and Trey Parker meet?
Stone and Parker met back in 1992 while attending Boulder University in Colorado. The two got to know each other in film class and instantly became best friends. According to Parker, he and Stone were always those "annoying kids" who sat in the back of the class and didn't take anything too seriously.
"I think in college, we were always the guys in the back of the class who would just try to crack each other up," said Parker. "Matt and I were really the two people who didn't take anything that seriously, and we were always just trying to make each other laugh. And we were always kind of doing voices for each other. We were those guys who were sort of annoying to some people because no one else was in on the joke."
The 'South Park' creators now think it's 'wrong' to offend
In a recent interview with The Hollywood Reporter, Parker and Stone proved that they're not the same people they were when the series first aired in 1997. It has been over 20 years since South Park first premiered, and since then, their priorities have changed.
"We care about different things today," Parker admits. "First, we were friends f—ing around, trying to get laid, breaking into Hollywood, sleeping on couches. Now Matt is married, and I've got a little family."
And as Parker notes, he never aims to offend, but instead to make people laugh.
"When someone goes, 'Oh, this group is pissed off at what you said,' there's not a piece of my body that goes, 'Sweet!'" Parker says. "That just means I did it wrong. I'm just trying to make people laugh."
Do Matt Stone and Trey Parker still write for 'South Park'?
Often, creators will hand off their series to new writers so they can move on to other projects. But as for Parker and Stone, they never stopped being the head writers behind everyone's favorite mountain town series. And when Parker was asked how he manages to continue writing for the show after all these years, he sweetly said it's because of Stone, who keeps him grounded.
"We definitely try to stay true to ourselves with South Park, and I think that's because Matt and I have each other," said Parker. "We have each other to check each other."
But that's not to say that things are always easy for the two. In fact, according to Parker, there are times when he hates writing for South Park because of how stressful it can be. Dedicated fans of the series know that each episode is made in six days or less. And because of this, there's a lot of pressure to get something done in such a short amount of time.
"South Park is way bigger than either of us," he says. "And it's this curse, and when we are doing it, I hate it. I'm pissed off, and I'm tired, and every single Tuesday, I say, 'This is the worst show we've ever done!' It's brutal. But it's something I am a part of that's bigger than I am. That's what's most important."