'Southern Charm': Are Ashley Jacobs And Landon Clements Really High-End Escorts?
Since Ashley Jacobs burst on to the scenes in Season 5 of 'Southern Charm,' rumors have swirled that she and Thomas Ravanel faked their relationship. Now, she and former star Landon Clements are being accused of being high-end escorts.
Ashley Jacobs stirred up a lot of controversy during her brief stint on Southern Charm. Between her up and down relationship with disgraced Southern Charm star Thomas Ravenel and her heated feud with Kathryn Dennis, Jacobs never shied away from the drama. One aspect of Jacobs' story that has always puzzled fans is the rumor that she originally met Ravenel while working as an escort in California.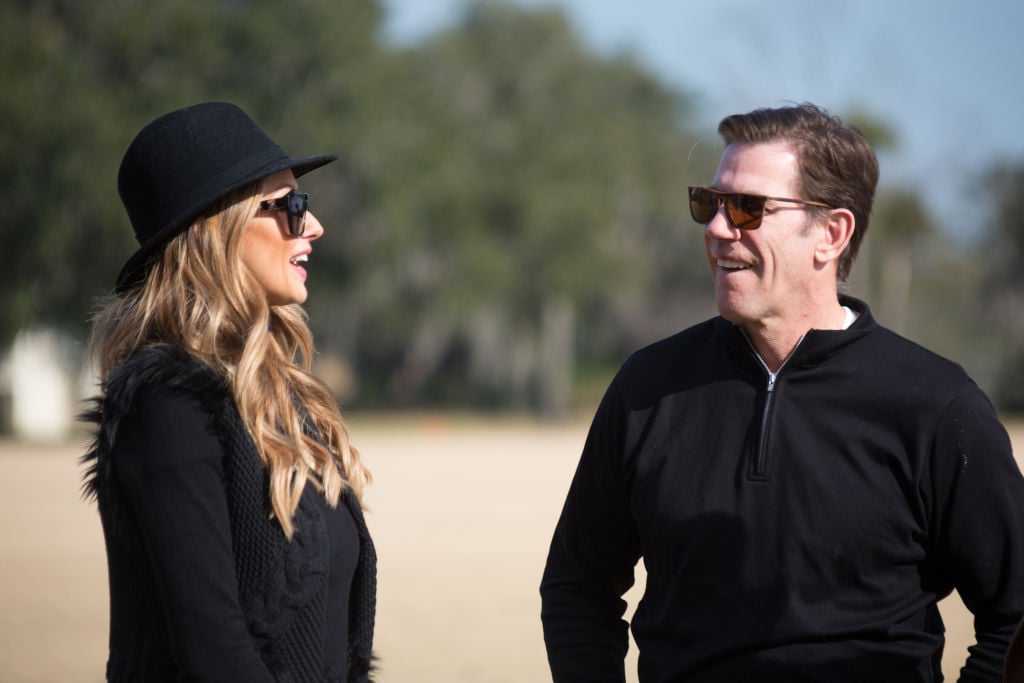 As the story goes, Landon Clements introduced Jacobs to Ravenel and they immediately hit it off. Insiders claim that Jacobs was working as an escort when she started dating Ravenel, sparking rumors that both she and Clements are basically high-end prostitutes. But is there any evidence to back up the claims that Clements and Jacobs are escorts?
Jacobs teases escort rumors
Jacobs has not directly commented on the escort rumors, but she did drop several hints about the reports throughout season 5 of Southern Charm.
For example, there was the time that Ravenel paid for Jacobs' shopping spree with Patricia Altschul that cost over $10,000. The ladies had gone shopping to purchase new clothes for Jacobs because her old wardrobe was too California. The scene reminded the girls of the movie, Pretty Woman, though Altschul shut down that talk pretty quickly.
According to Decider, Jacobs also had a reputation for hanging out in polo clubs, which could be where she and Ravenel crossed paths. On the show, there was one moment where Jacobs loudly cheered Ravenel's polo match – something that also happened in Pretty Woman.
As if that wasn't enough, Jacobs wore a red dress and white gloves for the season 5 finale, which is exactly what the main character of Pretty Woman wore in the film. There is no way of knowing if these things are a coincidence or if Jacobs was trying to send secret messages, but it certainly has not quieted the escort rumors.
Clements opens up about Jacobs
In light of all the rumors surrounding Jacobs, Clements is doing her best to set the record straight. In an interview in 2018, Clements shut down the reports that she was the person who originally introduced Ravenel to Jacobs.
The former Southern Charm star claims that she first met Jacobs at one of Ravenel's polo matches in Santa Barbara. Clements says that Ravenel and Jacobs had already been introduced when she came onto the scene.
Clements went on to reveal that Jacobs and Ravenel met during a Cinco de Mayo party over the summer. They hit it off at the party and Ravenel invited Jacobs to his polo game the following afternoon. That is where Clements first met Jacobs.
This dispels the earlier reports that Clements was friends with Jacobs prior to her relationship with Ravenel. It also sheds doubt on the escort rumors surrounding both women, which Clements also addressed in the same interview.
What about those escort rumors?
When Jacobs first appeared on Southern Charm, rumors surfaced that she and Clements worked together as escorts in California. The reports claimed that Clements was the one who introduced Jacobs to Ravenel, who knew exactly what he was getting into. Although it is believable that Ravenel would hire an escort, Clements says there is no truth to the rumors.
To the contrary, Clements revealed that she has never worked as an escort and that she finds the rumors to be outrageous. Clements also admitted that she does not appreciate being called a prostitute, especially now that she is no longer on Southern Charm. After relocating to Malibu, Clements hopes that all the buzz will die down and she can have some space away from the spotlight.
Jacobs has not commented on the escort rumors. She was only a part of the show for one season and was introduced as Ravenel's girlfriend. She enjoyed a brief cameo in Season 6 but is not expected to appear in future seasons, especially now that Ravenel is no longer on the show.
New episodes of Southern Charm air Wednesday nights on Bravo.