'Southern Charm': Are Thomas Ravenel and Kathryn Dennis Back Together? See the Photos
Southern Charm star Kathryn Dennis reunited with her ex, Thomas Ravenel, at a party in Charleston, South Carolina over the weekend. Despite their bitter custody battle, the pair posed for several photos at the event, sparking rumors that they might be rekindling things. Are the Southern Charm stars back together?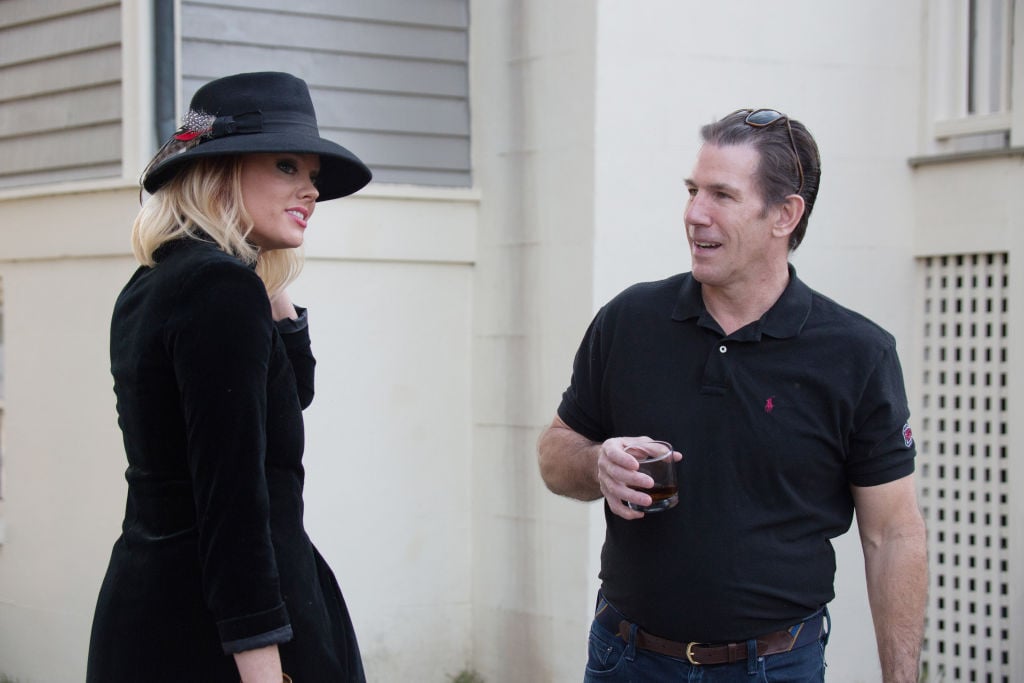 Kathryn Dennis and Thomas Ravenel reunite
Taking to Instagram, Dennis shared a photo of her reunion with Thomas Ravenel at an event in Charleston. The former lovers posed together for a quick snap with several friends and appeared happy standing next to each other.
Dennis rocked a gorgeous silver gown for the party while Ravenel looked sharp in a black suit and bowtie.
"I'm nobody's Bond girl!" Kathryn Dennis wrote alongside the image.
Fans took Dennis' caption to mean that she and Ravenel are not back together. Even still, the fact that they took photos together is very surprising given their recent history.
Dennis and Ravenel took several photos and hung out with each other throughout the event. They apparently had a great time catching up, which is very interesting considering how they have fought a nasty custody war over the past few years.
Have Dennis and Ravenel made amends?
As Southern Charm fans are well aware, Dennis and Ravenel have gone through a lot of ups and downs in the fight over their two children. A few years back, for instance, Dennis lost custody after failing a drug test.
She eventually won back joint custody after going through rehab, but that wasn't the end of their legal troubles. In light of Ravenel's sexual assault scandal last year, Dennis tried to win over full custody.
According to The Blast, Kathryn Dennis and Thomas Ravenel finalized an agreement in November, ending their battle over the custody of Kensie and Saint. Moving forward, they both share legal and physical custody over the children.
They also agreed that Ravenel would be called the "primary custodian" and that neither party would introduce their kids to a romantic interest.
While the agreement has clearly brought Dennis and Ravenel together, his drama with Southern Charm is far from over.
Thomas Ravenel blasts 'Southern Charm'
There has been a lot of talk about Bravo adding some fresh faces to the cast of Southern Charm. Producers are reportedly looking for new talent now that Ravenel is off the show and everyone seems to be moving on.
As fans will recall, Ravenel left the series after season 5 because he was accused of sexual assault. Bravo did not invite Ravenel back because of the serious nature of his crimes, though he claims that the network wants him back for season 7.
Taking to social media, Thomas Ravenel says that producers reached out and asked him to come back to the show. Ravenel claims that he has repeatedly denied the offers, mainly because his family would disown him if he ever came back.
"My family did an intervention (I'm the youngest of 6 children) and said that they'd disown me if I ever did another episode," he told fans.
Ravenel pleaded guilty to the sexual assault charges last year, though he wasn't sentenced to anytime behind bars. An inside source close to the network claims that Bravo has not asked Ravenel to return to the show, especially considering his history of sexual crimes.
Dennis and Ravenel celebrate the holidays together
With things looking up for Kathryn Dennis and Thomas Ravenel, the former couple spent Christmas together with their two children.
On Instagram, Dennis shared a photo of Ravenel helping their little ones open present on Christmas Day. The Southern Charm star captioned the pic by writing, "Our face."
A few weeks prior to the holiday, Ravenel released a statement regarding his new custody agreement with Dennis. Ravenel revealed that they have reached a custody arrangement and are looking forward to co-parenting in a healthy environment.
As far as Dennis is concerned, she is looking ahead to the upcoming season of Southern Charm (which has reportedly been delayed as producers search for new cast members). This includes receiving a larger salary for appearing in front of the cameras.
Bravo has not revealed when the new season of Southern Charm will premiere. Inside sources claim that the network is scrambling to find people with interesting stories, especially now that the drama with Thomas Ravenel is over.
"Bravo is searching for new cast members and there are just not any story lines that they really want to cover right now," the source shared.