Southern Charm: Austen Kroll Says Craig Conover's Success Inspires Him, Admits He's a Little 'Envious'
Austen Kroll from Southern Charm would be lying if he said he wasn't a little envious seeing Craig Conover's enormous success with Sewing Down South.
But Kroll, who is one of Conover's closest friends, recently said that Conover's success is inspiring. He hopes to soar just as high with his beer Trop Hop. He also flicked at how hard Conover's friends dragged him when he first began to sew, which Conover has joked about in the past too. "Shep [Rose] finally had to accept the fact that I'm never going to be the type of person he wanted me to be," Conover told Showbiz Cheat Sheet in Oct. "But he loves it now. What he said is 'All I ever wanted was for Craig to be honest with himself.'"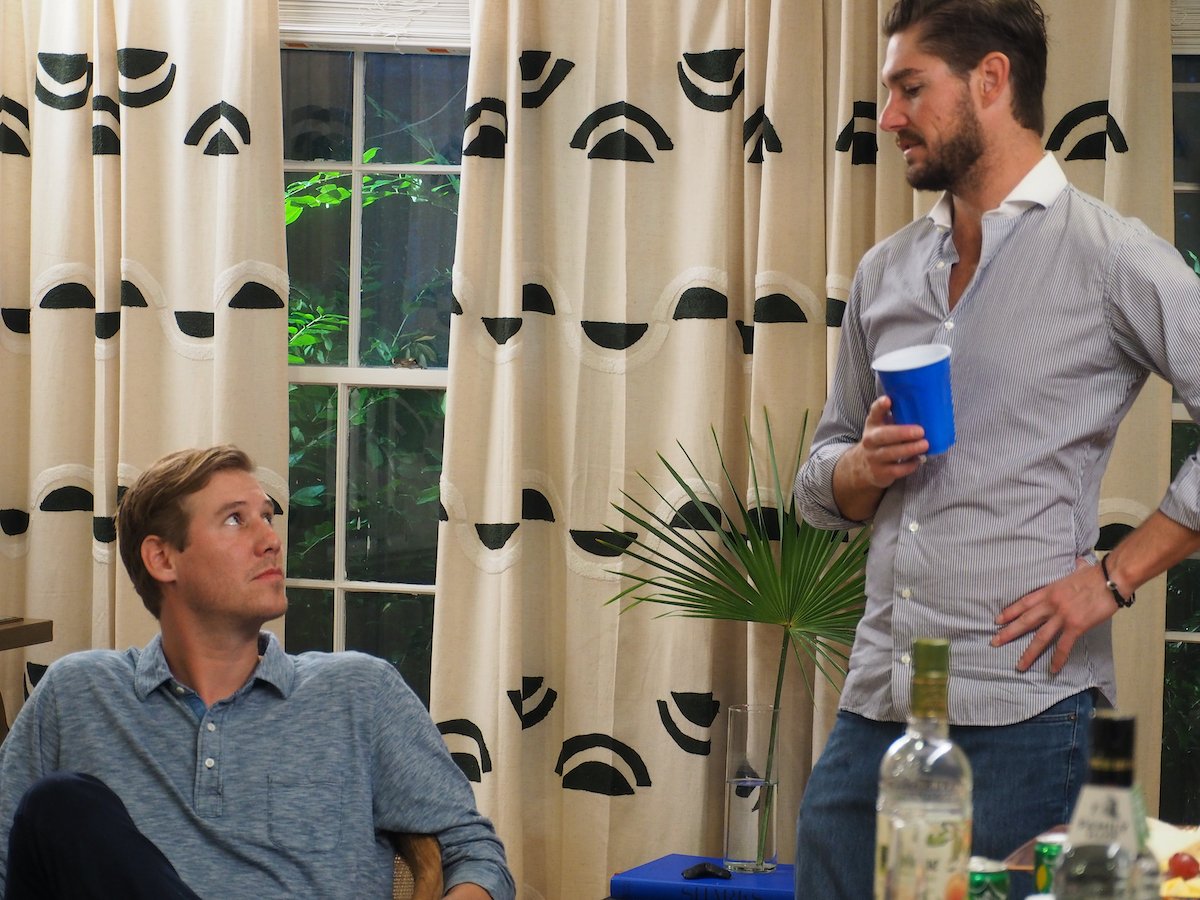 Austen Kroll is happy for Craig Conover but admits he is a little envious
Kroll discussed Conover's success during the Sewing Down South grand opening event. "I've seen Craig get patronized and ridiculed by unnamed friends of ours for a long long time," Kroll told Decider, likely referring to Rose. "And I just remember when we went on that camping trip to Nashville, Craig didn't really know what he wanted to do but he knew that pillows were a thing people were responsive to." 
"He figured out a way to do it and I'm looking around here and I can't help but be proud and envious at the same time," Kroll continued. "I hope that I can do the same for myself one day. And I can't wait to fly to his [additional store] openings in the future because I have no doubt that he will be [sold] out of all products by weekend's end."
Meanwhile, Kroll is in the middle of his own product launch. "My product will be out by tonight," he shared.
Covid made Austen Kroll pivot when it came to his beer rollout
Kroll told Showbiz Cheat Sheet that Covid-19 turned his business plan on its head. While doing press for Southern Charm he shared that he looking into the process of moving his beer across state lines, "which is very exciting."
But getting his beer to the masses has been riddled with red tape. "People message me all the time like 'I went to my local grocery store and [I can't find it],'" he said. Then he joked, "I'm not Budweiser. I mean, I had to jump through all these hoops just to get it in our local grocery stores."
He had to pivot when Covid-19 hit because his original plan was to start by stocking restaurants with Trop Hop. But, "The cans have been an absolute game-changer because of Covid," he said. Adding that he planned to move forward during Spring of 2021 with a new attack plan.
Kroll offered an update to Decider. "It's doing very well for me in that it sells out in a couple of weeks every time I bring out a new batch and it's supposed to last me a lot longer than it does, so it's a good bad problem to have. A lot of very exciting things happening very soon for me."