'Southern Charm' Fans Blast Kathryn Dennis and Craig Conover For Going Out For Crabs
Southern Charm stars Kathryn Dennis and Craig Conover are in the hot seat for ignoring public health warnings amid the coronavirus pandemic. The reality stars recently enjoyed an outing at a restaurant in Mount Pleasant that was packed with other guests. Amid rising coronavirus concerns and closures throughout the country, Southern Charm fans bashed Dennis and Conover for not setting better examples.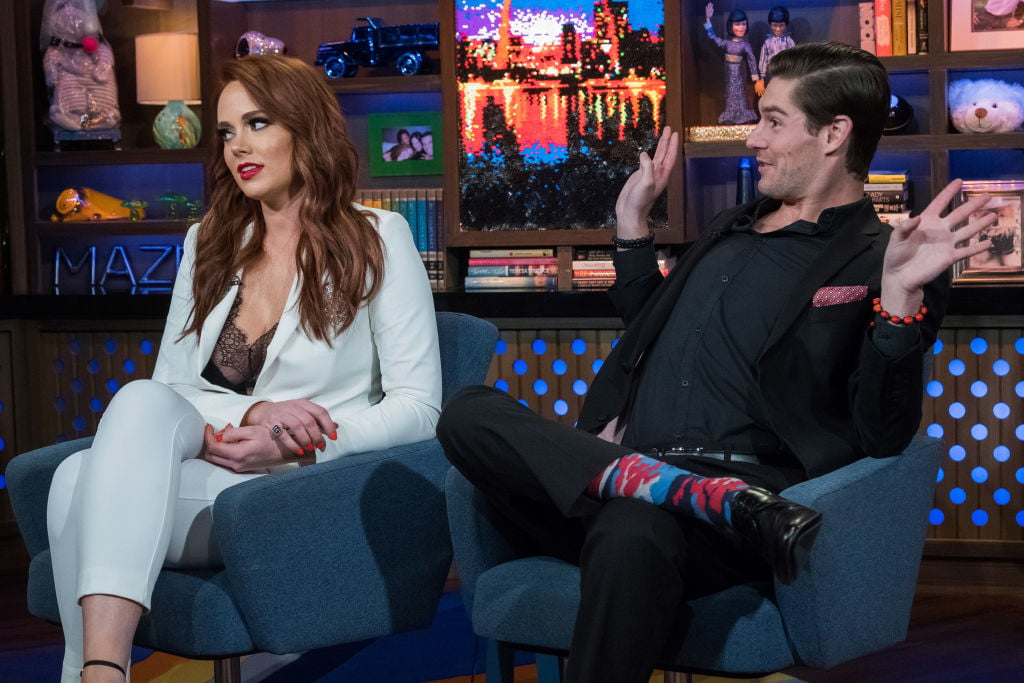 Dennis and Conover hit the town despite warnings
Despite warnings from health and government agencies, Dennis and Conover decided to head to Red's Ice House in Mount Pleasant for some seafood.
Taking to Instagram, Austen Kroll shared a photo of Dennis and Conover sitting in close proximity to each other at the eatery while eating a few crabs. Also present for the outing was Kroll's girlfriend, Madison LeCroy.
"Craig gave us crabs," Kroll wrote alongside the photo.
The image clearly shows the Southern Charm stars sitting very close to each other at the bar. Behind them, a slew of costumers are seated enjoying meals as well.
Considering how half the country is shutting down to stop the spread of the coronavirus, fans were not happy with the reality stars for setting a bad example. Not to mention posting a photo about it on social media.
'Southern Charms' fans blast Dennis and Conover
According to The Blast, fans were pretty angry by the fact that Dennis, Conover, and Kroll decided to dine out and ignore health warnings. A slew of viewers commented on the post, bashing the trio for acting like they do not have to take precautions amid the pandemic.
"GO HOME! I cannot believe you all are still going out like nothing is wrong," one angry fan wrote.
In light of the backlash, Kroll told fans that they all knew people would get mad over the post. But with South Carolina set to close restaurants and bars in the near future, they thought it was a good time to get a "last supper" in.
"look, tbh, we all knew we'd catch heat for this picture. But it's kind of a last supper so to speak. SC is imposing laws tomorrow evening, and our beloved show is feeling it, the repercussions, as they should, as well. Everyone stay safe!" Kroll stated.
Southern Charm fans did not let up after Kroll's explanation, which prompted him to disable comments on the story. Bravo has not said anything about the post, though the series is liking taking a major hit as delays in production continue across Hollywood.
The network has not announced an official premiere date for the new season of Southern Charm, which could be pushed back in light of the pandemic.
Dennis opens up about her sobriety
While the Southern Charm stars deal with the backlash, Dennis recently opened up about her battle for sobriety. Dennis recently took some heat after fans thought she may have been high in a video.
Dennis took a screenshot of the comment and addressed the concerns in a new post on Instagram. The Southern Charm star slammed the fan for suggesting that she broke her sobriety and assured everyone that she has not touched drugs in the past four years.
"No. And that's rude af. I haven't been high in 4 years. Am I not allowed to have a sense of humor without you people thinking I'm high?!" she wrote.
Dennis added that one of her "biggest peeves" post-rehab is that she cannot act silly without fans wondering if she is high. She even asked her followers to "let me liveeee" at the end of the post.
Although Dennis is no longer using drugs, she has started drinking again. The Southern Charm star recently admitted that she occasionally drinks at home but avoids indulging too much at parties.
Is Dennis back with disgraced 'Southern Charm' star Thomas Ravenel?
Apart from her sobriety, Dennis has also taken a lot of criticism for seemingly getting back with her ex, Thomas Ravenel. After a bitter custody battle that lasted years, the two made amends a few months ago and even attended a party together in January.
While Southern Charm fans were concerned about the pair getting back together, Dennis recently confirmed that they have not rekindled their romance. Taking to Instagram, Dennis responded to the rumors by writing that they are "Not true."
Dennis and Ravenel are putting on a united front for the sake of their children, Kensie and Saint. To that end, they are working to co-parent their kiddos in a healthy environment, which explains some of their recent interactions.
Ravenel, of course, is no longer a part of Southern Charm. He got booted from the series a few years ago after being accused of sexual assault. Ravenel eventually pleaded guilty to the charges and is not expected to return to the series.
New episodes of Southern Charm are expected to hit Bravo sometime in 2020.