'Southern Charm': Naomie Olindo Shuts Down Snarky Comment About Missing out on Craig Conover's Success
Naomie Olindo from Southern Charm posted a gorgeous selfie on Instagram, but we met with a snide remark about how she was missing out on Craig Conover's success. After months of dealing with a tough breakup from Metul Shah, Olindo has spent time with friends and family back in Charleston. And yes, she is happy for Conover and all his success with Sewing Down South.
Naomie Olindo supports Craig Conover's success on 'Southern Charm' and 'Sewing Down South'
Olindo shared her selfie on the Friday before the Labor Day weekend and most fans made positive comments on the thread. But one person couldn't resist writing, "I wonder how she feel knowing the Craig's is a complete success." Olindo took the remark in stride. "She feels really good and is so so so happy for him!" she replied.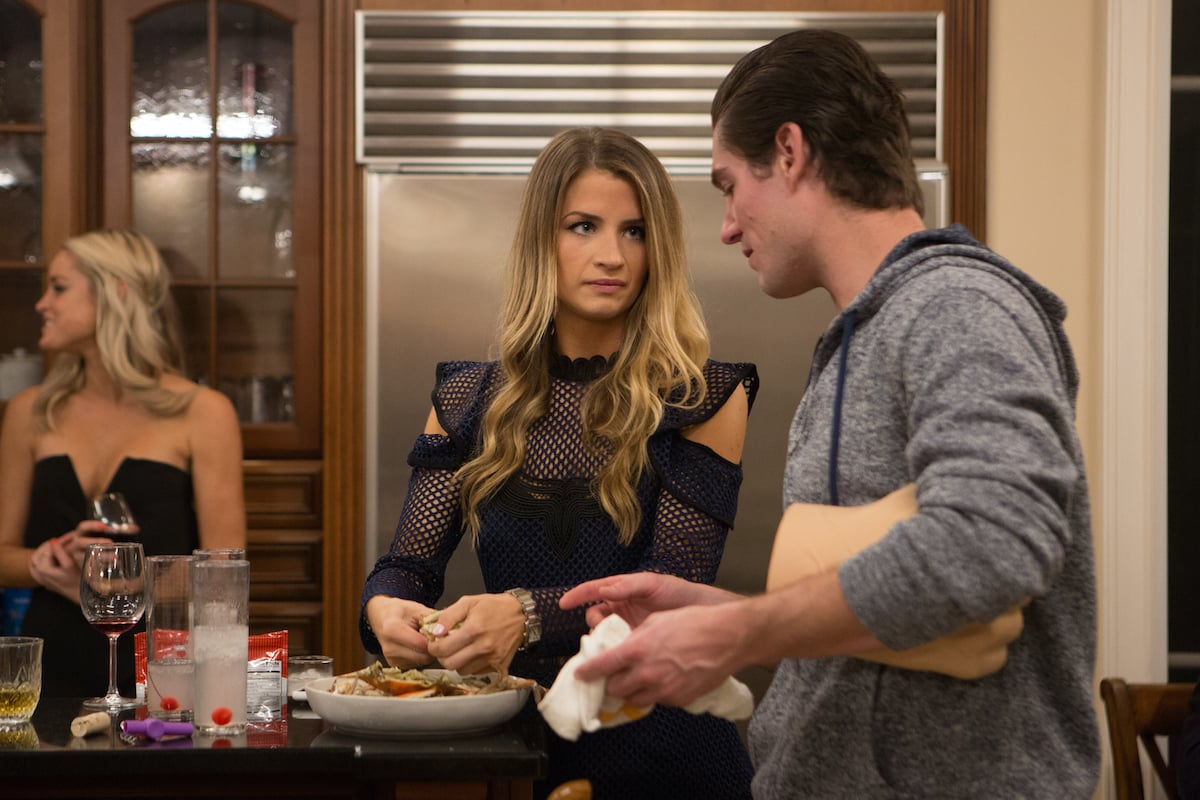 Fans were here for Olindo's quick comeback. "She feels like a class act; how do you feel???" one person replied to the person who made the comment. Another person added, "Imagine seeing (the part we saw of) what was going on and thinking she was rooting for him to fail. It was the exact opposite." One person observed, "[Olindo] seems like she wishes everyone well."
Craig Conover reached out to Naomie Olindo after her breakup
Conover and Olindo had been broken up for years, but they still talked after her breakup with Shah. In fact, he recently said this was the first time they had talked since they split. "So when all of that went down, obviously she was a big part of my life," Conover said on his Pillows and Beer podcast, which he hosts with Austen Kroll.
He then added that he and Olindo recently connected. "We talked on the phone once. One time. Because it's been three years, four years. And at the end of the day, I feel like in my life, with my ex's I feel like I can pick up the phone with them and nothing ever happened. But a lot happened."
Kroll said he didn't think Conover and Olindo officially ended their relationship. "We never ended it," Conover laughed. "No one actually did. We just one day never talked again. But also guys, don't freak out. I'm not saying there is a future. No. But I've been able to since the Bahamas to speak objectively about this."
Naomie Olindo and Craig Conover are not getting back together, he said
"It was very being friends," Conover added on the podcast. "And in a time where you get in these places in life where I'm not saying she didn't have anyone else to talk to. But we just talked. And we used to be closer than anyone else. It's not romantic. It's not like we're back together. Austin asked if we've talked, we've talked."
Conover told Showbiz Cheat Sheet in Oct. 2020 that Olindo was very supportive of his business endeavors. "But she has been incredibly nice and supportive," he said. "We actually ran into each other at a gathering two weeks ago and talked for a while. And kind of [felt like] old friends, which was neat. Because we were together for three years and you're best friends and you know each other so well."
"So we got to talk about relationships and what we've taken out of ours," he said. "And it was just funny. It was nice. Was one of the first times that we've talked, as, you know, completely as friends. And she was super nice about that. I thought she [talked about our friendship] in interviews. She said she always be grateful for the world that I brought her into it. She was happy for [Sewing Down South] and everything is all very positive now."