'Southern Charm': Patricia Altschul Implies Shep Rose's Relationship with Taylor Ann Green Is Fake or a 'Showmance'
Is Shep Rose's relationship with Taylor Ann Green just damage control after the last season of Southern Charm? Patricia Altschul dished about his romance, spilling that son Whitney Sudler-Smith refers to it as a "showmance."
"She's an awfully nice girl," Altschul remarked about Rose's girlfriend on the Watch What Happens Live with Andy Cohen After Show. "I mean, Whitney refers to it as a showmance." Sudler-Smith is the creator and producer of Southern Charm.
Altschul then said she isn't sure if Rose and Green would still be together if it weren't for the show. "I think if they last through the reunion, then we have to see," she insisted. "That'll be the determining factor."
She added that she thinks Kathryn Dennis already knew that Thomas Ravenel was going to be a father long before she made the announcement on the show. "I just remembered that she had found a birth control stick in the garbage," she recalled. "Surely she must have had some idea before then."
Shep Rose returned 'new and improved' this season
Rose departed with his tail between his legs last season. After harshing on a slew of cast members, especially Madison LeCroy, he ultimately retreated from social media. Rose shared a video where he taunted a homeless woman and received significant backlash. He snarled at social media commenters who admonished both the video and his response until he finally apologized and temporarily deleted his Twitter.
He re-emerged months later, sharing on the show this season that he sought therapy and was now in a relationship with Green.  "I'm sort of finding my feet with Taylor 'cause I've been so single minded — and single — for so long that it's hard to change," Rose told Bravo. "But she's making it very easy to change, which is kind of the whole point."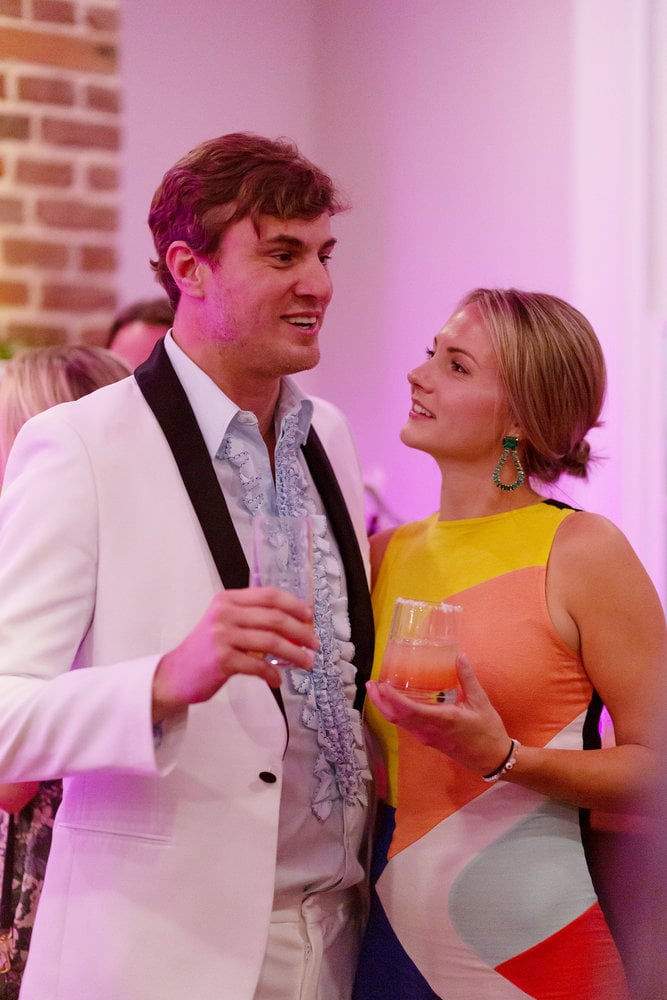 RELATED: 'Southern Charm': Danni Baird Tells Kathryn Dennis To Leave Her House After a Smackdown
Close friend Craig Conover noted a change in Rose thanks to his relationship with Green. "Shep is such a better version of himself with her. You know, towards the end of last year I had stopped talking to Shep. We just weren't on the same page," he told US Weekly. "I was moving forward with my business and there wasn't anything there for me. It was toxic. And he wasn't in a great place and he started dating Taylor."
Patricia Altschul likes to meddle in Austen Kroll and Madison LeCroy's relationship because 'it's fun'
Speaking of relationships, Altschul explained why she likes to get in the middle of Southern Charm relationships like LeCroy and Austen Kroll's. "First of all it's fun," she laughed. "And secondly she comes to me all the time for advice. And I like to stir the pot a little bit. I mean why not? Keep those guys on their toes."
She certainly does like to stir the pot. Altschul compared Kroll's beer label to Budweiser on the show, sharing that LeCroy deserved Budweiser.
RELATED: 'Southern Charm': Austen Kroll Throws Shade at Patricia Altschul's Business and Ignites a Feud
Budweiser apparently sent Altschul a promotional box, which she shared on social media. "Thank you @budweiser for these great gifts. 'Everyone deserves Budweiser'" she wrote along with a video.