'Southern Charm' Producers Have Not Contacted Thomas Ravenel for Season 7, Despite Kathryn Dennis 'Reconciliation'
Thomas Ravenel continues to claim that producers want him to return to Southern Charm for season 7. Ravenel's surprise reunion with his ex-girlfriend and mother of his children, Kathryn Dennis, has only sparked more rumors about his comeback. While Dennis and Ravenel are on better terms, Southern Charm producers have not contacted him about returning — and for good reason.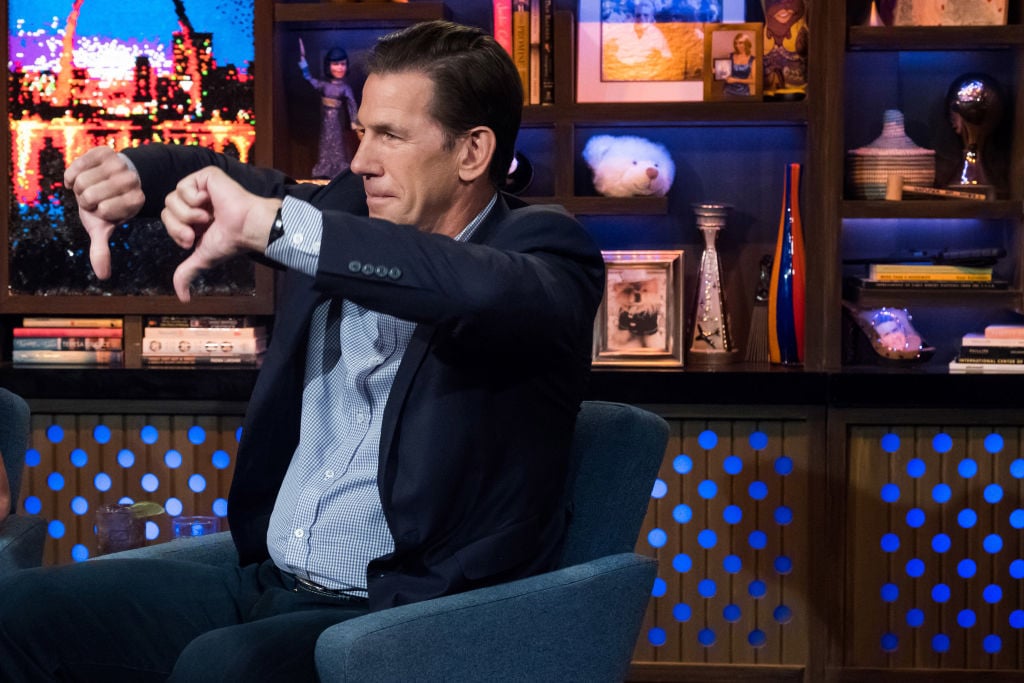 Former 'Southern Charm' couple reunite
Against all odds, it appears as though Ravenel and Dennis have made amends and are even hanging out at the same parties.
Over the weekend, the former and current Southern Charm stars showed up at a James Bond-themed event and snapped a few photos together for social media. Dennis shared one of the images on Instagram, and both she and Ravenel appear to have enjoyed each other's company.
"I'm nobody's Bond girl!" Dennis wrote alongside the photo.
A Southern Charm inside source claims that Dennis and Ravenel have been spending a lot of time together as they continue to co-parent their two children. While it is difficult to believe, the insider says that things are starting to get romantic between the former couple.
"She feels comfortable with him again, and they've both kind of tossed aside any other relationships they had for each other. There's that spark, and they're letting themselves explore it right now," the source dished.
The source made it clear that Dennis and Ravenel are not putting labels on their rekindled love. They also said things could change quickly between them, especially considering their volatile history.
Are Ravenel and Dennis dating?
There is no denying that Ravenel and Dennis are on better terms than they were last year. But despite what the insider claims, it sounds like the two are just putting up a united front for their children's sake.
Dennis has not commented on the romance rumors, but Ravenel recently told fans on Twitter that they have not gotten back together. Instead, the disgraced Southern Charm star said that they are being friendly because it is good for their children.
"No, we're doing some things together because it makes the kids very happy to see us getting along. And in this matter, our interests are perfectly aligned," he stated.
Regardless, seeing Dennis and Ravenel hanging out like old friends has shocked Southern Charm fan stars (especially in light of their recent custody battle). It has also led to more rumors that Ravenel will be returning to the series in the near future.
Taking to social media, Ravenel claimed that producers reached out to him and asked him to return for the upcoming season. The news came amid reports that Bravo was searching for cast members to shake things up in season 7.
Does Bravo really want Ravenel back on 'Southern Charm'?
Ravenel left Southern Charm in the fall of 2018 shortly after news broke that he was accused of sexual assault. Ravenel denied the allegations, though he later pleaded guilty to the charges in court.
Instead of spending time behind bars, Ravenel paid a $500 fine for his actions. He was also sued and reached a settlement for $125,000, most of which went to a nonprofit that helps sexual assault survivors.
In light of Ravenel's scandal, it would be a huge risk for Bravo to invite him back on Southern Charm. According to People, producers claim that they did not contact Ravenel to come back, regardless of what he claims on social media.
Production for the upcoming season is expected to start soon. Filming was reportedly delayed because Bravo was on the hunt for some new cast members (which apparently does not include Ravenel).
Dennis and Ravenel reach a custody agreement
While we wait to see how this story develops, Dennis and Ravenel have reached a new custody agreement over their two children, Kensington and Saint Julien.
As Southern Charm fans will recall, Dennis lost custody in 2016 after she failed a drug test. She later entered rehab and won back joint custody. In light of Ravenel's sexual assault charges, Dennis tried to gain full custody of the kiddos in the fall of 2018.
The two fought a bitter custody battle in court for well over a year before finally reaching an agreement in November of 2019. The two ironed out a deal in which they split custody, with Ravenel spending slightly more time with the kids.
"The parties' custody agreement awarded Mr. Ravenel primary legal custody of the minor children," Ravenel's attorney shared. "The parties currently share physical custody of the children on a 36%/64% split, with Ms. Dennis having the children five out of fourteen overnights and Mr. Ravenel having the children nine out of fourteen overnights."
The lawyer added that the agreement will change this summer and the pair will split their time with the children evenly. After the agreement was reached, Dennis revealed that she felt like a "huge weight" was off her shoulders.
The new season of Southern Charm is expected to premiere in 2020.