'Southern Charm' Season 8: Where We Last Left Off With Our Favorite Charlestonians
Southern Charm Season 8 is finally here after 18 months without new episodes. OG's Kathryn Dennis, Shep Rose, and Craig Conover are back along with Austen Kroll and Leva Bonaparte. And, Naomie Olindo has returned to the main cast after taking a break in season 7.
Newbie Olivia Flowers will also join the main cast this season, along with Venita Aspen, Taylor Ann Green, and season 7 guest star Chleb Ravenell. Madison LeCroy and John Pringle will be back, but this time they are friends of the show instead of main cast members.
Of course, Patricia Altschul and her son Whitney Sudler-Smith will show up as friends of the cast in Southern Charm Season 8. There's also a good chance that Conover's girlfriend Paige DeSorbo and a few of her Winter House friends could stop by for an episode or two.
Before we watch the Season 8 premiere of Southern Charm let's take a look at where we last left our favorite Charlestonians.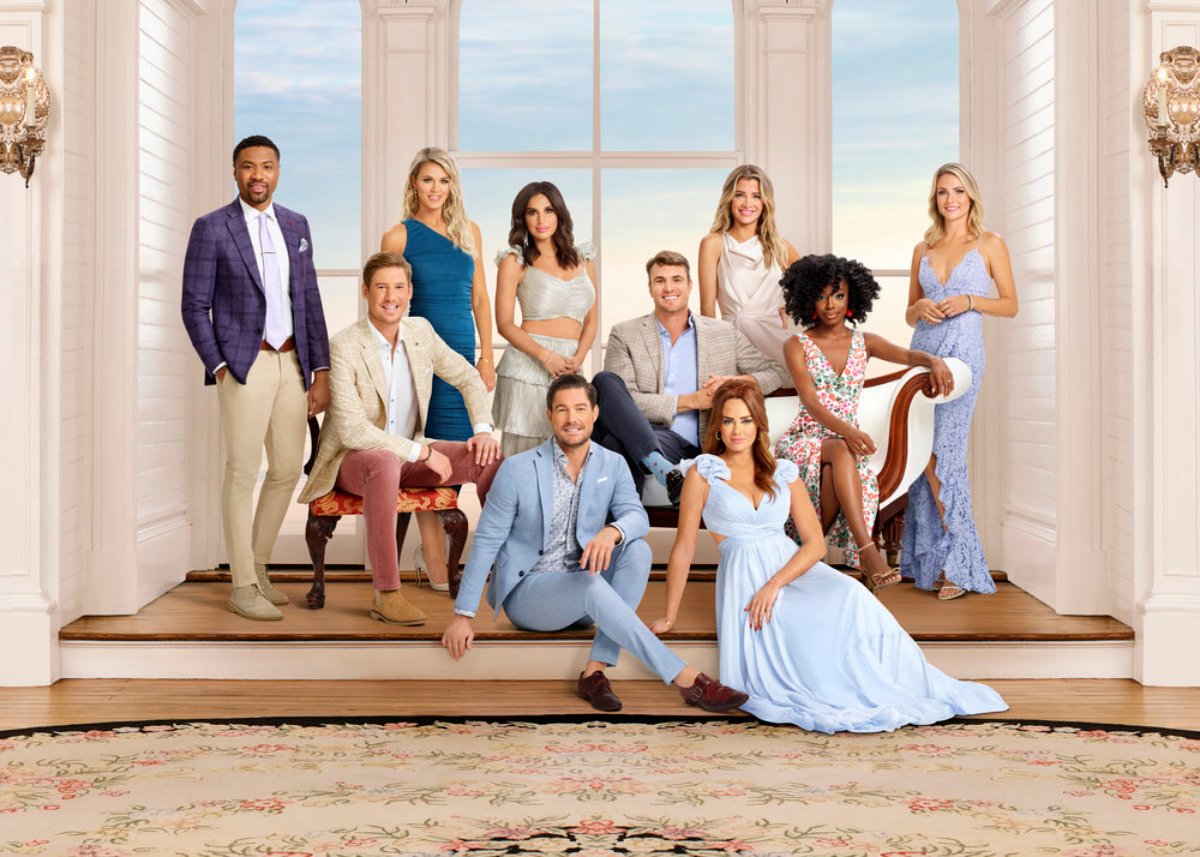 'Southern Charm' star Naomie Olindo is happy to be back in Charleston
The last time fans saw Naomie was in Season 6 before she left Charleston and moved to New York to live with her boyfriend Dr. Metul Shaw. But her move north didn't last very long.
In the summer of 2021, Naomie revealed to her Instagram followers that she had split from her boyfriend of three years after she discovered he was cheating. The major breakup came just weeks after they moved to NYC together.
After the split, Naomie returned to Charleston as a single woman. But because she had quit Southern Charm, the show didn't automatically take her back. She revealed on The Skinny Confidential Him & Her Podcast that she had to "beg" her way back on.
"I was like, 'Guys, please, I know I quit, and I know I told everybody to f**k off, but please I'm very depressed and I really want to come back. I don't know what I'm going to do if I'm back in Charleston' and they're like, 'All right,'" Naomi said.
Craig Conover is in the middle of the drama
A lot has changed for Craig since fans last saw him at the Southern Charm Season 7 reunion. He's been spending time on Winter House with Paige DeSorbo, and now they are officially a couple. The question is, how will Craig deal with the return of his ex, Naomie?
In late 2021, Craig said on Watch What Happens Live that Naomie was "really happy" and "relieved in a weird way" after her split from Metul. He said his ex was happy to be back in Charleston, and things happen for a reason.
The next night, Andy Cohen asked Austen if there had been any "sparks" between Craig and Naomie since she returned to Charleston. And he promised this would be addressed in season 8.
"This is something that's being covered on Southern Charm and we're filming right now, so that is something that I will not and cannot talk about."
Austen Kroll and Madison LeCroy have split for good
Austen and Madison were on-again, off-again for years. But in season 7, they finally called it quits for good in a messy split during COVID lockdowns. Austen told Us Weekly that seeing Madison's behavior during the second half of season 7 "broke his heart" and they weren't on speaking terms.
In January 2021, Madison told Andy Cohen that her last conversation with Austen ended with her texting him, "I hate you."
"We have not seen each other since the reunion," she said. "I think him downplaying me as an entrepreneur and just being very rude to me and saying a lot of nasty things that weren't true, especially at the reunion. It was already done before then, but he put the nail on the head with that one."
Madison confirmed in October 2021 that she was engaged to her boyfriend Brett Randle after seven months of dating. Austen is now dating Olivia Flowers, who joined the cast this season.
Shep Rose could be in trouble with Taylor Ann Green in 'Southern Charm' Season 8
Shep's girlfriend Taylor has been promoted to the main cast this season. But the trailer indicated he was in hot water and she was starting to "question everything" about their relationship. According to the Bravo press release, fans will get more insight into their romance in season 8 after he admitted to kissing another woman during the season 7 reunion.
"At 42 years old and facing pressure to settle down, Shep finds himself at a crossroads in his relationship with his girlfriend, Taylor, who is still grappling with Shep's past mistakes. When Shep reaches his breaking point, his friends waste no time calling him out and coming to her defense," the press release reads.
Kathryn Dennis' relationship with Chleb Ravenell is on the rocks in the season 8 trailer
Kathryn shocked everyone in the Southern Charm cast during season 7 when she made the colossal mistake of living at her ex Thomas Ravenel's house.
At the reunion, the mom-of-two admitted that co-parenting with Ravenel wasn't going well because he was trying to disrupt their parenting agreement. Thomas has full custody of their children, and he moved them more than two hours away from Charleston.
RELATED: 'Southern Charm' Star Kathryn Dennis Dumped Again…By Yet Another Lawyer
The last time fans saw Kathryn, she had just started her relationship with Chleb Ravenell. He will be part of the cast in season 8. But the trailer indicates their relationship is on the rocks. And, we already know that the couple split not long after filming wrapped.
Will season 8 of 'Southern Charm' be Leva Bonaparte's last?
Leva joined the cast of Southern Charm in season 7, and spent most of the episodes talking about Kathryn. She said during the reunion that the hardest part of being on the Bravo series was not being heard at times. And then Leva and Kathryn got into it over Leva trying to turn Kathryn's friends against her.
We don't know what the entrepreneur is up to in season 8, but it looks like it could be her last. After the cast wrapped filming, Leva unfollowed several of her co-stars.
RELATED: 'Southern Charm: Leva Land': Meet the Potential Cast
According to Reality Blurb, the Best of Bravo Instagram account posted a couple of stories that alleged Leva had issues with Austen and Craig. She also posted some cryptic messages that indicated she could be done with the show.
"I can't be around people who think my accomplishments, success, and future opportunities are competition," Leva wrote. "If we can't be happy for one another, we have nothing in common. Bye."
Southern Charm Season 8 premieres Thursday, June 23, on Bravo.