'Southern Charm': Shep Rose Thinks Austen Kroll Has COVID, but Craig Conover Is Concerned About the Birthday Bash
Reality television begins to resemble real life as COVID-19 concerns sink in for the cast of Southern Charm.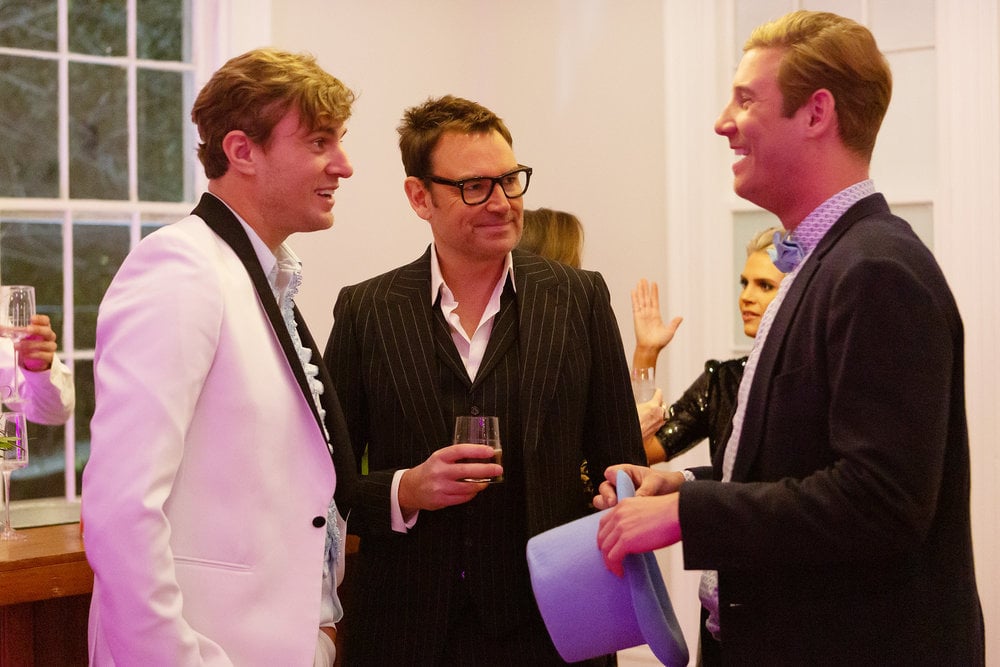 Filmed over the spring and summer, cast members are seen entering the early days of the pandemic when lockdowns were spotty and misinformation ripped through the country. In a preview clip, Shep Rose is seen working out at the local gym as he waits for Austen Kroll.
Rose finally calls Kroll only to learn Kroll is feeling sick. Does he have COVID-19? Rose worries Kroll has the virus and then calls Craig Conover, who doesn't seem to be up to pandemic speed.
Austen Kroll is feeling 'flu-y'
"Somethings not right," Kroll admits during the phone call with Rose. "Feeling, like a little flu-y." Rose winces when he hears the news. "A little achy," Kroll describes. Rose says the news that Kroll could be sick is scary.
"Well, if you feel better tomorrow then I think you're in the clear," Rose suggests and Kroll agrees. "But I could be wrong. I'm not a doctor." The guys laugh and Rose tells Kroll he hopes he feels better. "I'm gonna bounce back quick, I promise you that," Kroll says.
While Rose keeps the conversation light, he is visibly worried. "If you feel sick during a pandemic, and the symptoms are flu," he says in a confessional. "COVID." That's when Rose decides to give Conover a heads up.
But what about the party?
Conover's new girlfriend Natalie answers Conover's phone, which has Rose tickled. "Hey I'm at the gym, listen Austen had to bail because he has flu-like symptoms," Rose says to Conover while laughing nervously. "I'm wigged out. I'm just letting you know."
But Conover has bigger issues. "Like are we still having his birthday party?" he asks Rose. "Because like we all went out this past weekend but I mean I feel totally fine." Rose says he feels fine too.
Conover didn't seem to totally buy the news that the world was shutting down due to a global pandemic. He finished the previous episode Googling the virus and coughing while talking on the phone to Rose.
Austen Kroll and Craig Conover got in hot water during the early days of the pandemic
Conover and Kroll caught significant heat for their behavior during the early days of the pandemic. Kroll, Conover, Madison LeCroy, and Kathryn Dennis shared photos from a restaurant, which ended up earning serious anger from fans.
"Craig gave us crabs," Kroll posted along with a photo of the packed restaurant. "Love you guys but…Go home! Stop the spread…," was one of the nicer remarks on the thread.
Kroll later shared a photo sitting on Patricia Altschul's driveway visiting with Whitney Sudler-Smith. "St. Paddy's has a different vibe this year," he wrote on Instagram. "Rest assured we heard many of your outcries and death threats, which we for some reason normalize/internalize, and are practicing social distancing. @wsudlersmith was gracious enough to provide us with the Bourbon, which we had to pick up once he placed it down on the ground away from us. SIDE NOTE: The price of the bourbon he supplied increased with every story he told #20feet."
Southern Charm is on Thursday at 9/8c on Bravo.