'Southern Charm': The Cast Dishes About Who Is out and Who May Be Making More Appearances During Season 7
Southern Charm fans weren't quite sure if they would be getting another season from Bravo. After filming sputtered and even came to a halt, it appears that cameras are once again rolling as the cast shoots season 7.
Shep Rose sent fans into a panic when he hinted that the show wasn't filming according to the usual schedule. "Usually we film in the fall," he shared on The Ross Bolen podcast this fall. "I don't know if we are going to do another season. But we're not doing one now."
But cast members confirm the show is back on track, just filming a little later in the year. Some viewers wondered if the lapse in time meant that Bravo was wooing Thomas Ravenel back to the cast. However, it does not appear that Ravenel or his former girlfriend, Ashley Jacobs will return.
Thomas Ravenel and Ashley Jacobs are not on the cast roster
Thomas Ravenel has had nothing but disparaging remarks to make about the series since he left. He added that he is not friends with the cast either. "None of those people are my friends. "Never were and never will be. If I never see one of them again I'll be perfectly fine. They all know this after I kicked them out of my house. I'll make an exception for Austen and Madison as they weren't there that night," he tweeted in November. Ravenel also made pointed remarks about Patricia Altschul too.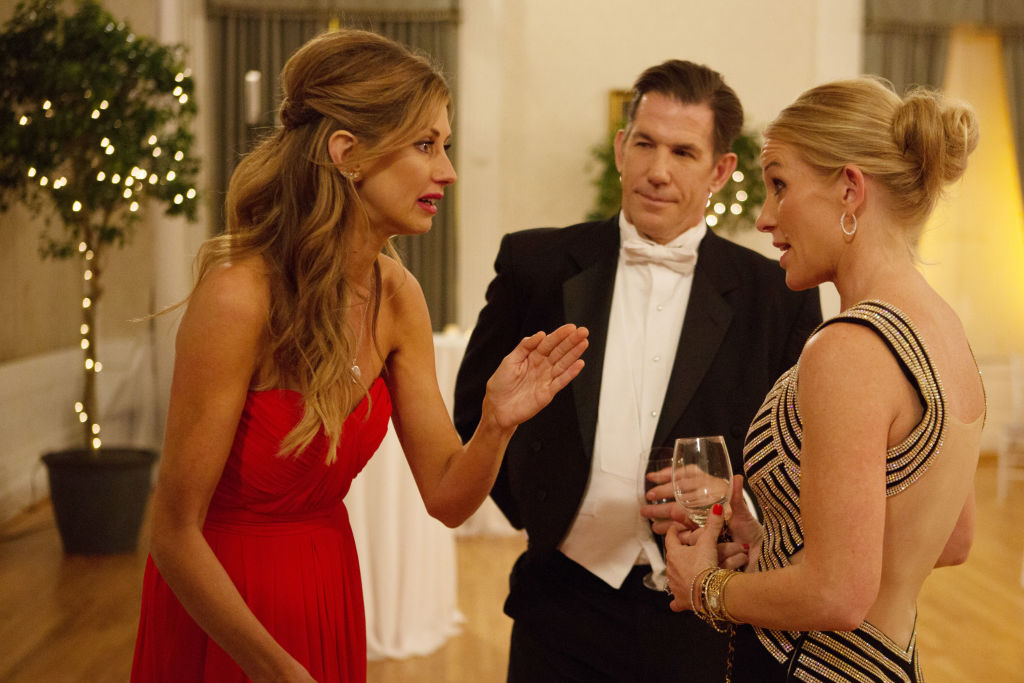 Ravenel has since insisted that Bravo tried trying to woo him back for season 7. A fan asked on Instagram if he planned to return this season. "None. Was asked again yesterday and responded with a resounding no! Yet #fakenews People.com will keep saying I was fired. They're disgusting!" However, a source told US Weekly no one from Bravo has contacted Ravenel about returning to the show.
Also, Ravenel's ex-girlfriend didn't make the cut either. "Ashley's gone! Gone!" Kathryn Dennis told US Weekly during BravoCon. "Season 7, I'm looking forward to showing a new side to me, showing my boss babe vibes with Kensie + Saint Furniture."
Fans may get to see more of Cameran Eubanks' husband
Cameran Eubanks dished with US Weekly that viewers may get to see more of her typically camera-shy husband, Jason Wimberly. "We might see more of Jason. Jason was on the last episode [of season 6], it went well," she said. "Jason's shy and private, so I think that was kind of a little intro. I think you might see him again now that he's more comfortable." Eubanks finally brought Wimberly to a Southern Charm event where she joked about having a crush on Naomie Olindo's boyfriend Metul Shah.
She also added that viewers may also see a more "grown up" version of Craig Conover too. "Season 7 is going to be a very high opening season in terms of, you will see that some people have made some big strides in growth and some have stayed the same. Sadly," she dished. "I think the viewers are going to see a huge change in Craig [Conover]. He has matured, he's really come into his own. I'm very proud of him. He's a man now."
Another likely returning cast member is Danni Baird who has been a featured friend since the show's inception. "7th time's a charm #SouthernCharm," she shared to her Instagram story, US Weekly reports.