'Southern Charm': Why Is Craig Conover Living With Austen Kroll?
Craig Conover and Austen Kroll from Southern Charm are like the new Odd Couple as the friends are now living together.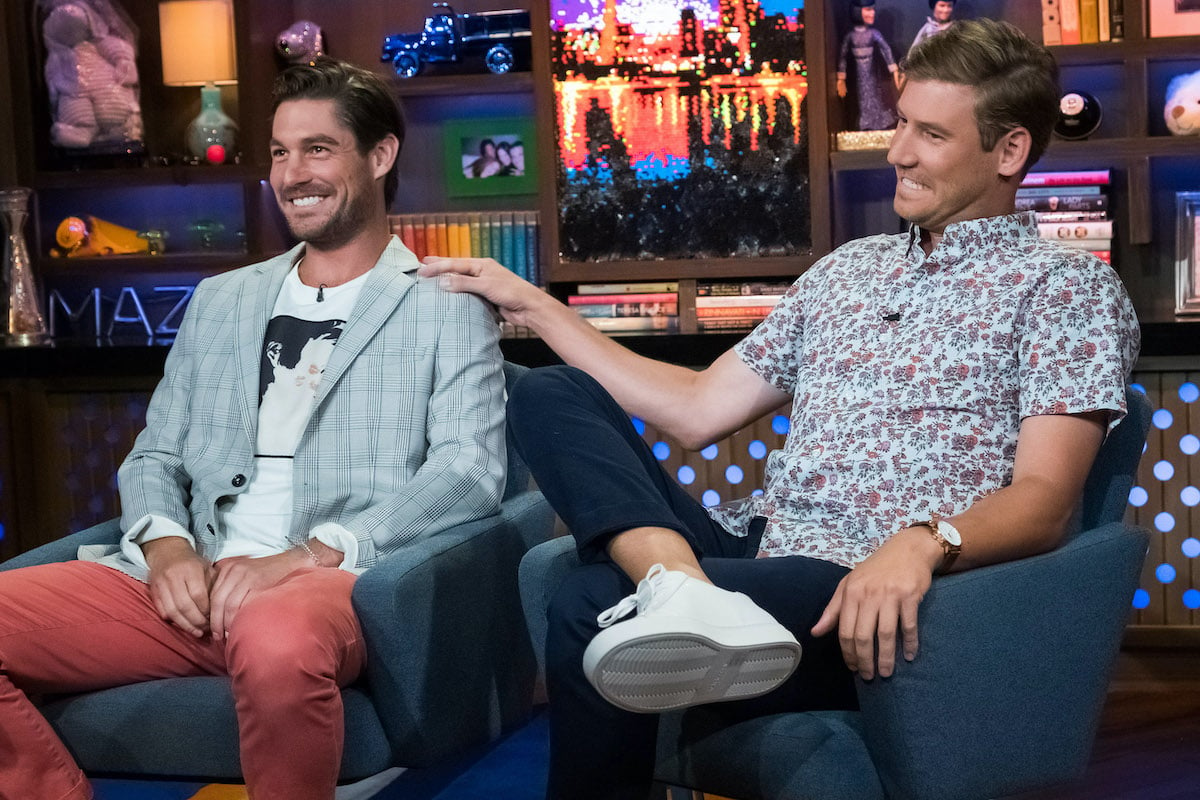 Producers tried to pull one over on viewers as Conover slides into a darkened bedroom where someone sleeps under the covers. At first, it appears that perhaps Conover is living with a new love interest, but alas … he's living with Kroll.
Conover explains that he had to deal with some construction issues at his house so he was bunking with Kroll until the issues were repaired. Conover explained in a confessional that 10 months ago he was living in his professionally designed home.
"Then a plumber came for a routine checkup," he shared. The pipe exploded and asbestos blew all over his house. And while that sounds like a nightmare, Conover told Showbiz Cheat Sheet just getting the insurance company's attention was nearly impossible.
Craig Conover took to Instagram for help
Conover said he resorted to tagging his insurance company on Instagram because no one was answering his questions. "State Farm, please contact me," Conover pleaded in his Instagram story. "I'm sorry to have to do it over this platform but I have been out of my house for nine months and one of your local adjusters just sent me a threatening letter denying coverage." 
"I've had you guys for a long time, but this is insane," he continued with his video. "I had water damage nine months ago. I'm still out of my house."
He then shows a pair of sneakers that are covered in mold to the camera. "Here are shoes that are covered in mold because the house is still soaking wet," he said. "And your local people are saying that it's dry."
The guys figure out how to make their living arrangement work
Kroll crabs at Conover for his approach to doing laundry. He finds wet clothes in the washing machine, seemingly left overnight. But Conover said he didn't leave them.
While he's muddling through with Kroll, Conover says his company Sewing Down South is doing exceptionally well. He told Showbiz Cheat Sheet he recently partnered with textile giant Thomasville for a new line. And while friend Shep Rose ribbed him about trading his law books for a sewing machine, he's now eating crow.
"Shep finally had to accept the fact that I'm never going to be the type of person he wanted me to be," Conover remarked. "But he loves it now. What he said is 'All I ever wanted was for Craig to be honest with himself.'"
Also, ex-girlfriend Naomie Olindo is happy for Conover too. "So we got to talk about relationships and what we've taken out of ours," he said. "And it was just funny. It was nice. Was one of the first times that we've talked, as, you know, completely as friends. And she was super nice about that. I thought she [talked about out friendship] in interviews. She said she always be grateful for the world that I brought her into it. She was happy for [Sewing Down South] and everything is all very positive now."