'Southern Charm': Austen Kroll Stirs the Pot With 'Love Who You Love' Kristin Cavallari Instagram Share
Austen Kroll from Southern Charm "broke the Internet" with his "Love who you love" Instagram post featuring Craig Conover and Kristin Cavallari.
Cavallari and close friend Justin Anderson stopped by Conover's Sewing Down South store in Charleston when the foursome took a playful snap. Kroll is grasping Anderson's hand and Conover looks cozy next to Cavallari. Fans wondered if Conover (or Kroll) and Cavallari sparked a romance when they suddenly seemed to be linked. But Conover insisted they are all close friends and teased Cavallari might swing by the store during the grand opening.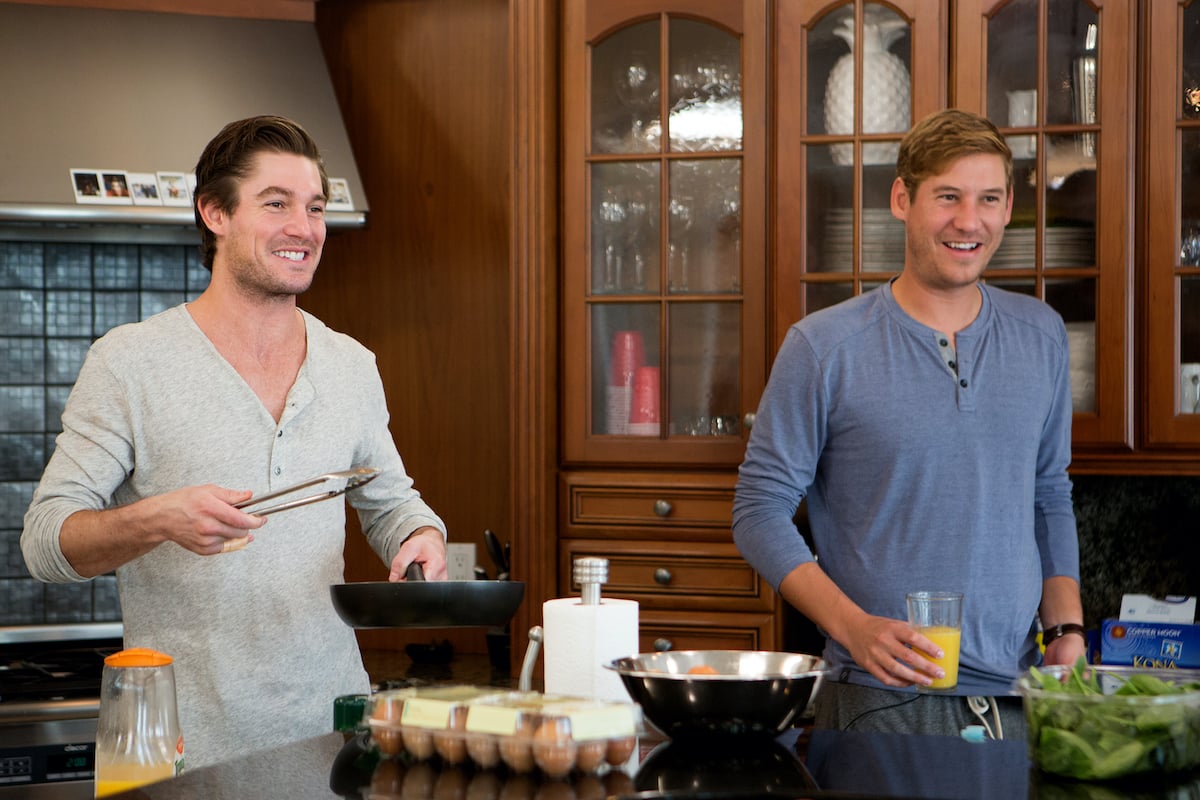 Will Kristin Cavallari appear on 'Southern Charm'?
In April, Conover shared he hoped Cavallari would attend the Sewing Down South grand opening, which could mean she'd make a guest appearance on Southern Charm. The cast is currently filming season 8. "I hope so. It's not ruled out at all," he told US Weekly. "If they're at the party, then yeah. I think some of our friends from the past six months, you'll get to see a decent amount of them, which will be really fun."
In fact, Cavallari inspired Conover when it came time to design the Sewing Down South store. "She is great. Her and Justin [Anderson] are awesome," he said. "She just opened her new store. … She put a lot of money into that store and it's beautiful. And so, I actually used that as an example, and I was like, 'Can we do this? Like, yes, Craig, maybe in five years, if you're here every day and you really work.'"
RELATED: 'Southern Charm': Landon Clements Says Patricia Altschul Unfollowed Her on Instagram After She Stood up for Thomas Ravenel
Kroll also shared video on his Instagram story where he had dinner and sipped cocktails with Conover, Cavallari, and Anderson. Kroll also offered samples of his Trop Hop beer to other friends at the table. The crew took down "25 ounces of meat" at the table too.
Craig Conover did not 'slide' into Kristin Cavallari's DMs
Conover cleared up rumors (started by Kroll) that he "slid" into Cavallari's direct messages. "Justin and I came to Charleston, and Craig I have to call you out," Cavallari joked on Kroll and Conover's Pillows and Beer podcast. "Because I feel like this whole sliding into your DM thing is you doing damage control at home and I totally get why you need to do that."
That's when Conover realized that "slide into" someone's "DMs" had a different meaning. He just meant that she reached out to him. "It was never meant to be insinuated like that [romantically]," Conover replied. "Or maybe I don't understand the term."
RELATED: Southern Charm: Austen Kroll Says Craig Conover's Success Inspires Him, Admits He's a Little 'Envious'
"But from my perspective, Justin, my best friend, you guys had been speaking," Cavallari remarked. "So I DM'd you, 'slid into the DMs' and I said thank you for the masks. We're coming to Charleston in a month or whatever. I was like I think we're all gonna hang out."
"I'm just gonna eliminate the word, 'slide' from my vocabulary," Conover concluded. "Justin's been a big fan of the company for a while. Through that we became friends."
Indeed the foursome looked like they were having a blast and maybe (just maybe) shooting some scenes for Southern Charm in the process.