'Spider-Man 3': When Will Tobey Maguire Make His Rumored Debut in the Marvel Cinematic Universe? It's Complicated
The Spider-Man 3 rumors are swirling once again. Weeks after reports first emerged that Tobey Maguire and Andrew Garfield would be part of the next Spider-Man movie along with current Spidey Tom Holland, insiders claim the deal is close to being final. It also appears that Spider-Man 3 — or perhaps Spider-Man 4 —may not be Maguire's only appearance in the Marvel Cinematic Universe.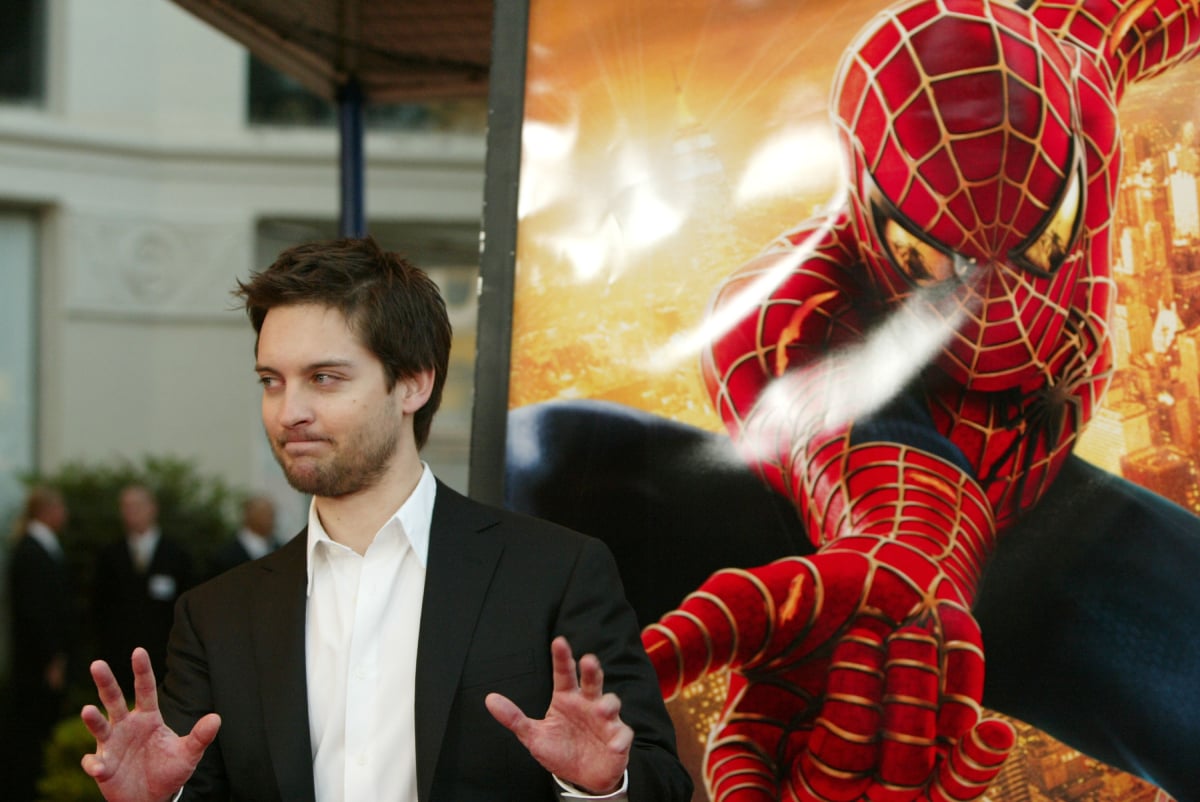 Sony pictures attempted to shoot down the 'Spider-Man 3' rumors
The reports that Maguire and Garfield would be making cameos in Spider-Man 3 first emerged in October. As Entertainment Tonight points out, Sony Pictures – who owns the movie rights to Spider-Man – attempted to shoot down the rumors. But fans immediately noticed that the statement did not exactly deny the Maguire and Garfield casting buzz.
"Those rumoured castings are not confirmed," a rep for the studio said.
Maguire played Peter Parker in Sam Raimi's three films from 2002 to 2004. Garfield took over the role for the 2012 reboot and reprised it in the 2014 sequel.
The rumor is that Maguire and Garfield will return with Holland for Spider-Man 3 in a live-action SpiderVerse storyline. Jamie Foxx has already confirmed that he will return as Electro, a role he first played in The Amazing Spider-Man 2, which starred Garfield. The studio has also confirmed that Benedict Cumberbatch is part of the cast as Doctor Strange.
The Tobey Maguire and Andrew Garfield casting announcements are coming soon, insider claims
The Maguire and Garfield casting rumors heated back up on November 10 when YouTuber Grace Randolph tweeted an update. Previously, Randolph reported that Maguire was holding out because he wanted more screen time, not more money.
Randolph wrote, "Hearing #TobeyMaguire should be announced any day for #SpiderMan3."
Randolph also posted that she could not confirm that Maguire and Garfield had signed any deals. But her sources made it clear that it was just a matter of time. Randolph also revealed that Maguire will appear in another MCU movie, not just Spider-Man 3.
"As for Spider-Man 3, I can't CONFIRM any deals are signed but the LATEST I heard from my sources was Tobey Maguire two movies – presumably, that means he'll also be in Doctor Strange 2 and Andrew Garfield just the one," she tweeted.
The "one" movie that Garfield will appear in is not clear. It could be Spider-Man 3, or it could be Doctor Strange in the Multiverse of Madness. Rumor has it that Sony wants both Maguire and Garfield to return so they can close out their characters' chapters and give them both a good sendoff. Fans will recall that neither Maguire nor Garfield's final turn as Peter Parker went very well.
The 'Spider-Man 3' rumors might not be exactly right
According to Small Screen, Maguire and Garfield will be part of the MCU in the live-action SpiderVerse. However, their insiders claim that it won't happen in Spider-Man 3. Their source revealed that Maguire's first appearance will be in Doctor Strange in the Multiverse of Madness with his Spider-Man director, Sam Raimi, at the helm.
"Tobey Maguire is going to be in Doctor Strange 2," their insider dished. "He's going to be playing his version of Spider-Man. He and Sam Raimi are really excited to be working together."
A second insider added, "Yes! Tobey's going to be in the project. It'll be his Raimi version of Spidey and he'll be introduced through the Multiverse. It might be just a brief cameo though."
The insiders also claim that both Maguire and Garfield will star in Spider-Man 4, not Spider-Man 3, and will have significant roles. This would mean Maguire's first MCU appearance would take place in the Doctor Strange sequel. This news actually tracks, since they are already filming Spider-Man 3 in Atlanta without Maguire or Garfield having signed on the dotted line.
Instead of Spider-Man 3, Doctor Strange could be opening the Multiverse in his own sequel. This comes after Google claimed the Doctor Strange 2 cast list included Maguire, Garfield, Tom Hiddleston (Loki), and Ryan Reynolds (Deadpool).
At this point, it seems pretty certain that Maguire and Garfield will be reprising their roles as Peter Parker. The question now is – which movies will they be in? Fans will have to wait to find out.
Spider-Man 3 will hit theaters on December 17, 2021. Doctor Strange in the Multiverse of Madness has a scheduled March 25, 2022 release.