'Spider-Man' Fans Are Losing It Over Tom Holland's Sweet Birthday Tribute to Zendaya
The Spider-Man films have a history of seeing their leads grow close together, from Tobey Maguire and Kirsten Dunst to Andrew Garfield and Emma Stone. Tom Holland and Zendaya seemingly joined those couples when footage of them kissing surfaced earlier this summer. While neither actor ever addressed the reports about them dating, Holland posted a sweet birthday tribute to Zendaya on Instagram this week. Needless to say, Marvel fans are having a lot of feelings.
Tom Holland and Zendaya play Peter Parker and MJ in the MCU's 'Spider-Man' movies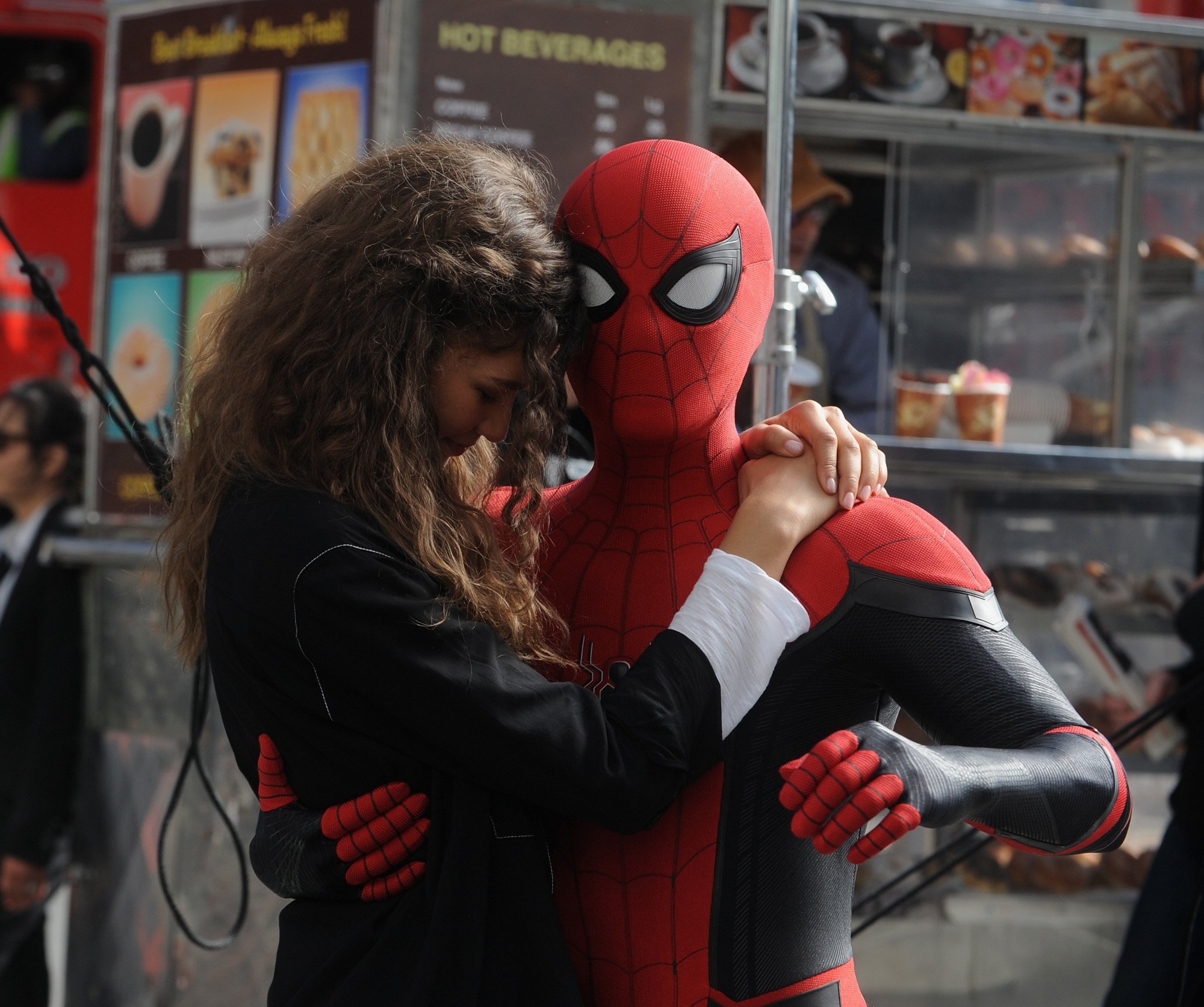 It's probably no surprise Holland and Zendaya have developed a bond since their characters in the Marvel Cinematic Universe share a similar affection for one another. The duo bring Spider-Man's Peter Parker and MJ to life — but Zendaya isn't the traditional Mary Jane. In the MCU, her character's initials actually stand for Michelle Jones. In that way, the franchise pays tribute to the original character and puts a unique spin on her story.
During an interview with Variety, Zendaya opened up about recreating the role for Holland's Spider-Man movies. She emphasized MJ's sense of humor, and how her version of the character brings levity to the films:
"I was lucky because they already kind of wanted to recreate the character and turn her into a new version of what I think maybe the original Mary Jane character represented, and just do it in our own way in this Marvel Cinematic Universe. I kind of came into it and there was already on the page a smart, quick, sharp young girl who comes off a bit quirky or offbeat.
She added, "I have a lot of fun doing it. I like being able to do comedy and things that aren't so heavy."
Tom Holland called his co-star 'my MJ' in a sweet birthday message
Zendaya turned 25 years old on Sept. 1, sparking an outpouring of support on social media for the Spider-Man and Euphoria star. Holland honored the occasion with an Instagram post that definitely hints at romance — and in the most Peter Parker way, too.
The Spider-Man actor posted a mirror selfie with Zendaya, tagging his co-star and writing, "My MJ, have the happiest of birthdays. Gimme a call when your up xxx."
If the "my MJ" wasn't enough to get fans swooning, however, Zendaya's response probably did the trick. ""Calling now♥️," she wrote, fueling the internet's already-enthusiastic response to the message.
Fans took to Twitter and Reddit to gush over the Spider-Man couple, a pair many have come to love.
"I'm usually not one to be invested in Hollywood couples. But damn if these two don't seem perfect together," one Redditor wrote.
Another Redditor added, "I'm not one to gush over celebrity couples, BUT these two are the exception they are so cute together."
That sentiment prevailed across the internet, proving everyone loves a good behind-the-scenes love story. Of course, Holland and Zendaya have yet to actually confirm that's what's going on between them.
Are the 'Spider-Man: No Way Home' stars dating IRL?
Rumors of Holland and Zendaya dating have circulated for years now, perhaps because fans are so used to Spider-Man stars winding up together. Those speculations were fueled by reports from People, pointing to the duo going on vacation together.
However, both actors denied or deflected the claims for just as long. Even after the image of them kissing made the rounds, neither made a big deal about it. That could be because they're trying to keep their romance as private as possible. Earlier this year, Holland told British GQ that he's wary of having his dating life in the limelight:
"It's very nerve-racking. It means that if you are dating someone, you have to be really conscious of their feelings, because if something does happen between the two of you, it's not just happening between the two of you, it's happening in front of the entire world," the actor explained.
That's one of many reasons that could explain the silence from both Holland and Zendaya. However, if fans don't get the details of their off-screen relationship, they will get to see all the on-screen chemistry between the pair when Spider-Man: No Way Home finally arrives.