'Spider-Man: Far From Home' Stars Tom Holland And Zendaya Had One Of The Most Epic 'Lip Sync Battles' Ever
In honor of the success of 'Spider-Man: Far From Home' let's take a look back at one of the most epic 'Lip Sync Battles' ever between stars Tom Holland and Zendaya.
Tom Holland and his Spider-Man: Far From Home co-star Zendaya had one of the most epic lip sync battles in the history of television. Back in 2018, the pair battled it out on Spike's popular celebrity competition Lip Sync Battle. Zendaya wowed the crowd with a rendition of Bruno Mars' track, "24K Magic," while Holland performed Rihanna's song "Umbrella" in drag in a performance we will probably never forget.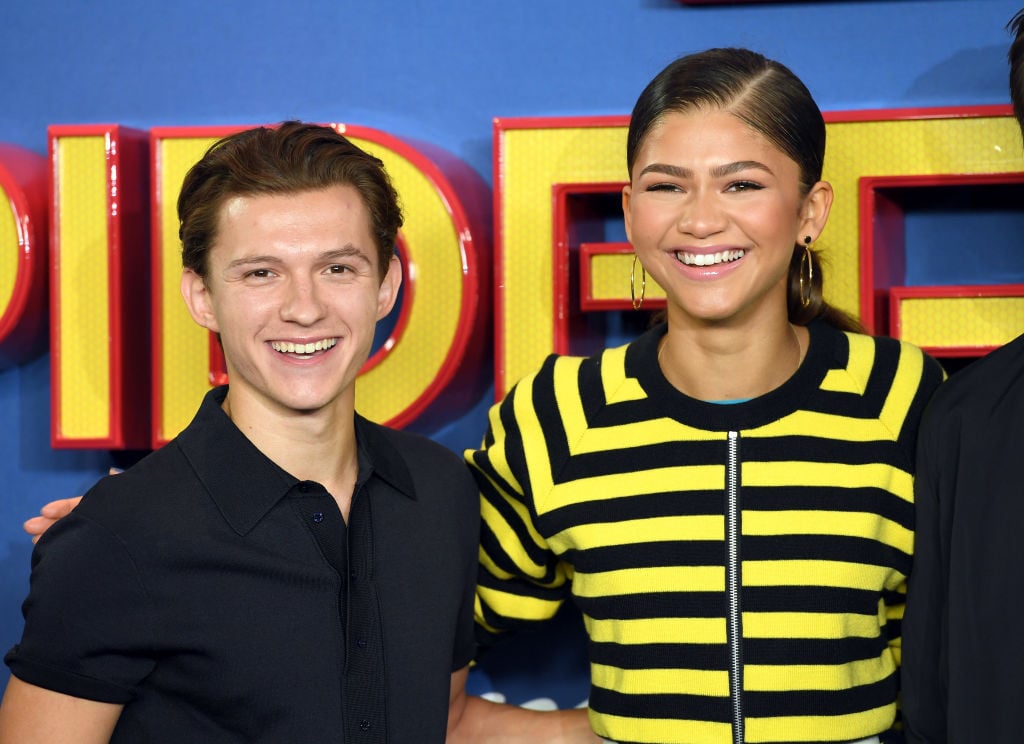 Zendaya and Tom Holland surprise fans in lip sync battle
Zendaya plays Peter Parker's cool and slightly paranoid romantic interest, MJ, on the big screens, and it turns out she's just as smooth in real life. The actress absolutely crushed her performance of "24K Magic," and came out with tons of energy. For his part, Holland started out slow by lip-syncing "Singing in the Rain," and it looked like he was on the verge of losing. That all changed when he switched things up and emerged in drag for Rihanna's song.
Holland did a scary good job playing the part, but it definitely helped that he was decked out in a sexy French maid costume. The audience also loved the performance and it is not something Holland is going to live down anytime soon.
Tom Holland opens up about 'Umbrella' performance
In a recent interview, Holland was asked what type of music will be featured in his next outing as Spider-Man. According to Comic Book, the crowd started yelling "Umbrella," which prompted a response from Holland. The actor admitted that he loved doing the lip sync battle with Zendaya, but there is a part of him that regrets it as well.
"I loved doing Lip Sync Battle, but I regret it so much," Holland shared. "But what about Zendaya for Lip Sync Battle? I mean, come on."
Fortunately for Holland, his performance with Zendaya has gone down as one of the best lip sync battles of all time. The Far From Home star might regret doing it, but it is clear that his fans absolutely loved it. It's too bad the two can't get together again for a rematch, though something tells us Holland is not too keen to jump back into that arena.
Will Tom Holland and Zendaya do another lip sync battle?
Given the epic nature of their performances, Holland and Zendaya are constantly being asked about a potential lip sync rematch. Last month, the actors addressed the reports once again and confirmed that they have zero plans for doing another battle.
In fact, Zendaya revealed that the lip sync episode was one of the most stressful things she has ever done, which is a lot considering the young actress's credits. Holland echoed his co-star's sentiments and has expressed little interest in revisiting the subject.
While we will not see Holland and Zendaya battle it out on the music floor, there is a possibility that they will team up for a similar project. The two agreed that joining forces for a sequel to the hit film, The Greatest Showman, would be amazing.
No official announcement has been made, but there is little doubt that the two would do a great job on the project. As far as Zendaya is concerned, the only way she would agree to the movie is if she played the role of the lion tamer.
Are Tom Holland and Zendaya dating?
Considering how close they have grown away from the set, rumors have surfaced that Holland and Zendaya are dating. Fans have been shipping them ever since the first movie in the franchise, though the two have shut down the romance rumors on several occasions.
In 2017, Zendaya assured everyone that she and Holland are just friends. She added that the actor is probably her best friend, which explains why they are often on each other's social media accounts.
Holland and Zendaya became fast friends while working on the movie, Spider-Man: Homecoming in 2016. Shortly after production started for the film, Holland and Zendaya started showing up on each other's Instagram accounts. The two have enjoyed a tight-knit friendship ever since, though it does not sound like they have gotten romantic — at least not yet.
Tom Holland and Zendaya reprised their roles as Peter Parker and MJ in Spider-Man: Far From Home, which is currently out in theaters.