If 'Spider-Man: Far From Home' Stars Tom Holland and Jake Gyllenhaal Reunite on Screen, Fans Want It to Be in a Musical
Actors Tom Holland and Jake Gyllenhaal, stars of the Marvel/Sony film Spider-Man: Far From Home, aren't working on any projects together right now. But some fans have come up with the perfect way to reunite them. Learn more about their friendship and what they could collaborate on here.
Tom Holland and Jake Gyllenhaal starred in 'Spider-Man: Far From Home'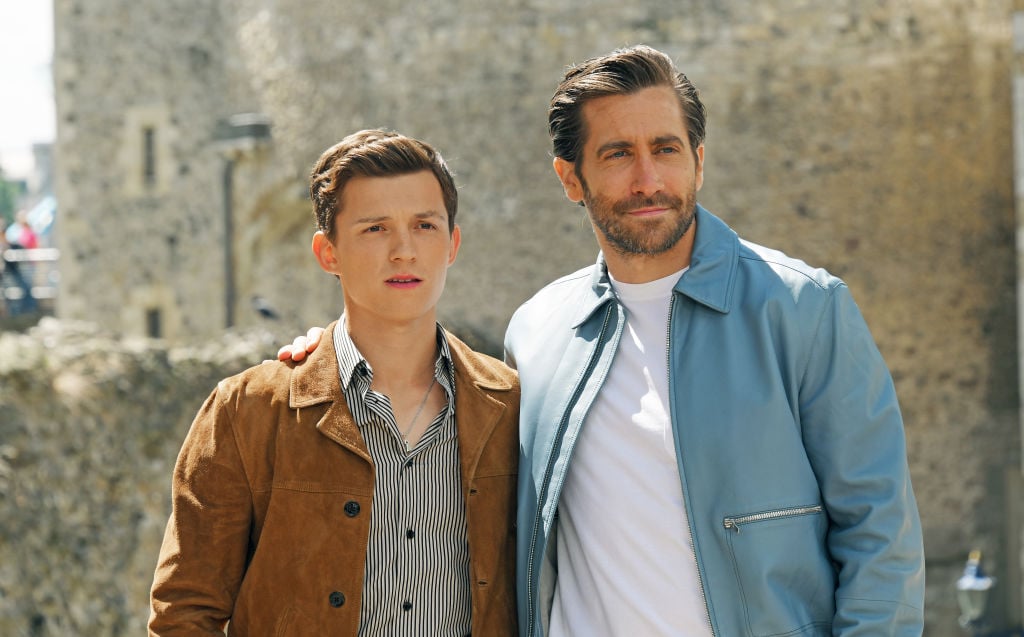 Holland got his start in the Marvel Cinematic Universe when he appeared in Captain America: Civil War. This was followed by his first solo entry, Spider-Man: Homecoming, which further established him as Peter Parker. He then went on to appear in Avengers: Infinity War and Avengers: Endgame.
Spider-Man: Far From Home wrapped up Phase 4 of the MCU. In the flick, Peter travels with his classmates to Europe, where he meets Quentin Beck, who claims to be a superhero, Mysterio, from another version of Earth. He's later revealed to be a villain when he tries to use his holographic technology to defeat Peter and his classmates.
Holland always wanted to work Gyllenhaal
Gyllenhaal has been in show business for quite some time. He got his start as a child actor, and Holland has done the same, albeit years later. So it makes sense that the latter would look up to the former.
In an interview with Yahoo! in May 2017, Holland said he thought Gyllenhaal would "be really cool" in the part of Victor "Sully" Sullivan in the film Uncharted. (This role ultimately went to Mark Wahlberg.)
Holland also told the publication that Gyllenhaal is someone he was "dying to work with." Was this a hint about Far From Home? It's possible, but not probable. Gyllenhaal's casting wasn't announced until a year later.
Now they're friends
Holland and Gyllenhaal did a lot of press together ahead of Far From Home's release in 2019. And during that time, it became clear that they're friends in real life. Behind-the-scenes clips of their time on set reveal that there was a lot of laughter and plenty of takes cheerfully ruined.
It's apparent that they formed a real bond, as Holland jokingly refers to Gyllenhaal as his "husband" in numerous Instagram posts. Speaking of the social media platform, the two actors often interact back and forth there. On May 4, 2020, Holland posted a video of himself snowboarding, and Gyllenhaal responded with one of himself hiking up a snowy mountain.
Both are musically talented
Another thing Gyllenhaal and Holland have in common? A background in theater. Holland first gained notoriety in Billy Elliot: The Musical, and many fans are familiar with his dancing talents via that infamous Lip Sync Battle episode.
Gyllenhaal, meanwhile, may not be immediately thought of in the world of music. But he has actually done a lot of stage work, including musicals such as Little Shop of Horrors and Stephen Sondheim's Sun in the Park with George. He even brought his talents to the mainstream with his performance in Netflix's John Mulaney & the Sack Lunch Bunch.
So fans have hatched the perfect plan: Bring them together in a movie musical. There are plenty of options out there, but with many including Holland in their Hercules live-action fan-casting, perhaps Gyllenhaal would be up for another villainous role as Hades?