The 'Spider-Man: Into the Spider-Verse' Team Says a Tobey Maguire, Andrew Garfield, and Tom Holland Scene Could Happen 'Down the Road'
During a virtual watch party of Spider-Man: Into the Spider-Verse on May 6, 2020, the team behind the film revealed a lot of new information. They also reaffirmed the existence of a planned scene featuring all three actors who portrayed Peter Parker in the past: Tobey Maguire, Andrew Garfield, and Tom Holland. And don't fret, Spidey fans — they say there's still a possibility of this team-up in the future.
There's a big team behind Sony's 'Spider-Man: Into the Spider-Verse'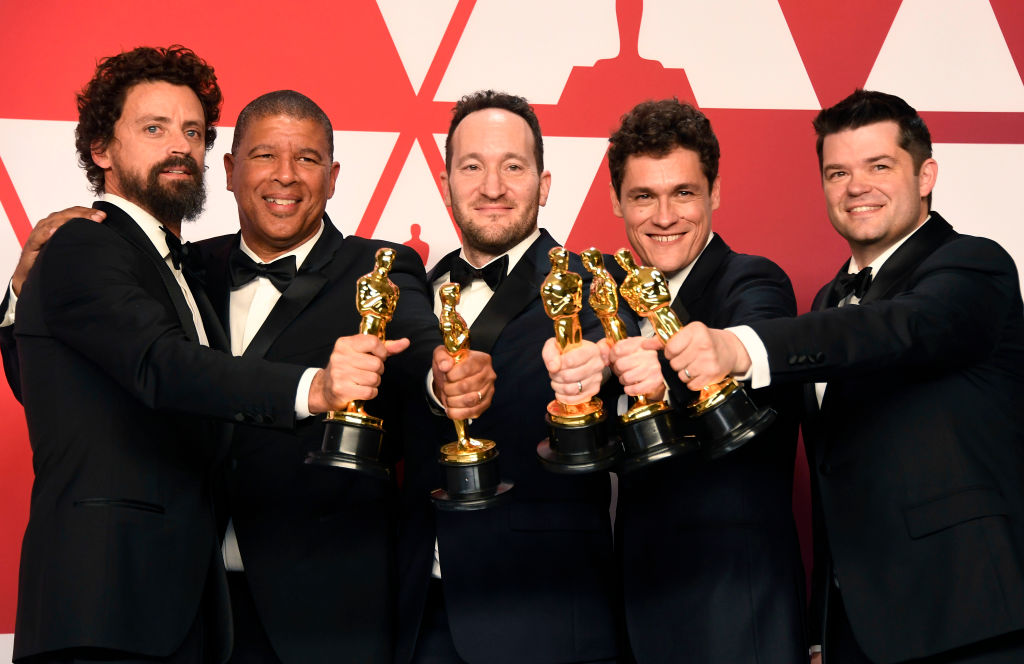 Into the Spider-Verse was released in December 2018. The animated film stars Shameik Moore as Miles Morales, a teenage boy who gets the powers of Spider-Man. He then learns that there are many others with these abilities living in alternate universes. They all team up to fight a common enemy.
When Into the Spider-Verse won Best Animated Feature at the 2019 Academy Awards, a lot of people were front and center. Among them are the film's three directors: Bob Persichetti, Peter Ramsey, and Rodney Rothman. Additionally, Phil Lord, who wrote the film's story and screenplay (sharing the latter credit with Rothman), and his frequent writing partner, Chris Miller (who is credited as a producer), were also acknowledged.
The film features many references, including ones to the other Spider-Man movies
Like the movies of the Marvel Cinematic Universe, Sony's Into the Spider-Verse features plenty of Easter eggs. Many were throwaway gags, while some alluded to the other works of Lord and Miller. And still more were Spider-Man specific.
Comicbook.com's Brandon Davis, who hosted the watch party, posted screenshots of Into the Spider-Verse scenes that paid homage to the previous Sony Spider-Man entries. Rothman retweeted them, writing, "There were so many conversations to get these into the movie, so many conversations."
They addressed the rumor of a Tom Holland cameo — and more
It was confirmed in 2019 that the current Sony-Marvel Spider-Man, played by Holland, was supposed to have a voice role as another version of Peter Parker in Into the Spider-Verse. And, as previously reported, Garfield and Maguire were to be included, too.
Miller addressed a fan tweet about this during the watch party. "We pitched the Sony brass an ambitions tag involving [John Mulaney's character] Spider-Ham, Tobey [Maguire], Andrew [Garfield], and Tom [Holland. They felt it was 'too soon,'" he wrote.
It could still happen one day
It now sounds like this wasn't just an idea they floated by the studio — it was fully scripted. "Very tempted to post the script to this scene," wrote Rothman in response to an article from The Mary Sue about the Maguire-Garfield-Holland moment. "How much trouble would I get in from 1 to 616?" he tweeted at Lord and Miller.
Miller responded with a tweet that gave us hope. "Let's not spoil it in case something like it ever one day down the road comes to fruition," he wrote. "Good save Chris," tweeted Lord. These are mixed messages, for sure.
Will it be in the 2022 sequel?
Whether or not this scene truly exists and could be seen in the future remains to be seen. There are countless projects that could eventually come from this, but it's the one in the near future that we're most excited about.
A sequel to Spider-Man: Into the Spider-Verse was announced in 2019. Then, due to the coronavirus (COVID-19) pandemic, it was pushed back, from April 2022 to October 2022. As of May 2020, it appears to be in the writing stages, as Lord tweeted during the watch party that he "worked on it all day yesterday." In any case, we're one step close to more Into the Spider-Verse.