'Spider-Man: No Way Home': Alfred Molina Confirms Doctor Octopus' Return Is 'Fantastic'
Alfred Molina confirms his role in 'Spider-Man: No Way Home.'
Spider-Man: Now Way Home will be a multiversal crossover, and it will incorporate heroes and villains from previous Spider-Man films. Alfred Molina, who was long-rumored to reprise his role as Doctor Octopus, recently confirmed his return and revealed a slew of "fantastic" details.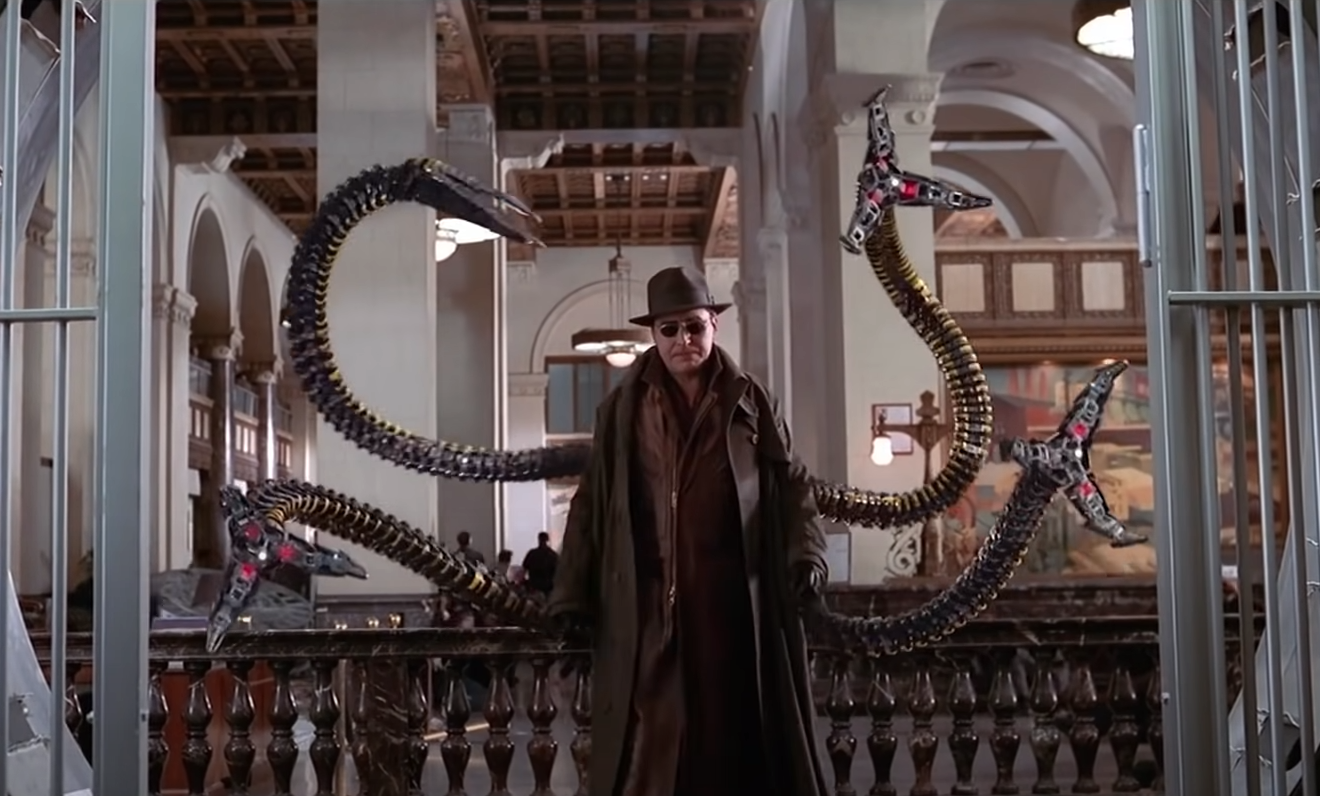 'Spider-Man 2' introduced Alfred Molina as Doctor Octopus
Molina first appeared as Peter Parker's nemesis, Dr. Otto Octavius, aka Doctor Octopus, in Sam Raimi's 2004 film, Spider-Man 2. The movie stars Tobey Maguire as your friendly neighborhood Spider-Man, Kirsten Dunst as Mary Jane Watson, and James Franco as Harry Osborn.
In the film's final battle scene, Peter manages to talk Doctor Octopus down. The tentacled villain then redeems himself by destroying his nuclear reactor experiment. And he is presumed after floating down into the river. 
Alfred Molina confirms his return in 'Spider-Man: No Way Home'
Casting rumors about Spider-Man: No Way Home have been swirling for months, and Molina is just one of the stars expected to return. And in a recent chat with Variety, the actor revealed how hard it was to keep his upcoming appearance a secret amid all the internet rumors and leaks.
"When we were shooting it, we were all under orders not to talk about it because it was supposed to be some great big secret," Molina said. "But, you know, it's all over the internet. I actually described myself as the worst kept secret in Hollywood!"
Molina noted that he was excited to reprise his role as the Marvel supervillain. But he did have some concerns about how much he's aged since the 2004 film was released.  
"It was wonderful," Molina suggested. "It was very interesting going back after 17 years to play the same role, given that in the intervening years, I now have two chins, a wattle, crow's feet, and a slightly a slightly dodgy lower back."
But the actor was comforted when director Jon Watts indicated that any significant difference in his appearance could be altered with CGI. And when he started to worry about the physicality of the role, Molina realized that most of the villain's action sequences involve his CGI tentacles.
"That's what worried me about doing it again," admitted Molina. "I don't have the same physicality that I had 17 years ago. That's just a fact. I then remembered that it's the tentacles that do all the work! — It was fantastic."
He teased how the villain may reappear
Doctor Octopus was presumed to be dead at the end of Spider-Man 2. So many fans have been wondering how the character could return.
Molina shared that sentiment. And he directly asked Watts how the Doc could still be alive. "In this universe, no one really dies," Watts suggested.
Molina also revealed that Watts said Spider-Man: No Way Home would pick up with Doctor Octopus from the moment" he falls into the river. This juicy little tidbit suggests Doc didn't die in the water, and it may be a clue to how some of the other villains may make their comebacks.
Spider-Man: Now Way Home will premiere in December 2021.