'Spider-Man: No Way Home' Writers Said Venom Opens 'Exciting Possibilities'
enom in 'Spider-Man: No Way Home' disappointed many fans, but Marvel writers Chris McKenna and Erik Sommers teased they left the door open for 'exciting possibilities in the future.'
When Spider-Man: No Way Home confirmed Venom to appear, fans expected more than a brief cameo. Eddie Brock (Tom Hardy) dropped into the Marvel Cinematic Universe at the end of Venom: Let There Be Carnage. Fans thought the Venom Symbiote would meet with the Tom Holland, Andrew Garfield, and Tobey Maguire Spider-Man heroes. However, Venom only appeared in the Spider-Man: No Way Home post-credits scene. While he did not make the biggest impact this time, the No Way Home writers said they left the door open for some "exciting possibilities" between Spider-Man and Venom.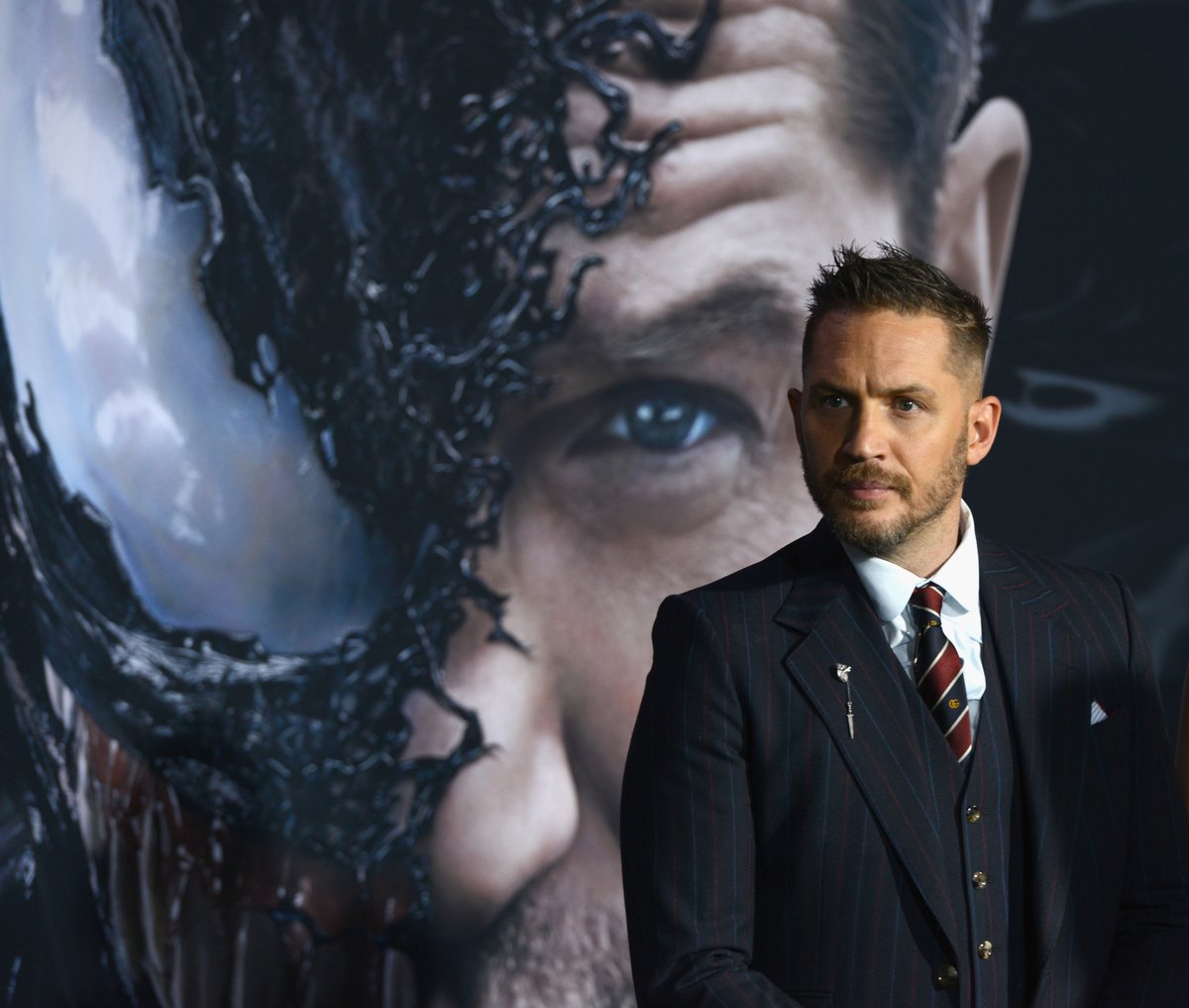 Tom Hardy's Venom in 'Spider-Man: No Way Home' was stuck in a bar separated from the other Sinister Six members
Spider-Man: No Way Home builds to a climactic battle in New York where Holland, Maguire, and Garfield battle Electro (Jamie Foxx), Green Goblin (Willem Dafoe), Sandman (Thomas Haden Church), and The Lizard (Rhys Ifans). Holland's Peter Parker goes to Doctor Strange (Benedict Cumberbatch) with a solution to send everyone home.
However, while many fans focused on the sad parting of Tom Holland and Zendaya's characters, others wondered what happened to Venom in the Spider-Man movie.
"It was a fun idea that … if he was the sixth of this movie's Sinister Six, that he gets stuck in a bar and doesn't get out of there, but maybe leaves a little something behind," Spider-Man: No Way Home writer Chris McKenna said during the IGN Fan Fest. "Again, we're not masters of the course of that next adventure."
Tom Hardy appeared as Eddie Brock with the Venom voice in his ear during a Spider-Man: No Way Home post-credits scene. He asked a bartender about the Avengers, like Iron Man and the Hulk. However, before he could do anything else, the Doctor Strange spell whisked him away.
Before Venom rejoined Morbius in the Sony Universe, he left behind a tiny blob of black Symbiote in the Marvel Cinematic Universe.
'Spider-Man: No Way Home' writer Erik Sommers said the Venom Symbiote in the MCU could have 'exciting possibilities'
McKenna's fellow Spider-Man: No Way Home writer, Erik Sommers, jumped in to comment on the Venom and Spider-Man situation as well.
"It leaves the door open for possibilities, as opposed to just seeing him go back and not seeing any symbiote. So it just allows for some exciting possibilities in the future," Sommers said.
However, the writers did not confirm or deny if Venom would return to the MCU at the time. Fans were excited to see if Tom Holland and Tom Hardy would meet as allies or enemies. They may have to wait a bit longer to see Venom and Spider-Man on the big screen again, though.
"I have no idea," McKenna confessed. "That is above our pay grade. We are part of a bigger, larger universe that we are not the gods of, we're just mortals in."
Chris McKenna joked that Marvel Studios President Kevin Feige had a 'Marvel satellite' pointed at their heads
As their interviewer tested Chris McKenna and Erik Sommers for info about Marvel movies and the Sony Kraven the Hunter project, they answered questions carefully. After all, Marvel Studios President Kevin Feige keeps a close eye on any Marvel names that spoiler the movies.
"I hope you know that we're not trying to be coy," McKenna said. "There's certain things that we don't know, and there's certain things that – we always joke, but half-jokingly – there's a Marvel satellite stationed over each of our heads, just waiting for the right moment when our loose lips slip up."
Tom Holland, Zendaya, and Jacob Batalon joked how Holland became infamous for leaking spoilers on accident. Even Marvel Comics names like Deadpool creator Rob Liefeld have come under fire for spoilers. The Marvel higher-ups keep their eyes on everyone.
However, McKenna and Sommers teased enough to tease fans about the future of Venom and Spider-Man in the Marvel Cinematic Universe without revealing too much.