With Her Split From Ruston Kelly, Fans Are Hoping a Relationship Between Kacey Musgraves and Harry Styles Can Finally Happen
Harry Styles and Kacey Musgraves performing together is pretty powerful, but some fans are wondering if there could maybe be more to their friendship. With Kacey Musgraves announcing her split from Ruston Kelly, a relationship between these two is even more likely.
Kacey Musgraves and Ruston Kelly recently announced their divorce after about two years of marriage
After about two years of marriage, Grammy Award-winning artist Kacey Musgraves and her husband, Ruston Kelly, announced their divorce. They shared that this decision was a long time coming. As a result, fans are listening to their songs like "Golden Hour" in a "new light."
"We've made this painful decision together — a healthy decision that comes after a very long period of trying the best we can. It simply just didn't work," Kacey Musgraves and musician Ruston Kelly said in a statement, according to AP.
Kacey Musgraves and Harry Styles performed a few songs live together
Since her debut as an artist, though, Kacey Musgraves collaborated with a number of other musicians. For the Grammy Awards, she sang alongside Miley Cyrus for a Dolly Parton tribute. For her Christmas Special, she sang with legends like Lana Del Rey and Zooey Deschanel.
When she went on tour, though, Kacey Musgraves was sure to perform alongside the former One Direction performer, Harry Styles. At Madison Square Garden in 2018, the two performed "You're Still the One" by Shania Twain. In 2019, the two reunited on the Oh, What a World Tour, to sing Kacey Musgraves' "Space Cowboy."
Both artists have been nominated for and won, a number of recognitions within the music community. As an added bonus, both artists have been very outspoken and supportive regarding the LGBTQ community, with Kacey Musgraves even inviting the winners of RuPaul's Drag Race All-Stars 4 on stage with her.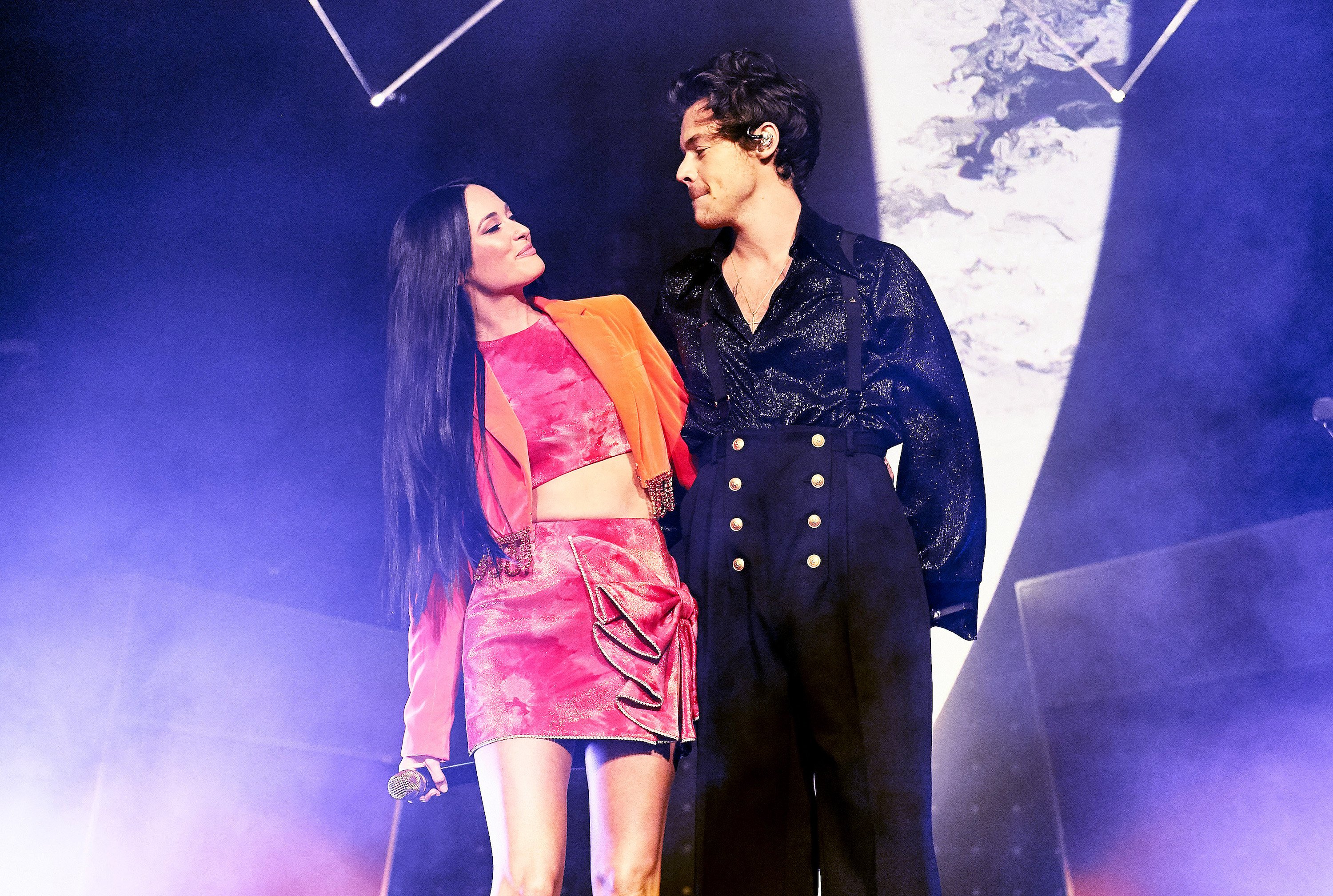 Kacey Musgraves fans shared their love for this dynamic duo
It didn't take long for Kacey Musgraves fans to point out a crazy possibility — with Kacey Musgraves single again, could she potentially date former One Direction icon, Harry Styles? Some hope so, sharing their love for both artists on social media.
"I'm not mature enough to accept whoever Harry Styles ends up with but if it's Kacey Musgraves I will be OK," one Twitter user said. The same person tweeted again, "I want to apologize for this one. I DID NOT know that she would be going through a divorce when tweeting this."
"Not to be dramatic but now that Kacey Musgraves is getting a divorce (from 1 of my [favorite] artists ever so yeah, don't talk to me please,) and there's a possibility of her and harry styles as a couple. I might combust," another Twitter user said.
"Why is nobody bringing up the idea that if Kacey Musgraves and her husband are over she can be with Harry Styles," another Twitter user wrote. Music by both Harry Styles and Kacey Musgraves is available on streaming platforms like Spotify and Apple Music.