Spotify Is Removing Neil Young's Music After Joe Rogan Vaccine Misinformation Ultimatum
Neil Young gave Spotify an ultimatum: his music or Joe Rogan's podcast, which he felt was spreading misinformation. Spotify has reacted. They're removing Young's music.
Neil Young is used to fighting for what he believes in, but he hasn't exactly won his battle against Joe Rogan and Spotify. The biggest music streaming platform in the world has decided to remove all of Young's songs instead of removing Rogan's podcast.
The decision comes days after the "Heart of Gold" singer penned an open letter essentially giving Spotify an ultimatum: remove his music or remove Rogan. Young doesn't seem to be too upset that Spotify isn't siding with him, though.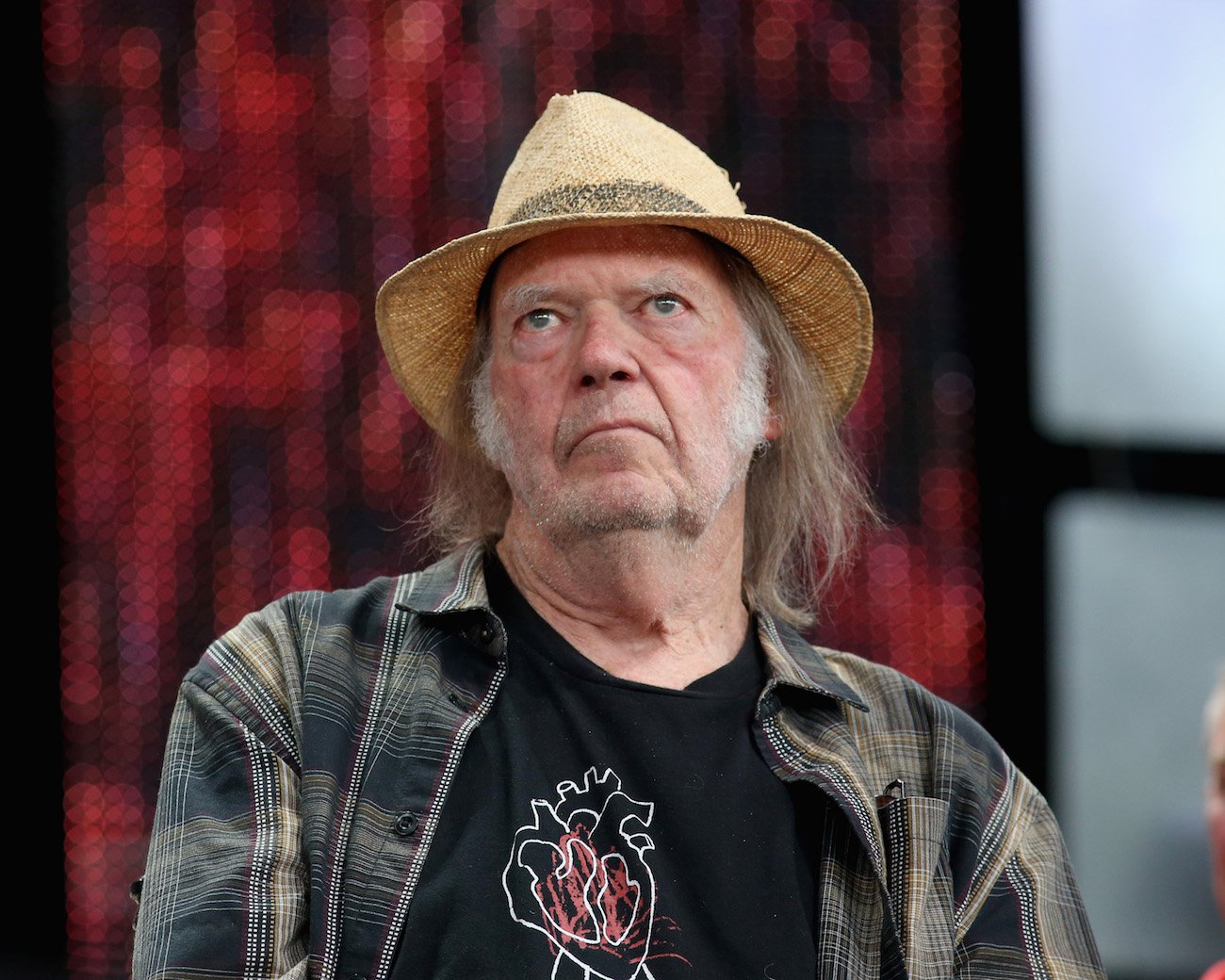 Neil Young gave Spotify an ultimatum: remove his music or Joe Rogan's podcast
On Jan. 24, Young posted a since-deleted open letter on his website asking his management and record label to remove his songs (Young has penned over a thousand) from Spotify. He doesn't want to be on a streaming platform as that allows something like The Joe Rogan Experience podcast to spread misinformation about vaccines, etc.
So Young gave Spotify an ultimatum: him or Rogan.
"I am doing this because Spotify is spreading fake information about vaccines – potentially causing death to those who believe the disinformation being spread by them," Young wrote in his letter (per Forbes). "Please act on this immediately today and keep me informed of the time schedule.
"I want you to let Spotify know immediately TODAY that I want all my music off their platform. They can have [Joe] Rogan or Young. Not both.
"With an estimated 11 million listeners per episode, JRE, which is hosted exclusively on Spotify, is the world's largest podcast and has tremendous influence. Spotify has a responsibility to mitigate the spread of misinformation on its platform, though the company presently has no misinformation policy."
In another letter published late Wednesday, Young talked about what made him decide to leave the platform. He'd heard that more than a thousand doctors had signed an open letter urging Spotify to crack down on misinformation.
"I first learned of this problem by reading that 200-plus doctors had joined forces, taking on the dangerous life-threatening COVID falsehoods found in Spotify programming. Most of the listeners hearing the unfactual, misleading and false COVID information of Spotify are 24 years old, impressionable and easy to swing to the wrong side of the truth.
"These young people believe Spotify would never present grossly unfactual information. They unfortunately are wrong. I knew I had to try to point that out."
Spotify will remove Young's catalog
On Jan. 26, Spotify decided to remove all of Young's songs. In a statement obtained by NPR, a Spotify spokesperson wrote that the platform constantly balances "safety for listeners and freedom for creators."
"We want all the world's music and audio content to be available to Spotify users," the statement read. "With that comes great responsibility in balancing both safety for listeners and freedom for creators.
"We have detailed content policies in place and we've removed over 20,000 podcast episodes related to COVID since the start of the pandemic. We regret Neil's decision to remove his music from Spotify, but hope to welcome him back soon."
In Young's follow-up letter, he acknowledged the financial hit he and his label are taking. He said 60% of the streaming income on his material came from Spotify. "Thank you Warner Brothers for standing with me and taking the hit – losing 60% of my world wide streaming income in the name of truth," he wrote.
"Losing 60% of worldwide streaming income by leaving Spotify is a very big deal, a costly move, but worth it for our integrity and our beliefs. Misinformation about COVID is over the line.
"I sincerely hope that other artists can make a move, but I can't really expect that to happen. I did this because I had no choice in my heart. It is who I am. I am not censoring anyone. I am speaking my own truth."
Earlier, Spotify's CEO, Daniel Ek, has said that the company will not dictate what creators can say on the streaming platform. Ek once compared Rogan to "really well-paid rappers," saying Spotify doesn't dictate what they put in their songs either.
This isn't the first time Young has had his music taken off Spotify — but Young doesn't have complete control
According to Rolling Stone, this isn't the first time Young's music has been removed from Spotify. In 2019, Young sought to remove his catalog from the music streaming platform because he thought the sound quality wasn't good. However, he eventually relented.
"That's where people get music," Young told Rolling Stone. "I want people to hear my music no matter what they have to get through to do it. I'm just trying to make it so they hear a lot more and enjoy it a lot more, but sell it for the same price because music is music."
This isn't the first time Young has been outspoken about his coronavirus concerns either. In August 2021, Young posted his worries that venues and promoters weren't concerned with spreading the virus.
Spotify and COVID-19 aside, it's worth pointing out that Young doesn't have complete ownership of his entire catalog anymore. Recently, Young sold 50% of his songwriting copyrights to the U.K. investment company Hipgnosis Songs.
Forbes wrote, "It gave Hipganosis the rights to the worldwide copyright and income interests from the 1,180 songs composed by Young."
So, decisions like the one Young just made aren't entirely up to him now. We'll have to see how Young's drama with Spotify and Rogan continues to unfold.