'Squid Game': Actor Kim Joo-ryoung Reveals Her Husband's Comical Response to Her Sex Scene
The bathroom sex scene between Players 101 and Player 212 in 'Squid Game' divided audiences' opinions. But Kim Joo-ryeong reassured her husband was a good sport while her co-star has not addressed the scene.
Squid Game dominated Netflix in 2021 as the top-rated Korean drama on the streaming platform. The K-drama achieved many firsts because of its riveting storyline about childhood games turned into death matches for prize money. Just as the story in Squid Game shocked fans, so did the sex scene in episode 4.
The K-drama's sex scene between Player 212 and Player 101 caused a stir and divided reactions from audiences. Actor Kim Joo-ryoung played the role of Han Mi-nyeo (Player 212). She finally reveals what her husband thought of her scandalous sex scene.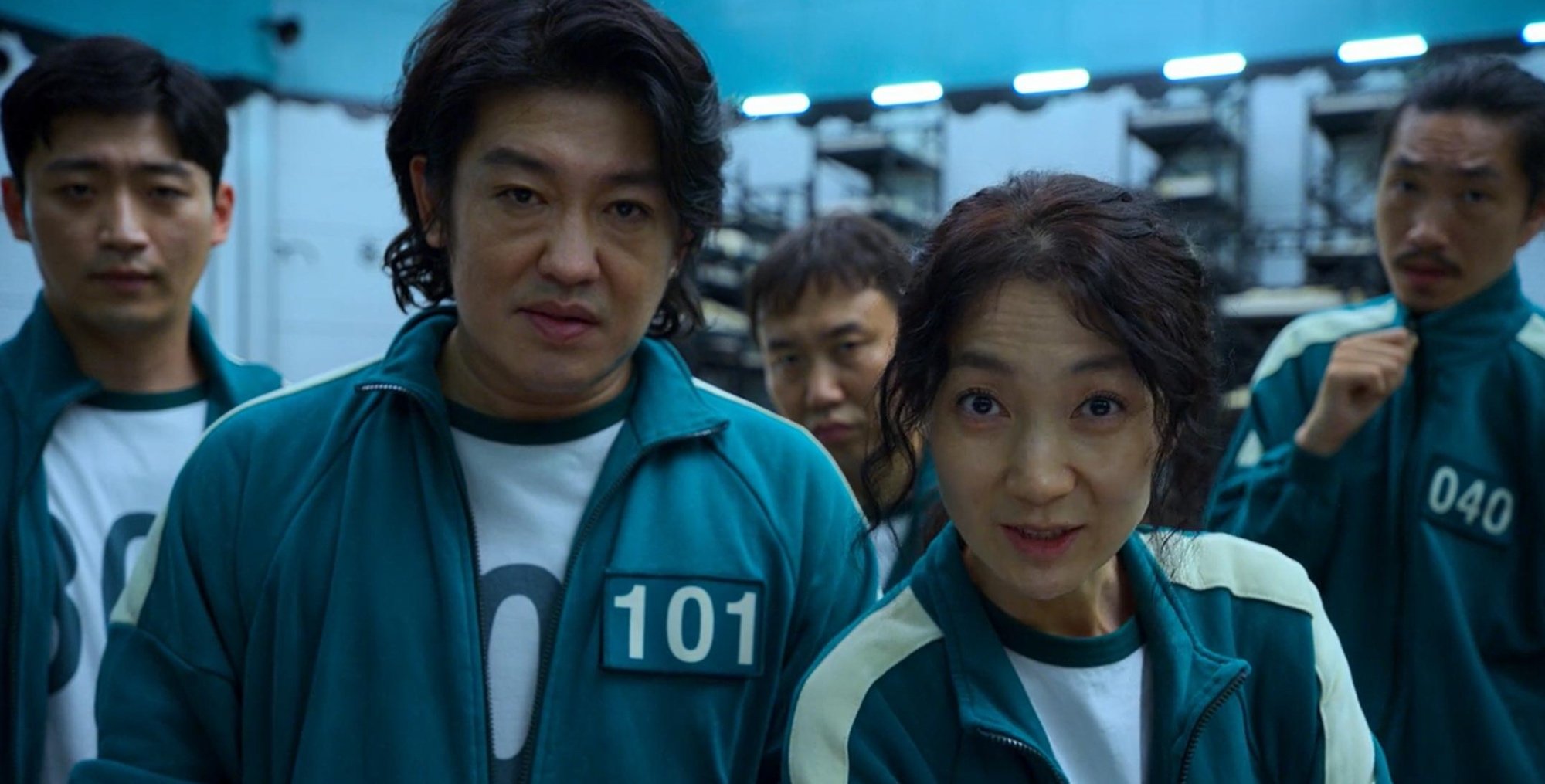 The K-drama's bathroom scene was about survival for Han Mi-nyeo
Fans are introduced to two main characters who are less than desirable human beings. Mi-nyeo is a self-proclaimed con-woman who would do anything to survive. She cozies up to gang member Jang Deok-su (Heo Sung-tae) in hopes of staying alive throughout the Games.
By Squid Game Episode 4, fans were stunned to see the two characters have sex in the bathroom. The display was less than favorable to watch, but director Hwang Dong-hyuk explained its reasoning. He explained it was more about Mi-nyeo and her mindset.
Hwang explained it is a "different kind of love." Mi-nyeo sticks to Dong-hyul to survive. But to mentally comprehend what she must do, she tries to rationalize her relationship as love. The director compares it to a reality survival show and psychology.
The sex scene started to portray Mi-nyeo's true character going foward, and fans came to appreciate her rigor to protect herself. But the scene showed more nudity than most K-dramas and left fans to wonder how Kim felt about the experience.
Kim Joo-ryoung reveals what her husband really thought about the 'Squid Game' sex scene
Squid Game actor Kim appeared on the Korean reality show My Little Old Boy. It is the first time Kim has addressed the sex scene in an interview. She gives audiences a small tidbit into her personal life. Kim reveals her husband teaches film directing at Texas State University.
Since her casting and worldwide popularity among fans and on social media, her husband posts every article Kim is mentioned in on Instagram. My Little Old Boy host asked Kim if her husband got jealous watching the sex scene on Squid Game.
Kim laughed and explained there is an upside to her husband living abroad. They did not have to watch the scene together. They video chatted afterward, and Kim's husband had one thing to say about it. According to Kim, her husband said, "I'm so annoyed!"
The actor is grateful her husband was honest about his feelings. My Little Old Boy applauds Kim's husband for being understanding in her career.
How did Kim Joo-ryoung's co-star react to the sex scene in the K-drama?
While Kim has addressed the infamous Squid Game scene, Heo Sung-tae has not. After the scene became a hot topic, Epic Stream unearthed an old interview with the actor about a promise he made with his wife. On BS Love FM's Song Eun Yi and Kim Sook's Sister Radio, Heo explained one rule his wife had for his career.
His wife did not want to see Heo in bed scenes or sex scenes on screen. It was clear that the actor did not necessarily keep his promise. But Heo has yet to address the matter despite being interviewed on variety shows. The actor has continued his skyrocketed success in Netflix's new hit K-drama The Silent Sea.