'Squid Game': Ranking the Cast by Instagram Followers
The Netflix Korean drama Squid Game is not the only thing that gained an unexpected influx of followers and fans. The main cast of Squid Game was astounded as fans flooded their Instagram pages with follows. Overnight, their Instagram pages hit the millions and even led Park Hae-soo and Lee Jung-jae to open their first accounts.
The Squid Game cast has become a global sensation because of Netflix, but their social media accounts have become a hot topic. Actors like HoYoeon Jung broke the record, possibly becoming the most followed South Korean model. Who ranks the lowest in the cast, and who takes home the gold as the "most followed"?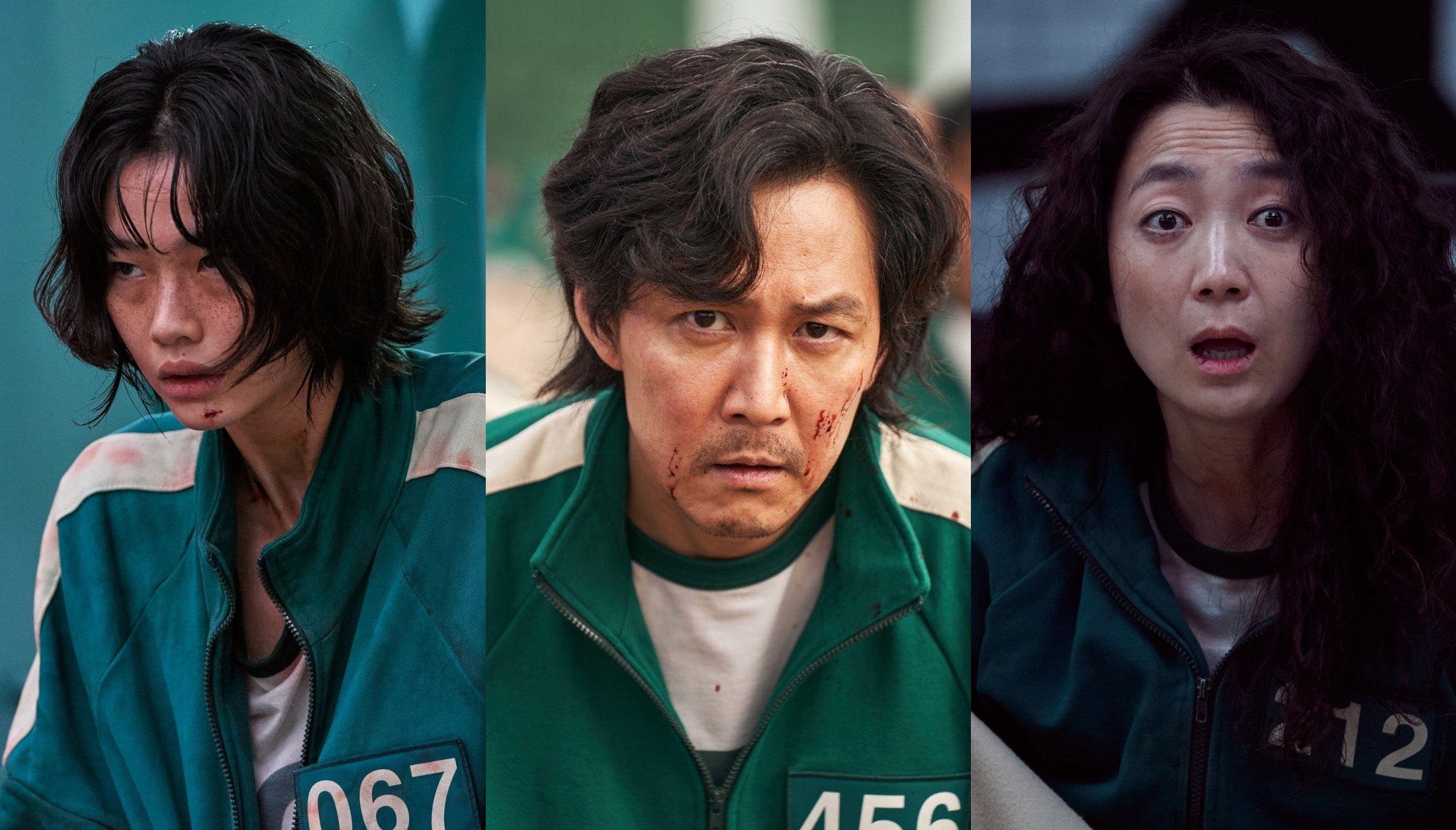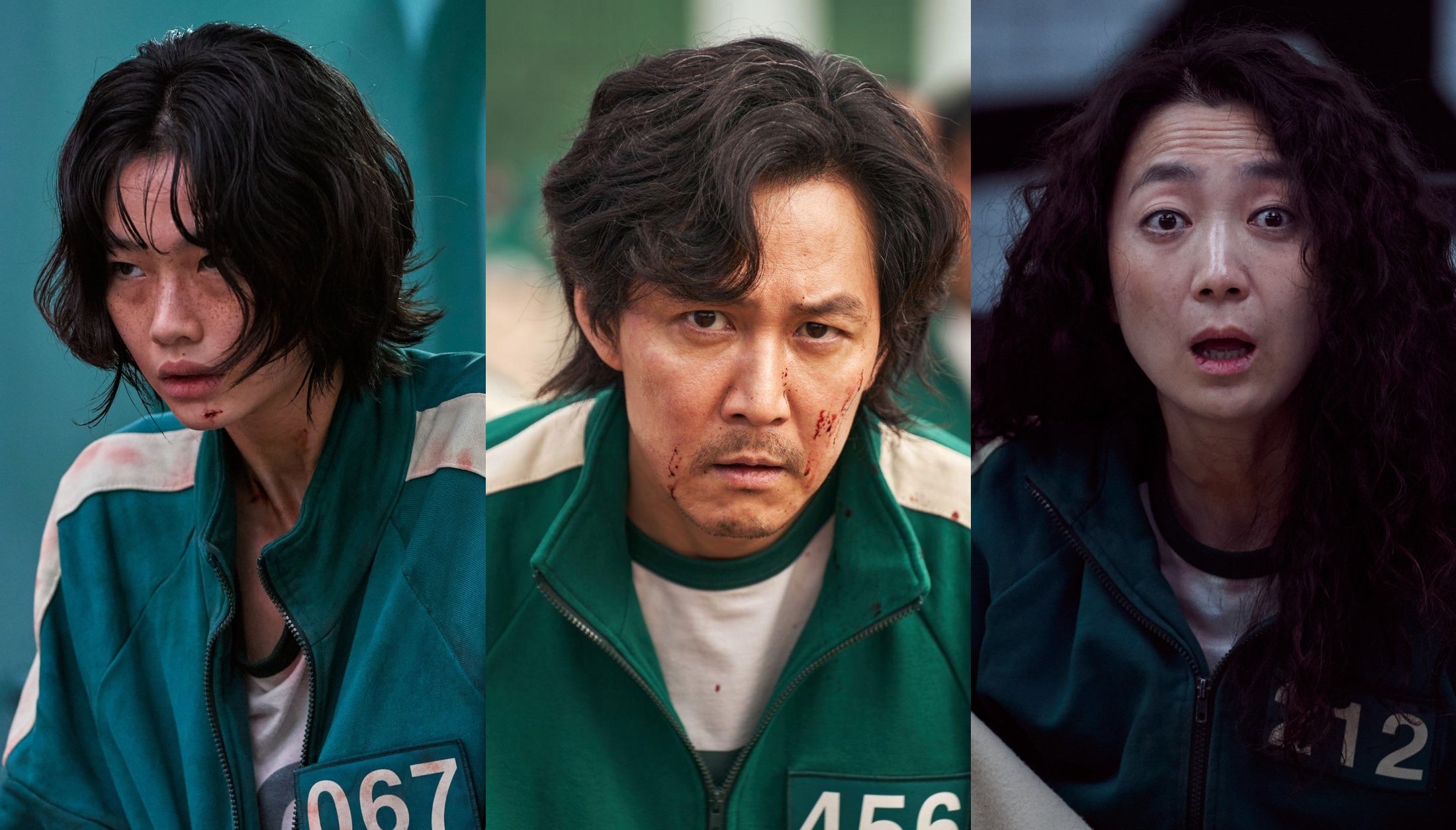 Lee Byung-hun: 346,000
South Korean Hollywood actor Lee Byung-hun has the lowest number of followers compared to the rest of the main cast. Lee has been in the industry for some time and is one of the most recognized actors who transitioned to Hollywood. Even Wi Ha-joon was starstruck working with his senior.
In Squid Game, Lee plays the main role as the Front Man. Lee's Instagram account has a post showing off his Squid Game care package with his own green tracksuit and the head of the "Red Light, Green Light" doll.
Heo Sung-tae: 1.9 Million
RELATED: 'Squid Game': Why Do the Caskets Have Bows? Art Director Explains
Heo Sung-tae could not stop posting behind-the-scenes photos on Instagram of him and his cast members on the set of Squid Game. The actor plays the least liked character, gang member Jang Deok-su.
Fans disliked his on-screen character, but fans can not forget Deok-su's steamy intercourse scene in the bathroom. In a cast interview with The Swoon, Heo admits to getting many direct messages (DM) from fans asking him to take them to the bathroom.
Kim Joo-ryeong: 2 Million
RELATED: 'Squid Game': Who Is the Actor Who Plays Oh Il-Nam, Player 001, in the K-Drama
Kim Joo-ryeong plays the character Han Mi-nyeo in the K-drama. Fans might have fallen for Mi-nyeo's story of having to survive to take care of her daughter. But it is later revealed she is just as conniving and greedy as anyone else. Much like the rest of the Squid Game cast, Kim never expected her character and the drama to gain so much fame.
On The Swoon, she explains foreign fans flood her Instagram page with kind messages and calling her "pretty." Kim has posted many photos on set and with fellow co-star Heo and Park Hae-soo. She even includes a comical meme where fans compared her character to Mother Gothel (Donna Murphy).
Park Hae-soo: 2.2 Million
RELATED: 'Chimera': Watch 'Squid Game's' Park Hae-soo in New Crime-Thriller K-Drama Teaser
Actor Park Hae-soo is well recognized among K-drama fans for his astounding character portrayal in director Shin Won-ho's Prison Playbook. Despite his popularity with fans, he never had an Instagram account until the success of Squid Game.
Within a few short hours of opening his account, Park already gained a whopping 2.2 million followers. His first photo is a selfie as he does press for the K-drama followed by behind-the scene-photos of him as his character Cho Seong-woo. There is even an adorable photo of his dog on a custom Netflix chair.
Anupam Tripathi: 3.5 Million
RELATED: 'Squid Game': 4 Interesting Facts About Anupam Tripathi
Beating Park in the ranking of Instagram followers is Anupam Tripathi. The Indian actor played the beloved role of Ali Abdul, a Pakistani immigrant who joined the Games to provide for his family. Tripathi has a verified Instagram account with 3.5 million followers.
As he starred in the K-drama, Tripathi shared a heartwarming photo of him watching his character on TV in his apartment. Fans can not help but smile at the sweet photos of the actor with his co-stars on set.
Lee Jung-jae: 3.6 Million
RELATED: 'Squid Game': 3 K-Dramas With Actor Lee Jung-Jae
Just like Park, Lee Jung-jae is new to the world of Instagram. The success of the K-drama prompted him to make his own account, and he already has 3.6 million followers. The actor plays the leading role of Seong Gi-hun in Squid Game. The character joins the Game to change his life around with the cash prize. Gi-hun has an ending storyline with a big twist ending.
So far, Lee has posted photos alongside his fellow Squid Game cast members behind-the-scenes of their interview with Jimmy Fallon on The Tonight Show Starring Jimmy Fallon. Lee's first post was a selfie captioned, "Is this… how you do it…?"
Lee Yoo-mi: 6.3 Million
RELATED: 'Squid Game': Explaining Every Childhood Game Used in the K-Drama
Beating Lee and Park in the battle for most Instagram followers is Lee Yoo-mi. Lee played the role of Player 240, Ji-yeong. Fans soon gravitated toward the character and developed a fast bond with Kang Sae-byeok (HoYeon Jung).
Lee comes in third place for the most followers on her Instagram account. Much like her co-stars, Lee was surprised at the sudden influx of fans on social media. Her posts range from selfies to promotions for her latest on-screen work. The actor has posted many photos with the Squid Game cast.
Wi Ha-joon: 8.2 Million
RELATED: 'Squid Game': Wi Ha-Joon Explains What Round He Would Be Eliminated In
Actor Wi Ha-joon is the second most followed Squid Game cast member. Fans have fallen head over heels with the 30-year-old in his role as police officer Hwang Jun-ho. Wi's sudden rise to popularity still makes him blush. Fans have flooded his Instagram account with likes and comments and have made him an online celebrity.
Wi has posted charming selfies and photos promoting his latest movie and now Squid Game. He recently left fans in shock as he displays his impressive physique for Men's Health Korea. The Swoon asked Wi if he could feel how popular the K-drama has become. He answered it became evident when he received so many new followers on Instagram.
HoYeon Jung: 20.1 Million
RELATED: 'Squid Game' Actor HoYeon Jung Reveals How She Became Friends With BLACKPINK's Jennie
It is no surprise that the South Korean top model, HoYeon Jung wins with an impressive 20.1 million followers and counting. She explains to The Swoon, "It's quite chaotic. So many things happened in such a short period of time." According to NME, Jung became the most followed model/actor on Instagram.
Jung plays the highly praised role of Sae-byeok, a North Korean defector who needs to win the cash prize to bring her mother to South Korea and take her younger brother out of foster care. She explains the K-drama was her first acting role and revealed the most emotional moment to film.