'Squid Game': Why Netflix's Co-CEO Thinks the Original K-Drama Is a Hit
Netflix has made way for the popularity of Korean dramas to an even bigger audience. The 2021 K-drama Squid Game has surpassed expectations as it has become the number one drama on the streaming platform.
The high-stakes survival K-drama has surpassed Midnight Mass and The Starling on the platform's top 10 since its debut on Sept.17. Squid Game's immense popularity is a first for the television genre and for fans. Having transcended to a global audience and casual viewers, Squid Game had Netflix's co-CEO Ted Sarandos call the drama possibly the best created on the platform.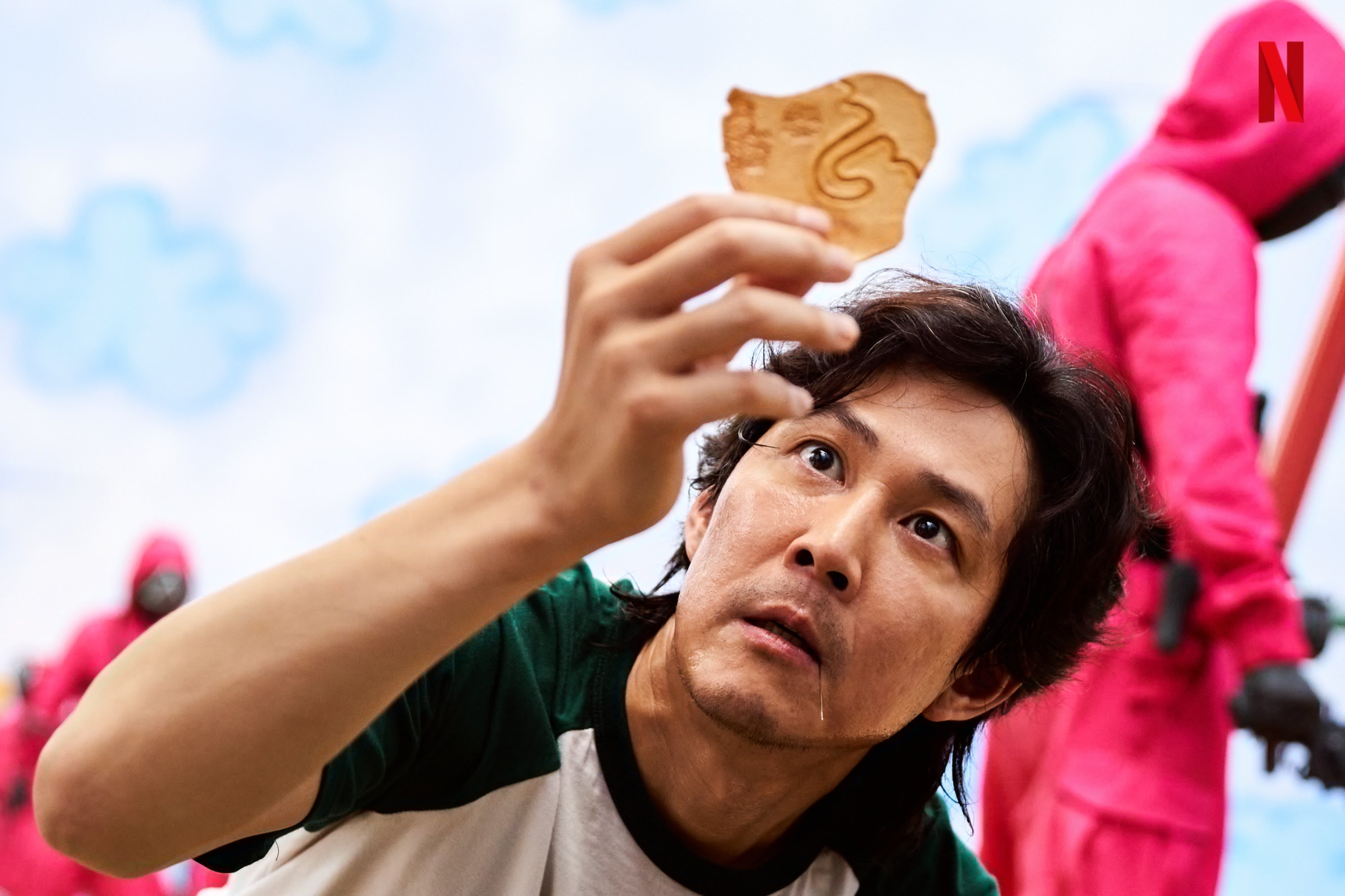 The K-drama takes the desire for wealth to new heights in a survival game turned death match
What captured audiences' and K-drama fans' attention was the impactful storyline Squid Game brings to life. Its story is riddled with deep-seated greed, betrayal, and the unexpected. Also, what it means to have morals as a human being when faced with the worst circumstances. Seong Gi-Hun (Lee Jung-Jae) is given the opportunity to join a game to win the ultimate prize. Thousands in debt and his daughter soon leaving to the states, Gi-Hun has no choice but to participate in the game.
Gi-Hun and 455 players find themselves in a brutal battle for survival. An ominous organization and its host turn South Korea's recognized childhood games into a horror show. For six days, the players must survive the games for the chance to win billions in a cash prize. The trick? If a player fails, they are killed, and their death racks up the cash winnings. Squid Game tells the underlying story of social classes, desperation, the ultimate twists, and hurtful betrayals.
Netflix Co-CEO calls 'Squid Game' their biggest success yet
With the complex characters, a high-stakes story, and the dazzling set design behind Squid Game, it is no surprise the K-drama has received high praises from critics and fans. The K-drama surpassed any other K-drama when Netflix's co-CEO, Ted Sarandos, hinted the K-drama could become one of the best the streaming platform has ever seen.
According to Deadline, Sarandos had some brief words about the K-drama's success. If Squid Games continues its success for longer, it "could be Netflix's biggest show ever if the early viewership results hold," said Sarandos. While a handful of Netflix original K-dramas have gained success on the platform, this is the first time a K-drama has held its number one spot for over 10 days.
Squid Game's director Hwang Dong-Hyuk spent 10 years writing and developing the K-drama. There has been speculation the K-drama mimics a Japanese movie with the same storyline premise. But Hwang commented the movie was developed years after he started his initial planning. Fans of the K-drama have wondered if the director has plans for a second season. In an interview with Variety, Hwang explained he has no set plan for a second season. "It is quite tiring just thinking about it. But if I were to do it, I would certainly not do it alone. I'd consider using a writers' room and would want multiple experienced directors," said Hwang.
K-drama and casual fans loved the complex dynamic of Netflix's 'Squid Game'
RELATED: 'Hometown': TvN's Upcoming Thriller Takes Small Town Murder Back to 1999
A lot goes on in Squid Game that needs an explanation. The K-drama has multiple complex characters to explore who are all caught up in the same predicament. Each character deals with the Games in different ways depending on their moral values. Squid Game had everything from dazzling cinematography, a unique take on childhood games, bloody gore, and underlying themes about people's moral compass.
In a Reddit thread, one user comments on the drama's ability to get audiences to think. "They really did a great job in portraying different characters! You hate people that they want you to hate, but at the same time, you kind of understand where they are coming from, given the crazy situation. It also really messes up your moral compass. There are situations that you think a person is being stupid for not killing, but at the same time, is killing really okay, no matter the situation?"
Squid Game showed every aspect of how humans deal with situations and free will. "I feel like the complex, voluntary participation aspect of it that taps into the social and human struggle (that is both unique to each character AND common for all players) is one of the main things that distinguishes itself from the other death battle plots I've seen," said one Redditor.