'Squid Game': Wi Ha-joon Fangirled Working With Hollywood Actor Lee Byung-hun
Hollywood's top South Korean actor Lee Byung-hun was one of the only 'Squid Game' cast members Wi Ha-joon filmed with for the K-drama. Lee is known for his American roles in 'RED 2' and 'G.I. Joe: Retaliation' and the K-drama 'Mr.Sunshine.'
Squid Game actor Wi Ha-joon is steadily building his career. With the success of the Netflix Korean drama, the actor has become a hot commodity. But, even Wi still gets starstruck and fangirled over working with a fellow actor, Lee Byung-hun.
One of the K-drama's most allusive characters is Front Man. A masked figure who helps run and control the Games. The character is played by recognized South Korean and Hollywood actor Lee Byung-hun. Lee is one of the most successful South Korean actors that made his mark in American movies.
[Spoiler alert: This article contains spoilers about Squid Game.]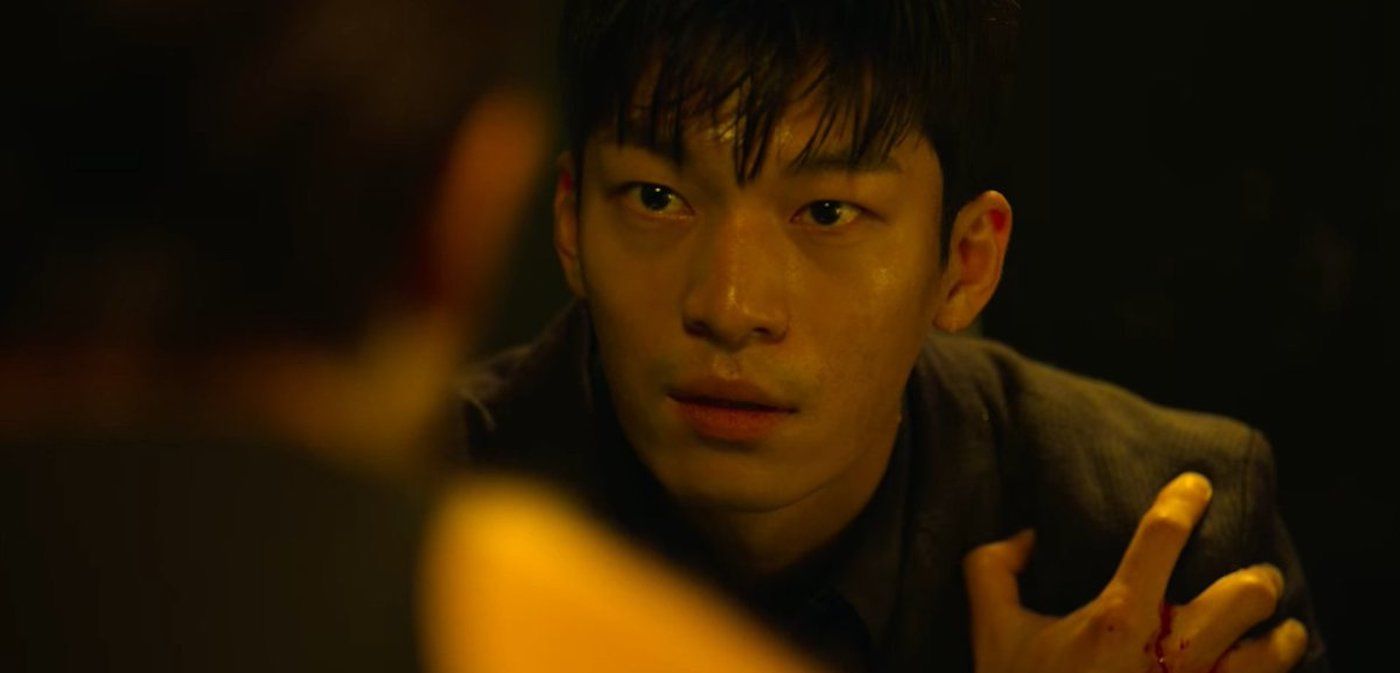 Wi Ha-joon acted out most of his scenes alone for 'Squid Game'
For K-drama fans and Korean audiences, Squid Game has an impressive cast list with Park Hae-soo and Lee Jung-Jae in the leading roles as Cho Sang-woo and Seong Gi-hun. Fans also cannot forget the small cameo by Goblin actor Gong Yoo. Sadly, Wi was not able to interact on set with the cast as much as he wanted to.
Wi plays the role of Hwang Jun-ho, a police officer who infiltrates the Games as a guard. The character role never interacts with the main characters and plays out his own story. According to Soompi, Wi explains he was often lonely on set, seeing as he acted a majority of his scenes alone.
"Since I had to act alone for the majority of my scenes, I felt a lot of pressure about having to lead each scene by myself. However, I think I was able to complete it because the director and staff members led me well," said Wi. He also expressed with a laugh he wished he could have learned more from his fellow actors.
Lee Byung-hun made Wi Ha-joon's heart flutter while filming 'Squid Game'
Episode 8 of the K-drama had a major twist reveal about Front Man and a dreadful storyline end to Jun-ho. While cornered by Front Man and the guards on the edge of a cliff, Jun-ho learns of Front Man's true identity. The masked figure is In-ho (Lee Byung-hun), his missing brother. Seeing no other choice, In-ho shoots his brother.
Wi could not contain his excitement, knowing beforehand he would share the screen with Lee Byung-hun as brothers. Lee is recognized amongst Koreans for his acting career in film and dramas and his successful shift to Hollywood.
"I was incredibly excited before I even met him. It was such an honor. Lee Byung-hun is a senior whom I already really like. After acting with him, he's evidently so amazing. My heart would race just from his gaze and one line," explained Wi. Lee had a short scene in Squid Game but was able to express the anguish over having to kill his own brother. Wi also praises the actors kindness and caring demeanor toward him while on set.
Lee Byun-hun starred in the acclaimed K-drama 'Mr.Sunshine'
K-drama fans have a list of essential dramas every new fan needs to watch. On the list is Mr.Sunshine from 2018. The historical K-drama interweaves two different worlds. It centers around Eugene Choi, played by Lee. Eugene was once a slave in Joseon before escaping to the states and becoming a Marine Corps officer.
He returns to Korea on a mission and falls in love with an aristocrat's granddaughter, Go Ae-shin (Kim Tae-ri). Ae-shin is part of the Righteous Army as she and Eugene become entangled in Korea's battle for independence.
Mr.Sunshine marked Lee's return to television. Before the drama, Lee transitioned to Hollywood, becoming the most recognized South Korean actor in the industry. He gained recognition as Storm Shadow in G.I. Joe: The Rise of Cobra, and its sequel, G.I. Joe: Retaliation. He also starred alongside Bruce Willis in RED 2 and Arnold Schwarzenegger in Terminator Genisys.