Stagecoach 2022: The Beach Boys Make Festival Debut With LoCash 
On Sunday night, the Beach Boys sand with country duo LoCash at the Stagecoach Festival in Indio, CA. They performed four songs including their hits 'Kokomo' and 'Fun, Fun, Fun.'
The Beach Boys may not be an obvious choice for the Stagecoach Festival. Country music's Coachella featured a star-studded lineup last weekend. Carrie Underwood, Thomas Rhett, and Luke Combs headlined the three-day event in Indio, CA. On Sunday night, LoCash brought out the Beach Boys to "Good Vibrations" from an enthusiastic crowd.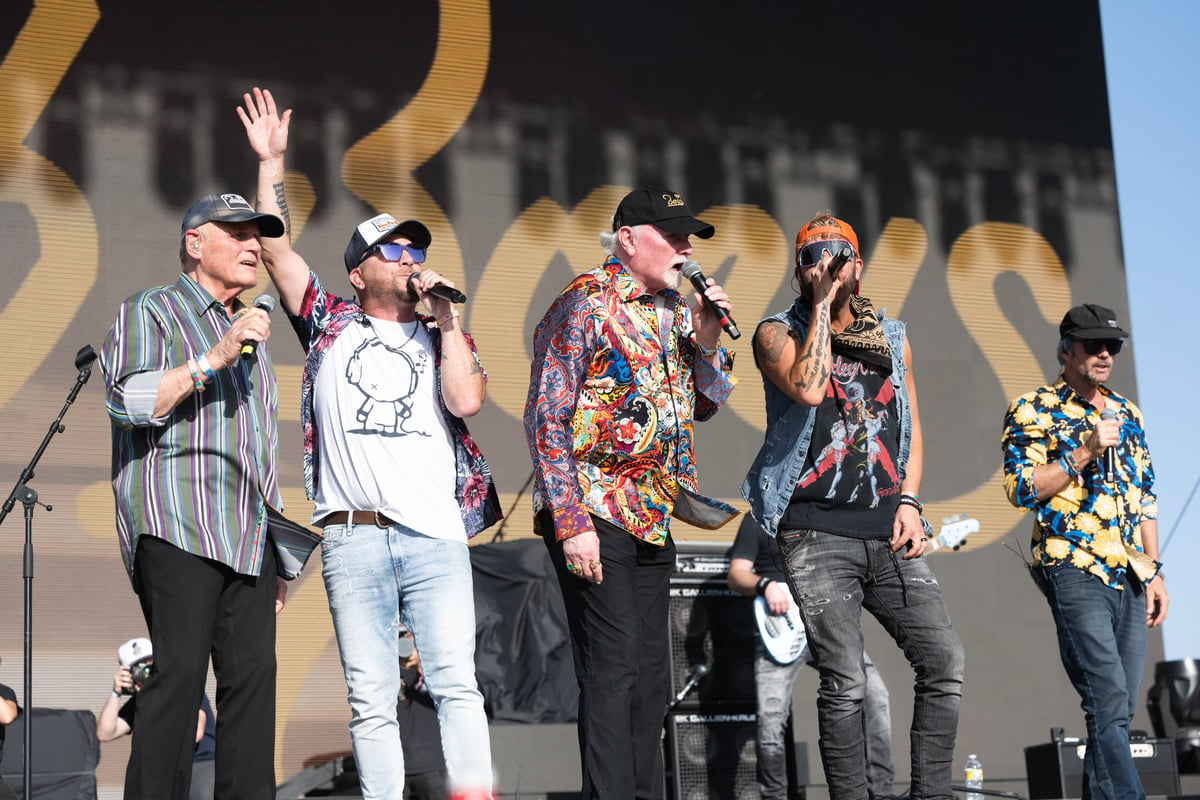 LoCash has a song titled 'Beach Boys' 
Country duo LoCash performed on the "mane stage" Sunday evening. Chris Lucas and Preston Brust have found success with LoCash, charting seven songs on the Hot Country Songs Billboard chart. However, the duo has found even more success as songwriters for other country artists. They're responsible for Tim McGraw's hit "Truck Yeah!"
The clever songwriters released a single in 2021 titled "Beach Boys." LoCash sings about country boys going to the beach in a play on words. "Let's take the country to the beach boys/ Trade that red dirt in for sand/ Show 'em how we Tennessee boys/ Catch a Jon boat buzz on a catamaran."
On Sunday night, the real Beach Boys joined the country duo on stage to perform the song together. Mike Love and Bruce Johnson added harmonies to the tune that share's their namesake. LoCash and the Beach Boys also sang a few classic songs for the country crowd, including "Kokomo" and "Fun, Fun, Fun."
LoCash was nervous to approach The Beach Boys for approval
In a sitdown with Variety, the country duo admitted there were some nerves about writing a song called "Beach Boys" and getting the approval of Mike Love and Brian Wilson. Preston Brust said, "When we wrote the song, we dreamed about a moment like this, but we weren't even sure if they would approve the song." 
Chris Lucas added, "They called us back and not only approved it, but Mike wanted to be on it and have the high harmonies and that Beach Boys sound. And it was Mike Love's idea to change the intro to the original Beach Boys' 'round round, get around, I get around,' and so we did that and we were kind of Beach Boys for like five minutes."
LoCash originally recorded the song in the fall of 2021. They released the re-recorded single this spring, with members of the Beach Boys providing harmonies. 
Mike Love says, 'The song itself, 'Beach Boys,' is so hooky.'
LoCash shared the dream-like experience of working with The Beach Boys. "We actually went down to Alabama to one of their shows, set up a whole studio, and had Mike and Bruce come in and do all their harmonies and teach us the same harmonies so we could do them too." The duo continued, "It was unbelievable, man.  A pinch-me moment."
Beach Boys member Mike Love loves the song. "The song itself, 'Beach Boys,' is so hooky. They're going to 'trade the red dirt in for sand and drive till the map turns blue," he said, referencing the lyrics.
Love shared, "LoCash joined us on our sold-out show in Nashville a couple of months back, and so now we're joining them on their set out at Stagecoach, which is awesome."