Stagecoach 2022: Carrie Underwood Brings out Axl Rose for 2 Guns N' Roses Hits
Axl Rose proved he could still hit the hight notes during the end of "Sweet Child of Mine." Underwood appeared to be having the time of her life dancing and singing along.
Stagecoach 2022 was rocking on Saturday night. The three-day country music festival in the desert of Indio, CA, brought together some of the most exciting acts in the genre. It also gave headliners an opportunity to bring out guests who may not fit into the country music box. On Saturday night, Carrie Underwood shocked the audience with special guest Axl Rose.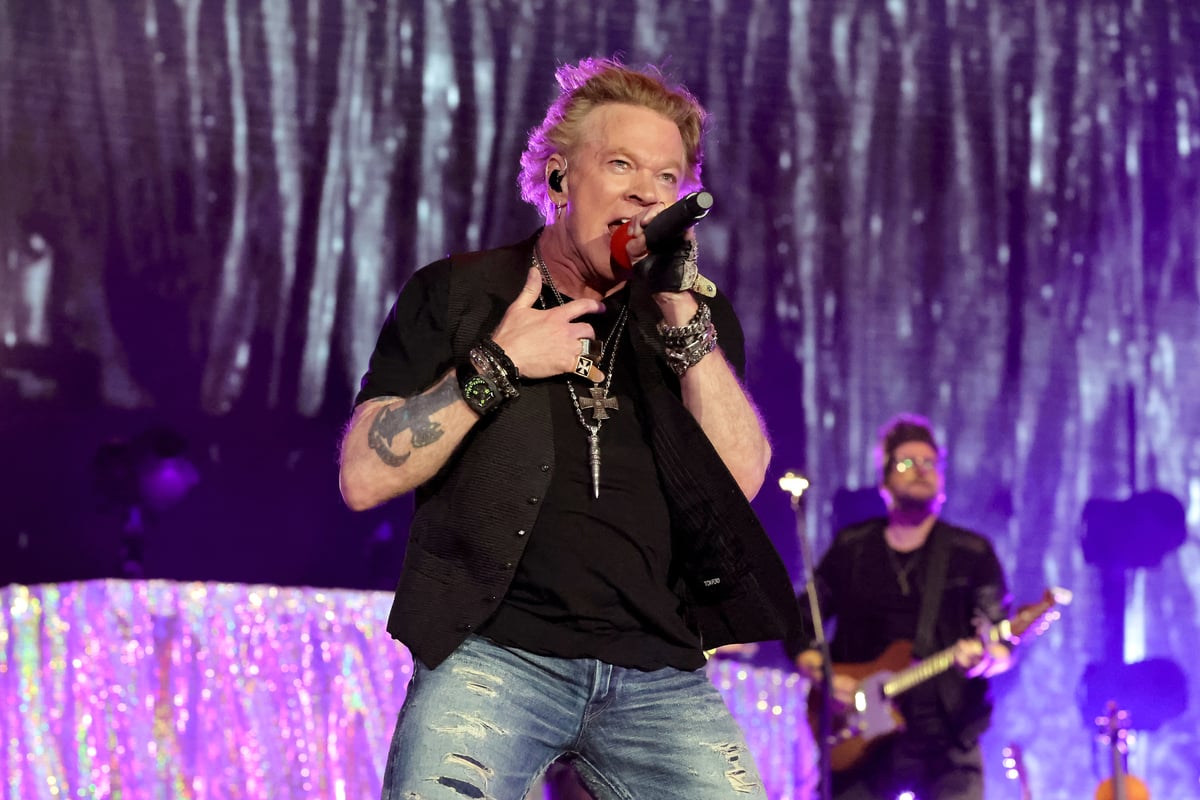 Carrie Underwood says 'welcome to the greatest night of my life'
On Friday night, Stagecoach headliner Thomas Rhett brought out Ashton Kutcher to sing Garth Brooks' "Friends in Low Places." It was a surprising collaboration no one saw coming. If that was surprising, Saturday's special guest was shocking in the best way possible.
During Carrie Underwood's explosive set, she sang the first verse of the 1988 hit song "Sweet Child of Mine" before yelling, "Welcome to the greatest night of my life." This was followed by "Give it up for Axl Rose!" 
Rose walked onto the Stagecoach stage and started singing the second verse. The Guns N Roses frontman was impressive as he proved he could still hit the high notes during the climatic build at the end of the song. Underwood was living her best life, dancing around the stage with a huge smile.
When the song ended, she asked the crowd "You thought we were finished?" before the two launched into the Guns 'N Roses song "Paradise City." The performance ended with explosive fireworks. Axl smiled, thanked the crowd, and departed after the two songs. The energy stayed elevated throughout the rest of Underwood's set. 
Carrie Underwood is a huge fan of Axl Rose and Guns N' Roses
Stagecoach was not the first time Underwood sang those two Guns N' Roses songs. She sang "Paradise City" during 2013's CMA Fest. She also covered "November Rain," "Patience," and "Sweet Child of Mine" during various tours.
In 2020 Underwood told Jimmy Fallon Axl Rose lived up to expectations when she met him after a Guns N Roses show. "It's hard when you kind of meet your heroes, you know, because I do consider him to be someone who taught me how to sing. … and I was like, 'What if I meet him and he's not everything I want him to be?' But he was, he was super cool and nice." 
A giddy Underwood also joked that she left her husband and kids behind to see Guns N' Roses. It seems it was well worth it, as her friendship with Rose is still going strong as evidenced by their Stagecoach performance. 
Axl Rose will headline 'Welcome to Rockville' with Guns N' Roses this month
Rose and the rest of Guns N' Roses will headline the Welcome to Rockville festival on Saturday, May 21, in Daytona, FL. Other groups on the bill for Saturday night include Shinedown, Rise Against, and Bush. 
The classic rock group will then head to Europe for dates in June and July before hitting Mexico and South America in the fall. The current Guns N' Roses lineup includes original members Rose, guitarist Slash, and bassist Duff McKagan. More tour information can be found on Guns N' Roses website. 
Slash rejoined Guns N' Roses after a long feud with Rose. Things have been smooth sailing since 2016. He recently told Classic Rock Magazine, "When we got together, Axl and I really got over this major sort of hump of negativity that we've been carrying around for years and years."  He added, "There has been a sort of synergy that's been happening this last six years that we never had in our first incarnation."