'Star Trek' Handles its Female Characters Better Than 'Star Wars' According to Fans
Star Wars and Star Trek have two of the most dedicated and competitive sci-fi fanbases around. When it comes to which franchise is better, it depends on the subject and who you ask. According to CNET, based on survey results from its parent company CBS, Star Trek triumphs over Star Wars for strong female characters.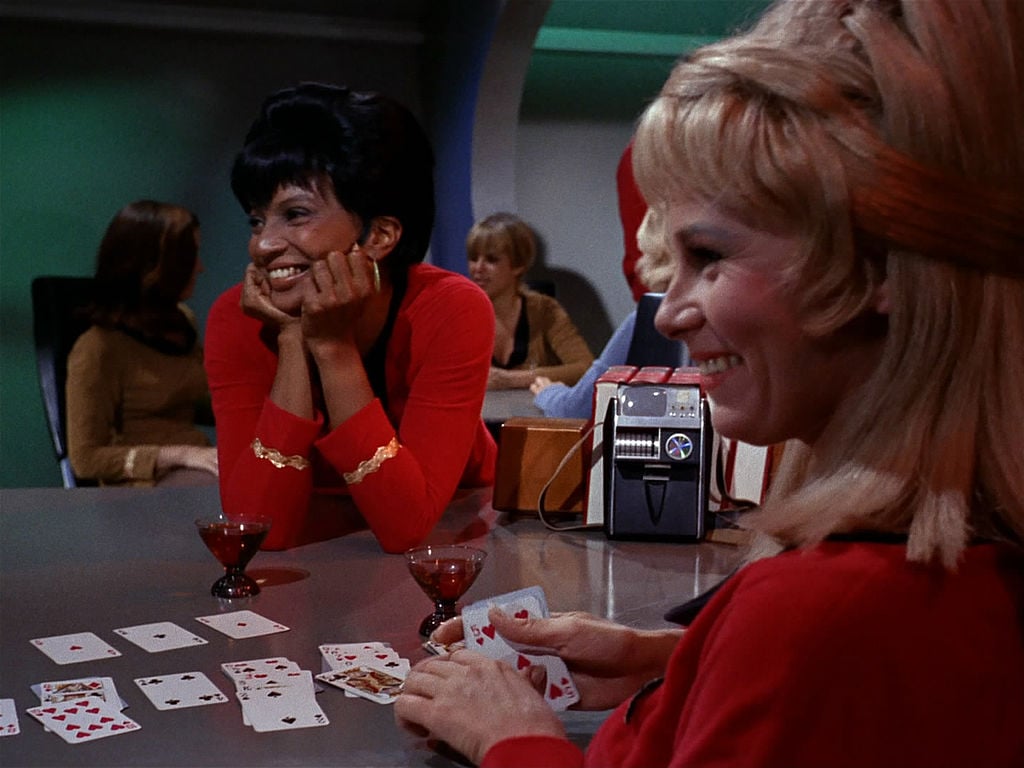 Star Trek has always had strong female characters
The original Star Trek TV series debuted in 1966 and is still one of the most popular sci-fi series of all time. The storyline takes place in the 23rd century, however, the original TV series was actually filmed during the height of the Civil Rights movement. Star Trek has challenged racism, sexism, and stereotypes right from the start. The series has a long-standing history of showcasing the knowledge and strength of women in leadership positions.
Nyota Uhura is a well-known bridge officer on Star Trek. Nichelle Nichols portrayed Lieutenant Uhura in the original series and the first six Star Trek films. In the November 22, 1968 episode titled Plato's Stepchildren, Lieutenant Uhura and Captain Kirk (William Shatner) made history with the first scripted interracial kiss on television. Several decades later, Nichols handed the role of Uhura over to Zoe Saldana, who portrayed a younger version of the character in the 2009 Star Trek film.
Kathryn Janeway (Kate Mulgrew) was the lead character and Captain of the USS Voyager in the Star Trek: Voyager series. In 2002, She became Admiral Janeway in the movie Star Trek: Nemesis. Janeway is well-educated and displays skilled leadership qualities. These are just a couple of the many influential roles women hold in the Star Trek universe.
Star Wars is expanding its range of female characters
While the original Star Wars trilogy had Princess Leia (Carrie Fisher) as a strong female character, other instances of females in battle-ready positions were few and far between until recent years.
Though she is not a typical princess, she is still a princess, and with that title comes a certain stigma. Princess Leia Organa broke the royalty stigma when she used her blaster to defend herself. Organa was sassy, witty, and stubborn. She knew how to take care of herself. However, in the original trilogy, she was nearly the only female who was battle-ready.
The prequel Star Wars movies show the Queen and Senator of Naboo, Padmé Amidala, in a prominent leadership position. However, Amidala struggled with leadership and ultimately acted against her better judgment and married Anakin Skywalker, which led to many consequences.
In recent years, Star Wars has incorporated more female characters who are tough, skilled, and battle-ready. Rogue One: A Star Wars Story (2016) portrays Jyn Erso (Felicity Jones) as a strong and capable young woman as she assists the Rebel Alliance. The Disney+ series, The Mandalorian (2019), shows Cara Dune (Gina Carano) a formidable foe and a powerful ally. Dune, a former shock trooper, assists the bounty hunter, Djarin, on his mission to protect the asset and defend a village against raiders. Her battle skills are exemplary. The sequel Star Wars movies follow Rey Skywalker as she goes from being a scavenger to a powerful Jedi. Rey is intelligent, disciplined, and independent.
Why many fans believe Star Trek handles female characters better than Star Wars
Though Star Wars has a growing number of strong female leads, including Princess Leia, Padmé Amidala, Cara Dune, and Rey, Star Trek has a more extensive track record with a range of powerful women in many roles throughout the Enterprise. The women of Star Trek have always been intelligent, resilient, and reliable. Star Trek has an excellent record for representing women as equals in all types of roles, including leadership roles, even when it was not the norm. Star Trek was the first show to have a scripted interracial kiss and has been portraying women in leadership positions since the very beginning. The Star Wars universe is growing in diversity and is improving its representation of female characters in a variety of roles. However, Star Trek has been achieving this balance since the 1960s.