'Star Trek' Set Television History in 1968 With First Interracial Kiss
Since it debuted in 1966, Star Trek broke ground in multiple ways, including being one of the first shows to be not that successful at first, only to develop a massive following after its initial run. One of the reasons it developed that following was because it was bold enough to broach controversial issues while still being entertaining. 
Star Trek dealt with racial issues more than once, largely because the Civil Rights movement was still making change and making headlines. But it was the clench between Captain Kirk and Lieutenant Uhura in particular that raised some eyebrows.
'Star Trek' broke a lot of barriers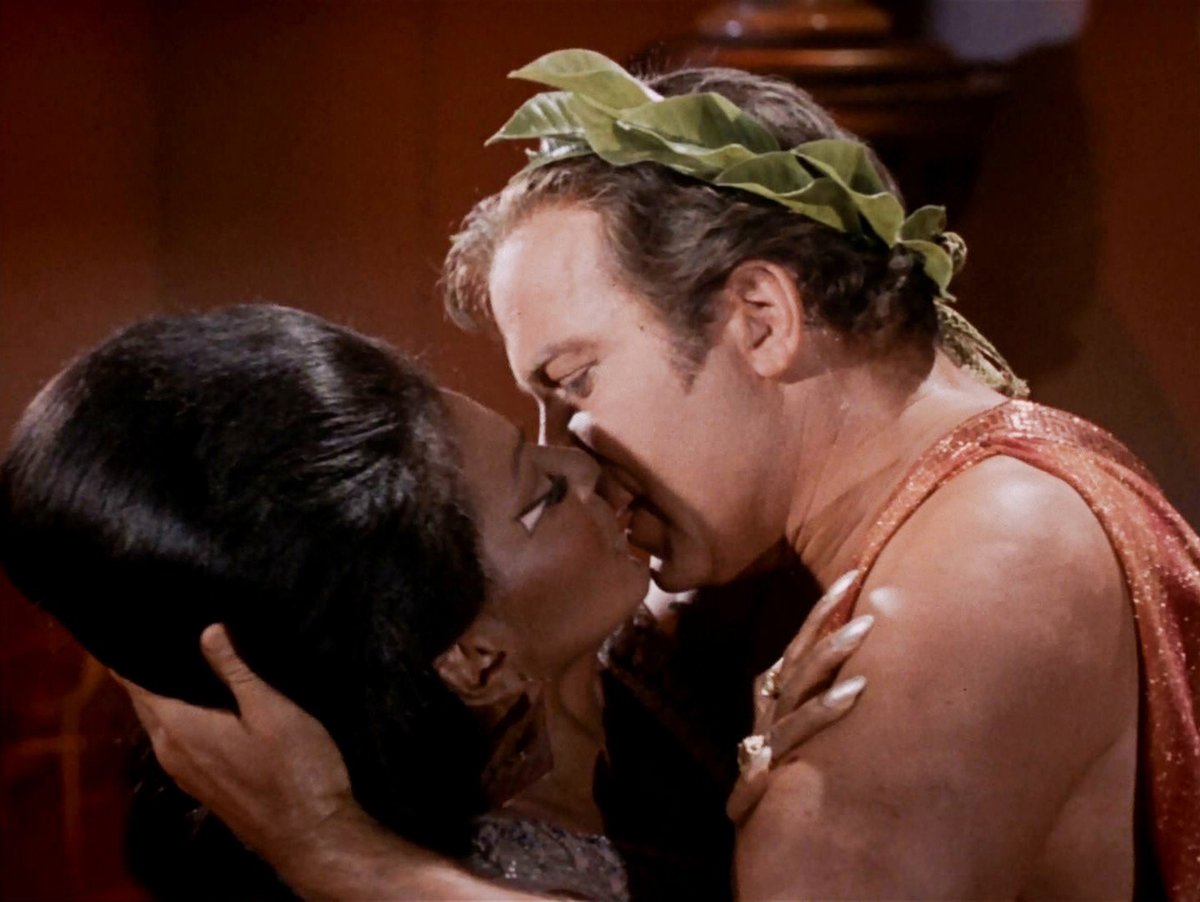 Star Trek ran on NBC for three seasons from 1966 to 1969. As much as the franchise gets talked about now, it didn't make much of a dent in the national consciousness at the time.
The show's pilot featured Spock but not William Shatner's Captain Kirk — it had Jeffrey Hunter's Christopher Pike. And the network had no idea what to make of the guy with the pointy ears.
The show took a more cerebral approach to science fiction than many of the cheesy features that cluttered movie theaters in the 40s and 50s. Creator Gene Roddenberry presented a show with an idealized future – one that supposedly moved past the prejudices and outright racism of everyday life in the 20th century.
One of the show's more obvious metaphors about race relations was in the 1969 episode "Let That Be Your Last Battlefield," when the Enterprise picks up two members of an alien race: One with black skin on the left and white on the right, and the other, vice versa. The two clash, causing much trouble for the crew. At one point, Chekov and Sulu had this exchange:
Chekov : There was persecution on Earth once. I remember reading about it in my history class.

Sulu : Yes, but it happened way back in the twentieth century. There's no such primitive thinking today.
'Star Trek' tackled racial issues head on
RELATED: 'Star Trek: TOS': George Takei Explains Lack of LGBTQ Inclusion
Perhaps the show felt it could use such an on-the-nose metaphor because it had already shown something even more daring: the interracial kiss between William Shatner and Nichelle Nichols. That kiss took place in an earlier season 3 episode in 1968 called "Plato's Stepchildren."  
In that episode, an alien race with telekinetic powers forces the Enterprise crew to perform outlandish deeds for their amusement – and this includes the kiss, which was reportedly the first interracial kiss in a scripted program. There were concerns that Southern viewers would raise hackles, but according to the BBC, the response to the kiss was positive from many corners. 
The BBC quoted Nichols as saying: "We received one of the largest batches of fan mail ever, all of it very positive, with many addressed to me from girls wondering how it felt to kiss Captain Kirk, and many to him from guys wondering the same thing about me."
At the same time, many people still noted the irony that his kiss was not made of free will, so they argued the milestone wasn't all that noble.
What's the state of 'Star Trek' today?
Star Trek has fluctuated in popularity over the years. Few people would dispute the original series became more beloved after it was canceled than it ever was during its initial run. The franchise only strengthened over the years with a total of 13 theatrical films and at least seven TV series.
For now, the Star Trek theatrical films remain dormant. Director Quentin Tarantino has talked about writing and/or directing a Star Trek movie several times over the years, but those plans have never moved beyond the idea stage.
The franchise got some new blood with the series Discovery and Picard, but even that was tempered with the notion that those weren't widely seen because they aired on the streamer CBS All Access, which hasn't gotten much attention and is being rebranded Paramount+, because Viacom owns both CBS and Paramount. 
Still, every time the Star Trek franchise has been declared dead or on life support, it always manages to spring back to life. A franchise with so many milestones is bound to live long and prosper in one form or another.