'Star Wars': How Adam Driver Mastered Kylo Ren's Lightsaber
Adam Driver played the ever-so-complex villain Kylo Ren in the Star Wars sequel trilogy. Throughout the films, Kylo Ren wielded a crossguard lightsaber, which Driver had to learn how to use to portray the Supreme Leader of the First Order. 
Here's how Driver perfected the art of fighting with a lightsaber for his role as Kylo Ren in Star Wars.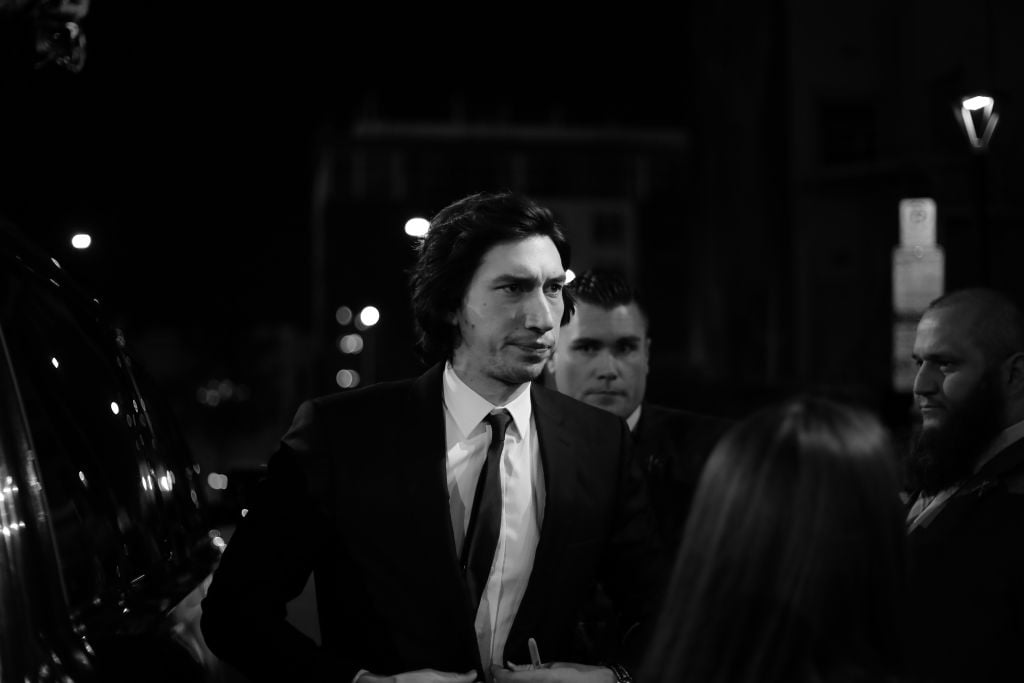 Adam Driver tapped into his Marine Corps experience
Driver's experience as a Marine helped him prepare for his role as Kylo Ren. "There's something obviously militant about [Kylo Ren] that makes sense. How he responds to things is probably physically quicker than most, because he's on edge — they're at war," Driver explained in an interview with Movies Ireland. 
While his background as a mortarman certainly helped him tap into the role of Kylo Ren, Driver said his military experience also allowed him to be a better actor overall. And he likened the relationships, camaraderie, and work ethic on a film set to that of working on any team.
"My experience from the military was more in the relationships that I formed," Driver said. "There's somebody in charge who knows what they're doing — the director — and when they know what they're doing, what you're doing feels exciting and important."
Adam Driver did his own stunts as Kylo Ren
Driver was very protective of the physicality of his character, Kylo Ren. In an IGN clip, Driver explained how he was so in love with the role that he insisted on doing all of his stunts.
Eunice Huthart, the stunt coordinator for the latest Star Wars films, recalled guiding Driver through the motions on set. "There was no ice-breaking with Adam," she said. "Even in rehearsals, Adam [was] in character. I'd go, 'Adam, you need to step out more; it's closing your strength down,' and he's like, 'No, I don't need to step out more. Kylo Ren wouldn't be like that; he wants it there.'" 
Driver attributed his connection to Kylo Ren as the key motivator in what made him want to master the physical demands of the role. After all, you can't be one of the galaxy's most feared villains without being able to expertly fight with a lightsaber. 
Driver's previous roles in dramas, such as Marriage Story and the HBO series Girls, didn't require much physicality from the actor. In addition to his connection to Kylo Ren and previous military experience, Driver said working with Huthart contributed to his success, explaining how she helped him "unlock his full potential as an action performer." 
How Adam Driver prepared to fight with a lightsaber
Arguably, getting to play with a lightsaber is one of the best parts of being in a Star Wars film. Driver certainly felt that way about getting to wield Kylo Ren's iconic red sword, complete with a plasma crossguard.
Before he could become Kylo Ren, Driver had to master the art of the lightsaber. In an interview with The Telegraph, Driver explained how the cast used lightsaber replicas to practice their scenes. 
"This is the first time that we're actually fighting with the whole lightsaber too," he said. "Before it was just the hilt with [something] like an antenna or a green stick, but this was state of the art — it actually sends off light."
Fortunately, the training Driver had from his first appearance as Kylo Ren stuck with him when it came time to shoot the remaining movies. He explained to ScreenSlam how the fighting style in Star Wars is like a vocabulary, and "because [they] started [Last Jedi] almost a month after we finished The Force Awakens, that kind of vocabulary was still in [their] bodies, so it made things easier, a little bit faster."
Driver's mastery of the iconic Star Wars weapon is evident in each of the films he stars in. While Driver's days as Kylo Ren are finished, fans can find him in the upcoming period piece, The Last Duel.