'Star Wars': Harrison Ford Thought Han Solo 'Could Best Serve the Story' By Dying — 'I Thought He Had Reached His Potential'
Han Solo is one of the most esteemed characters in the Star Wars universe. As one of the central leaders of the rebellion, he spent many years fighting the empire and restoring balance to the force. 
Played by Harrison Ford, Han Solo has proven time and again to be one of the franchise's most enduring characters. However, around the time Return of the Jedi was produced, Ford was ready for Han Solo to die, and for a very interesting reason. 
Harrison Ford felt Han Solo could 'best serve' the 'Star Wars' story by dying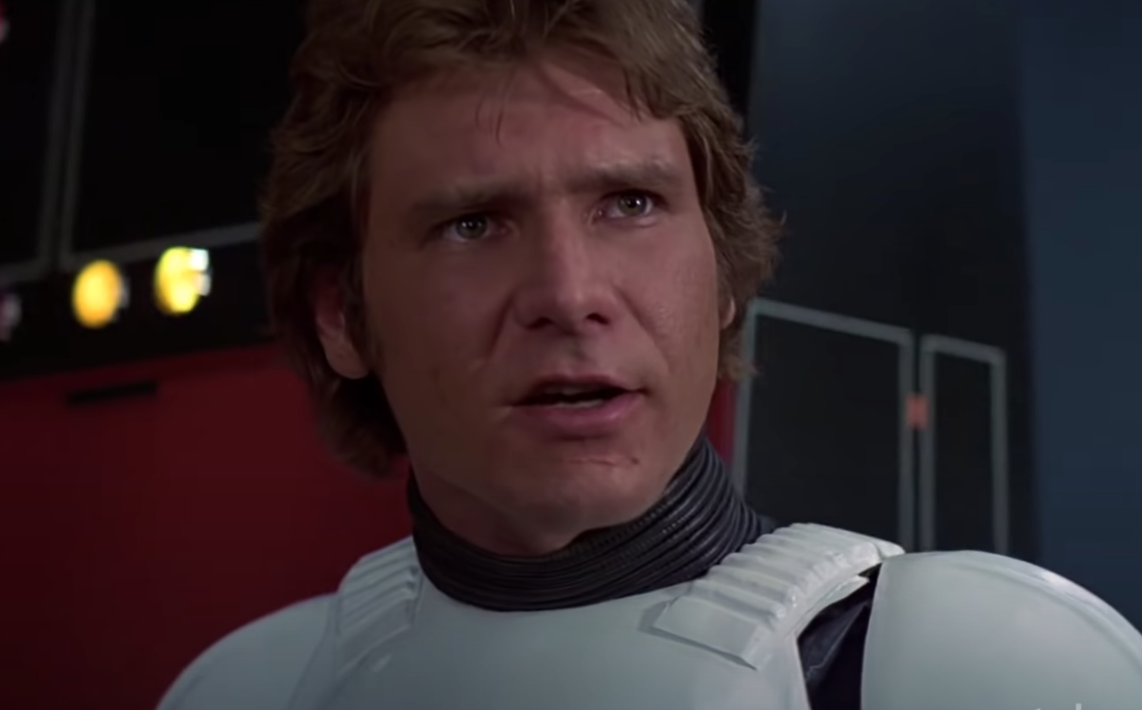 Even though Star Wars had grown into a massively successful franchise by the time Return of the Jedi was released, Ford began feeling stagnant with the character. Ford was hesitant to return for more films, as he felt he'd done everything he possibly could with the Han Solo character. 
"Star Wars was a big success," Ford said. "So I was happy to come back and play Han Solo again, and again, but that was enough. I thought that he had reached his potential, therefore could serve the story by dying."
Ford wasn't too hung up on how Han Solo would die in 2015's The Force Awakens. He was just happy to have been called back to participate in the next generation of Star Wars films.
"Manner of death was not an issue," Ford said. "I was very gratified to see that other people were enthusiastic to have me back. I was happy to be there.
Harrison Ford doesn't have a favorite 'Star Wars' movie
Despite having starred in four Star Wars films, Ford claims he doesn't have a favorite. According to Ford, his only desire has always been to develop a compelling narrative.
"I don't really have a favorite, it's just brick on a brick to build the story. It's not about the party, it's about what you're celebrating."
Ford landed the Han Solo role by being in the right place at the right time
Prior to landing his role in the Star Wars franchise, Ford was a struggling actor who was not getting consistent work. Although he'd starred in several small TV and film roles, Ford was not earning enough income to support his then-wife and kids. Because of this, he'd started working as a carpenter to help make ends meet. 
Filmmaker Francis Ford Coppola offered Ford an opportunity to do carpentry work on his office after the success of The Godfather, which proved to be a turning point for Ford. George Lucas saw him working on the office while hosting casting sessions for Star Wars, and decided to give him a shot.
"I was working on a elaborate portico entrance to Francis Ford Coppola's offices, working as a carpenter when George walked in with Richard Dreyfuss to being the first of the interviews for Star Wars. Somehow that rang a bell with George, and I became, eventually, Han Solo."
Han Solo is one of the most recognizable characters in 'Star Wars' today
Han Solo continues to be a fan favorite for Star Wars viewers new and old. Initially characterized as greedy, selfish, and lacking moral depth, Solo evolved into a compassionate, caring hero who sacrifices himself numerous times for the rebellion. His witty one-liners and offbeat sense of humor easily make him one of Star Wars' most compelling characters, and his inclusion in the next generation of films proves that.