'Star Wars': Kylo Ren Has a Really Depressing Backstory According to Adam Driver
Adam Driver plays the complicated Kylo Ren in the latest Star Wars trilogy. To embrace his role, Driver developed a backstory for the character that is more detailed than the one explained in the films. Find out the narrative Driver created for himself to channel the evil Kylo Ren.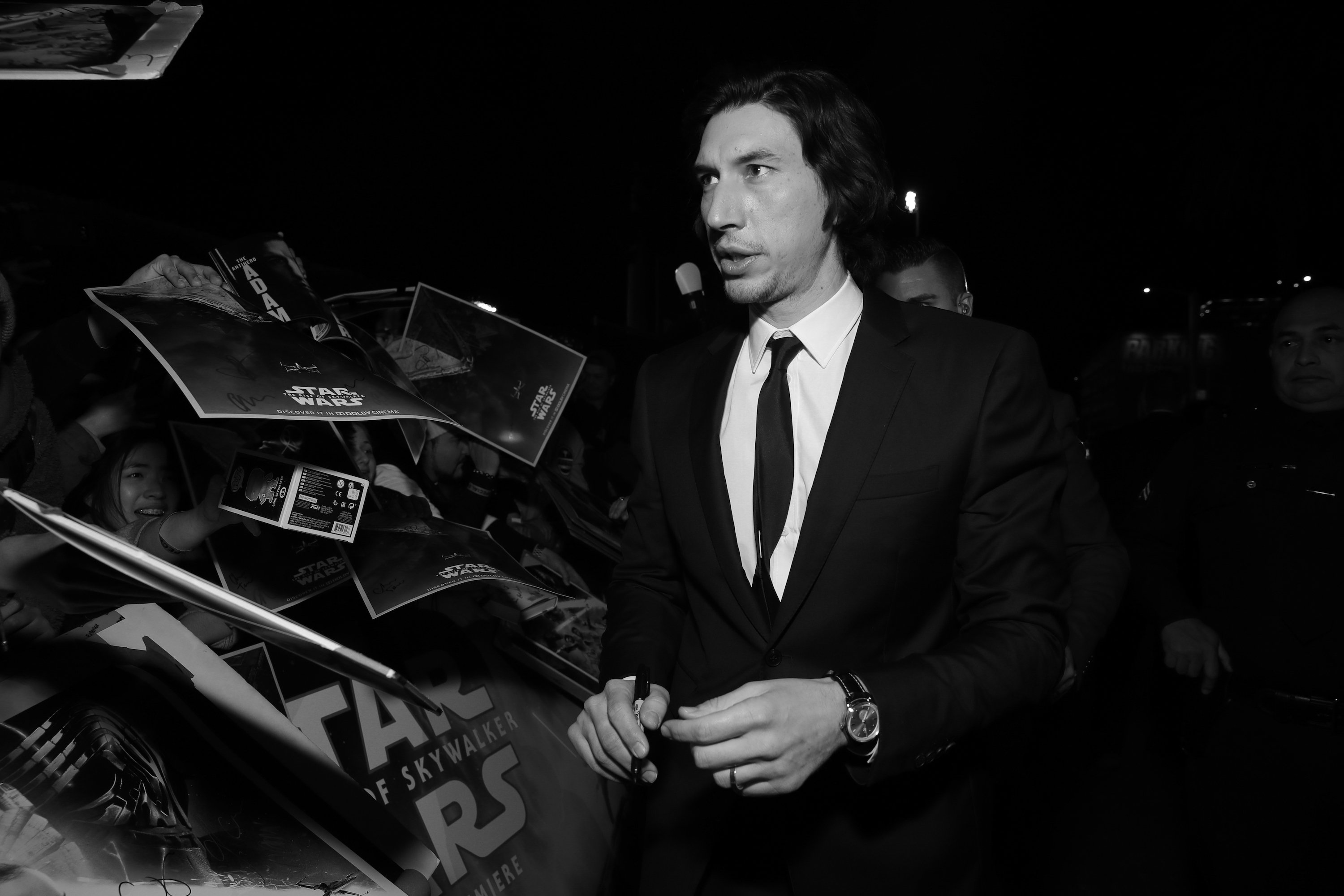 Kylo Ren is Princess Leia and Han Solo's son
Star Wars fans learned of Kylo Ren's heritage in The Force Awakens. Before transforming into Kylo Ren, Ben Solo was born to Han Solo (Harrison Ford) and Leia Organa (Carrie Fisher). As a child, Ben was neglected because his parents were dealing with more trivial things, like manning the New Republic's Senate. Ben ultimately got put on the wrong path as a vulnerable child, thanks to his parent's negligence. 
Despite his best efforts, Luke Skywalker couldn't save Ben
Snoke was one of the first people to see the potential Ben Solo possessed. Thanks to Han and Leia's attention being elsewhere, Snoke was able to take Ben under his wing without anyone batting an eye. Eventually, Leia and Han recognized what was going on — that's when they sent Ben to train with Luke Skywalker (Mark Hamill) so that he can master his use of the Force.
Despite the training he received from Luke and the rest of the new Jedi Order, Ben turned to the Dark Side and embraced it. As Leia points out in The Force Awakens, "I just never should have sent him away. That's when I lost him."
Adam Driver thinks Han Solo and Princess Leia were bad parents 
In the movies, Kylo Ren's backstory is rooted in him being shipped off to train with his Uncle Luke and the angst he battled with internally. On one hand, Ben felt inclined to follow in Darth Vader's (James Earl Jones) footsteps and become part of his grandfather's legacy. But, there was also good in Ben pushing him to consider joining the rebellion and stopping evil once and for all.
Aside from feeling like he was passed off to his uncle, Ben feels a sense of abandonment from his parents. As told by Lev Grossman, Driver imagined Kylo Ren's upbringing as a not-so-great one. "[Adam Driver] had a lot of interesting thoughts about Ben Solo's childhood," Grossman explained to Inverse (via IndieWire). "He said that both Han Solo and Leia were way too self-absorbed and into this idea of themselves as heroes to really be attentive parents in the way a young and tender Kylo Ren really needed. There wasn't really that much of it in the movie so I just think we have to assume his childhood sucked."
For Driver, Ben's parents' inattentiveness and their personal view of themselves as heroes are the prime motivators in creating a villain so many Star Wars fans have come to love.