'Star Wars' Mark Hamill and John Boyega Exchange Jedi Resistance Inspiration on Instagram Over Yoda Photo
'Star Wars' Mark Hamill and John Boyega took to Instagram together in a back-and-forth dialogue to inspire hope and change.
In recent days, the Star Wars community witnessed Mark Hamill — who portrays Luke Skywalker — support John Boyega (Finn) in a Black Lives Matter protest in London. Now, the two have taken their resistance to the next level by exchanging battle cries on Instagram. Fans cannot get enough of the dialogue, which implies more than you might think.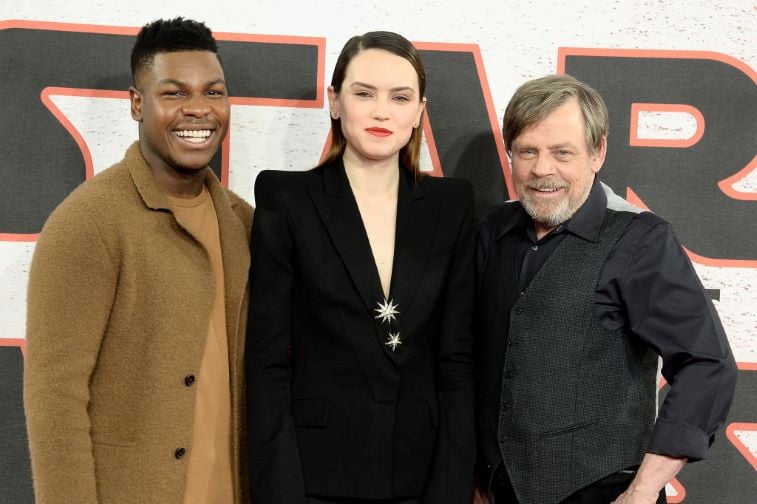 How did Mark Hamill show his support of John Boyega's real-life resistance protest?
On June 3, 2020, Boyega joined the Black Lives Matter protests in London's Hyde Park. He spoke out about racial injustice following the death of George Floyd, and fans caught it on camera. 
"Black lives have always mattered," Boyega protested. "We have always been important, we have always meant something. We have always succeeded regardless. And now is the time. I ain't waiting."
Hamill retweeted a group of photos that show Boyega protesting and marching through London with a heartfelt caption. 
"Never been more proud of you, John. Love, Dad," Hamill wrote. 
Mark Hamill and John Boyega's comments were quotes from 'Star Wars' movies
Only a few short days later, Hamill and Boyega are again banding together on social media. This time, Boyega shared a Yoda statue with the words, "Matter Black Lives do," spray-painted beneath it. Hamill did not hesitate to repost the photo with a different caption.  
"Luminous beings are we… ALL," Hamill wrote in the caption. 
Hamill's quote is one that Yoda spoke to Luke Skywalker in Star Wars: The Empire Strikes Back. He's implying that we all have the Force within us to fight racial inequality. 
"We are the spark, that'll light the fire…." Boyega responded.
Boyega's quote is from Poe Dameron (Oscar Isaac) in Star Wars: The Last Jedi. Many fans believe this line is one of the most memorable from the movie because it sums up the Skywalker Saga's core belief. Although it might take several generations to bring down the enemy, the first steps still matter. What they do will have a ripple effect of hope and inspiration. 
"Meet anguish with action!" Hamill replied.
Was Hamill's last response from a 'Star Wars' movie? 
That last line is not from any particular Star Wars movie. Instead, it comes from the Obama Foundation, set up by President Barack Obama. 
"We work to help leaders change their world—and the world needs changing," reads the latest Obama Foundation email. "Over 1,000 people are killed by police every year in America, and Black people are three times more likely to be killed than white people. We can take steps and make reforms to combat police violence and systemic racism within law enforcement."
Hamil and Boyega might be comparing what is going on in the world today to the galaxy, far, far away. However, they are doing it to encourage change, not to make a joke. Obama's commencement speech to the class of 2020 included an inspiring message about hope. Although Star Wars might only be a movie series, the message is the same.