'Star Wars' Mark Hamill Reacts to John Boyega Marching Through London in the Most Jedi Way
'Star Wars' actor Mark Hamill has something profound to say about John Boyega's march through London for the Black Lives Matter movement.
The Star Wars Skywalker Saga is over, but that won't stop Luke — Mark Hamill — from supporting the resistance. Hamill reacted in the most Jedi way to seeing John Boyega — who portrays Finn — marching through London for the Black Lives Matter movement.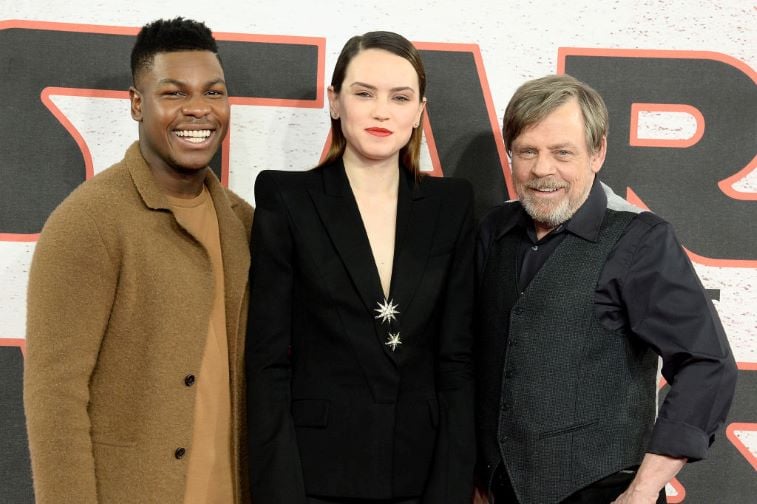 'Star Wars' John Boyega was in tears speaking at the Black Lives Matter protest in London
On June 3, 2020, Boyega joined the Black Lives Matter protests in London's Hyde Park to speak out about racial injustice following the death of George Floyd. 
"Black lives have always mattered," Boyega tearfully yelled to the protestors. "We have always been important, we have always meant something. We have always succeeded regardless. And now is the time. I ain't waiting."
Boyega took to social media to speak out after the video of Floyd's death went viral. The British actor spoke to fans, explaining that it's not enough not to be racist. He called for everyone to take action against the injustices that happen to people of color every day. 
"I need you to understand how painful it is to be reminded every day that your race means nothing," the actor continued. "And that isn't the case anymore. That is never the case anymore. We are a physical representation of our support for George Floyd."
'Star Wars' Mark Hamill reacts to John Boyega's speech in the most Jedi way
Hamill retweeted a group of photos of Boyega protesting and marching through London. 
"Never been more proud of you, John. Love, Dad," Hamill captioned the photo.
Fans retweeted the photos over 64,000 times and left many comments in support of the actors. While Luke was not Finn's father in the Star Wars movies, Hamill was more of an onset father-figure to the sequel trilogy actors.
Fans love the 'Star Wars' interaction between Hamill and Boyega
Among the comments to Hamill's post include many gifs of the two characters and support of their message. Others call Boyega a Jedi for sure, with references to the Force being strong with him. 
"Star Wars is literally about a Rebellion fighting against a government Empire, who uses violence and the murder of the people of the galaxy to rule," one fan wrote. "Yet people criticize John for peacefully speaking out against police brutality."
Some fans compare the situation in the United States to Star Wars. They believe that President Trump has similarities to that of the Empire in the galaxy far, far away. 
"I'm so proud of @JohnBoyega," replied one fan. "This man is changing the world with his words. I love him."