'Star Wars': Mark Hamill Reveals 1 Ad-Lib From Harrison Ford That Fans Never Knew Was Unscripted
There's another 'Star Wars' ad-lib that fans never knew. Mark Hamill reveals what Harrison Ford added to 'A New Hope.'
Star Wars actor Mark Hamill (Luke Skywalker) sat down with Joe and Anthony Russo on June 26, 2020, to talk about Star Wars. On the Russo Bros. Pizza Film School, Hamill revealed another ad-lib from Harrison Ford (Han Solo) that fans may not have known about until now.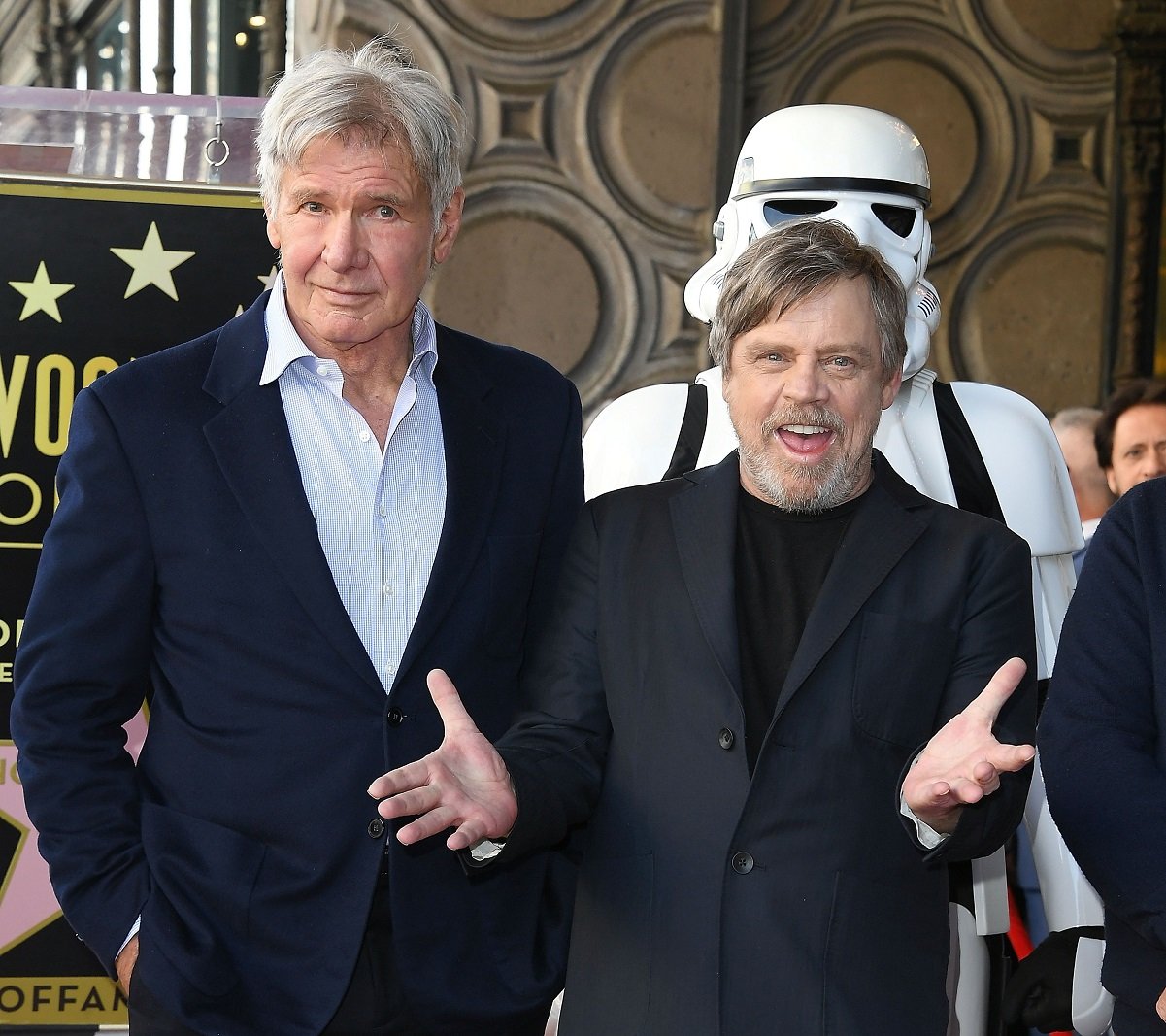 Harrison Ford's most famous 'Star Wars' ad-lib was 'I know'
Many avid Star Wars fans already are aware that Ford's famous line to Princess Leia (Carrie Fisher), "I know," was not in the original script. 
"I love you," Leia said to Han before he was frozen in carbonite at the end of The Empire Strikes Back.
Originally, Han was written to say, "Just remember that, 'cause I'll be back."
However, Ford did not feel that the line fit his character. So he talked it over with director Irvin Kershner, and they changed the line. Because it wasn't in the original script, the ad-lib became one of Ford's most famous additions to the movie.
Mark Hamill revealed another Harrison Ford ad-lib
When talking to the Russo brothers, Hamill said he thought Ford was the best at adding lines to the films. 
"I remember Harrison saying to me — he came up with such great ad-libs. 'I got him; I got him,' I said. He goes, 'Great kid.' Then he added, 'Don't get cocky.' I thought, are you kidding me?" Hamill said. "I just loved it. I admired him so much with that." 
The back-and-forth banter occurs when Luke and Han are trying to escape from the Death Star in A New Hope. The added line happens so seamlessly that no one knew it wasn't in the original script.
Harrison Ford felt it was better to act rather than ask when it came to ad-libbing
"[Ford] said, 'Well, you should learn Mark. Don't go ask George, 'Hey George, can I say this?' Just do it on camera!' That was his technique," Hamill continued.
The Indiana Jones star was as cocky in real life as he was on camera as Han. He added lines wherever he saw fit and told Hamill he should do the same. 
'Whatever you ad-lib, eventually they take it down like a stenographer and incorporate it into the published script," Hamill added. "So you would never know that we added anything because it's all written down."
Luckily, we get to hear about the ad-libs years later from stars like Hamill, who are as enthusiastic about the movies as the fans are.