'Star Wars' Star Carrie Fisher Had Mixed Feelings on Her Affair With Harrison Ford: 'I Wouldn't Want to Live Through That Again, Ever'
The 1977 blockbuster Star Wars made superstars of Mark Hamill, Carrie Fisher, and Harrison Ford. Only 19 years old at the time, Fisher was instantly enamored with Ford, who was 15 years her senior. Despite the Indiana Jones star being a married father of two, the pair embarked on a steamy affair.
Fisher gave details of her relationship with Ford in her memoir, which was released the month before her death in December 2016. While she was clearly captivated by the older actor, Fisher noted she wouldn't want a repeat of the situation.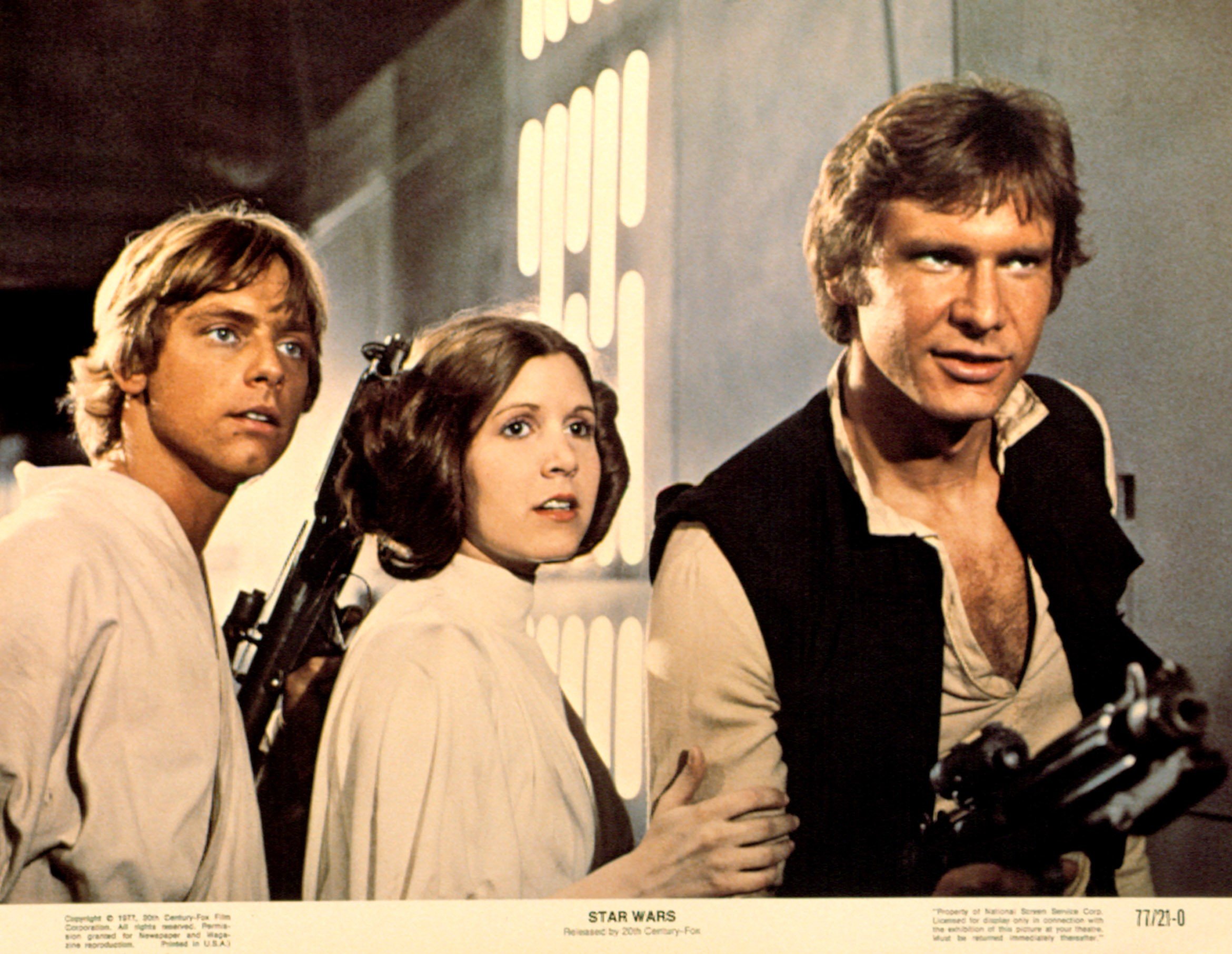 Carrie Fisher fell hard for Harrison Ford
In her book The Princess Diarist, Fisher recalled being struck by Ford's presence when she set eyes on the actor for the first time.
"One of the things I knew when I met Harrison Ford was that nothing of a romantic nature would happen," the Star Wars star wrote. "He was also far too old for me – almost 15 years older! On top of that, there was something intimidating about him. … Some sort of epic energy hung around him, and he was so far out of my league."
Despite her insecurities, Fisher caught Ford's eye and soon the two were entangled in an affair even though Ford was married. The Postcards From the Edge author considered herself lucky to be with the handsome star.
RELATED: In 'The Last Jedi,' Fans Got the Payoff They'd Been Waiting for 'for 37 Years'
"A tiny part of me felt like I'd won the man lottery and here I was both counting and spending the money," she wrote. "I looked over at Harrison. He was… God, he was just so handsome. No, more than that. He looked like he could lead the charge into battle, take the hill, win the duel, be leader of the gluten-free world, all without breaking a sweat." 
Harrison Ford wasn't as invested as Carrie Fisher
Fisher described the relationship as less than reciprocal, with her having more serious feelings for Ford than he did for her.  
"I was shocked by the fact that he fancied me," she remarked. "I was a very insecure girl and had only had one boyfriend. … We stayed together for the remainder of the film. It was never going to be more than that."
The When Harry Met Sally star was consumed by the affair during the George Lucas film, though Harrison's indifferent attitude took a toll on her self-esteem.
"Certainly the situation didn't make me feel that much better about myself, Fisher said of their three-month liaison, according to The Guardian. "I wouldn't want to live through that again, ever. It's just so obsessive, and self-obsessed, and confused. … I was very infatuated with him. Look at him. Look at those pictures of him. Can you imagine what I thought, given what I thought of myself?"
Carrie Fisher notified 'Indiana Jones' star of her tell-all
Almost 40 years after their affair, Fisher reflected on what she felt was a one-sided relationship with Ford.
"I don't think, until now, he knew the intensity of my feelings," she said in 2016. "Even in the diary I don't like to admit it, because it's a failure. No, it's not a failure – it's unreciprocated love. Which I guess is a type of failure."
Before having her book published, Fisher gave Ford a heads-up on what she put in writing and gave him the opportunity to voice any objections.
RELATED: Carrie Fisher's Family Lashes Out Against Controversial Book
"I told him I was writing the book, and I would give it to him, and if he didn't like anything in it I would take it out," Fisher revealed. "He seemed surprised at that. Then I called him and said I'm going to send it to you, and I did and I never heard from him."