'Star Wars: The Rise of Skywalker' Editor Gives Another Excuse for Kelly Marie Tran's Lack of Screen Time
When it comes to Star Wars: The Rise of Skywalker, a large number of fans are unhappy about Kelly Marie Tran's lessened role. Fans have trended hashtags in support of Tran and her character Rose Tico since the movie premiered in December 2019. Maryann Brandon, an editor of Star Wars: The Rise of Skywalker, has now offered another excuse about Rose Tico's smaller role.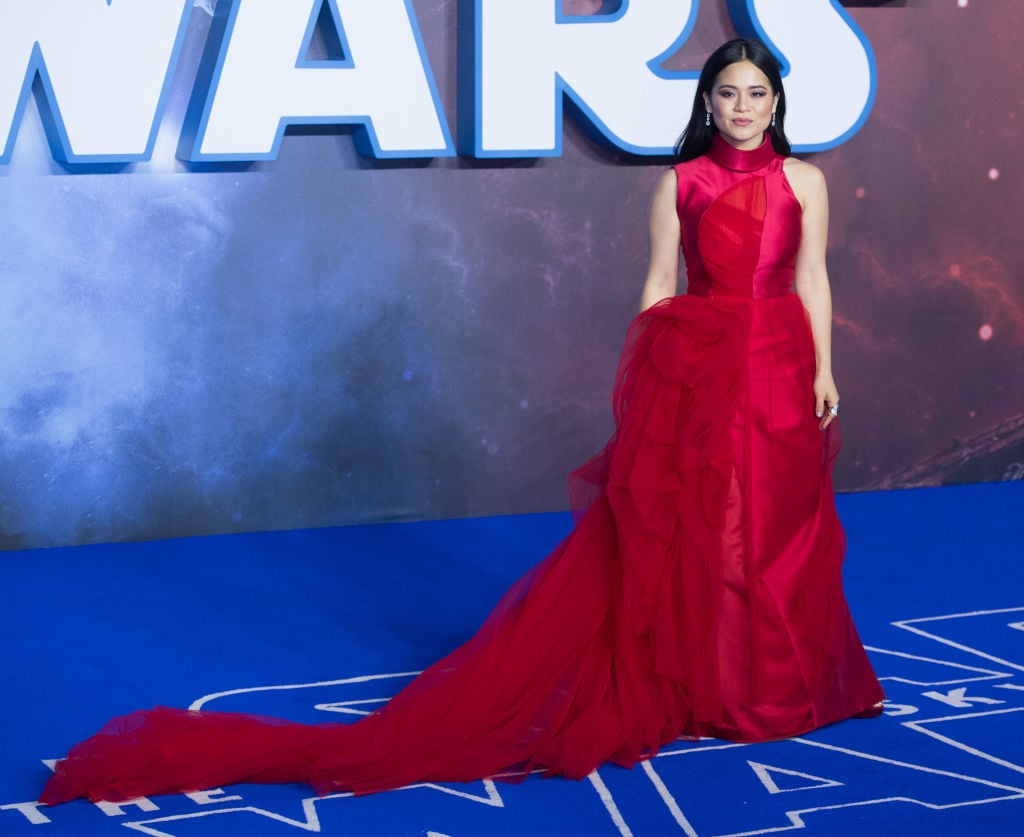 Kelly Marie Tran was a major character in 'Star Wars: The Last Jedi'
In Star Wars: The Last Jedi, Tran had around 11 minutes of screen time as Rose. She shared a story line with John Boyega's character Finn, one of the franchise's main characters.
Slate writer Violet Kim brought a stopwatch to her viewing of Star Wars: The Rise of Skywalker. She found that Rose was only onscreen for 76 seconds. With just over a minute of screen time, Tran's role was drastically reduced.
After Star Wars: The Last Jedi, Tran was the victim of racist and sexist online harassment from fans. Rose's small role in the following movie then made it seem like creatives were trying to appease those toxic fans.
"I really hate to hate on Star Wars but diminishing Rose Tico's screen presence after Kelly Marie Tran was relentlessly harassed online by people who disliked her character just makes it seem like the bullies won… #SWRepMatters #RoseTicoDeservedBetter," wrote a Twitter user.
Maryann Brandon's reason for Rose Tico's small role
According to Brandon, Tran had such a small role in Star Wars: The Rise of Skywalker because Rose is not part of the main trio. Apparently director J.J. Abrams wanted to focus on Finn, Rey, and Poe's friendship the most, despite the fact the three had never functioned as a trio in the franchise before. The movie also focused heavily on Rey's relationship with Kylo Ren.
"There were a lot of characters in the film, and because J.J. wanted to make this film about a journey of the three main friends and then Rey's conflict with Kylo Ren, it became very hard to service a lot more characters," Brandon said.
Even though Tran only had 76 seconds of screen time, Brandon tried to assure fans that creatives treated Rose like an important character.
"She's an important character in the Resistance, and we tried very hard to show that in the film, and I think we did, but the film just really couldn't handle much more character stories," Brandon said. "We all love Rose. And we want to make her character sing."
The editor also said that including a few shots of Rose at the end of the movie gave the character enough screen time to satisfy fans.
Brandon continued, "And that's why she's in the end battle. And I cut to her a few times in the end battle because I know she's a fan favorite, and I wanted to show her being involved."
Chris Terrio offered a different excuse about Kelly Marie Tran
Back in December 2019, Terrio, the movie's co-writer, gave another unsatisfying excuse about Tran's lack of screen time. According to him, Tran's role was reduced because a majority of her scenes involved the late Carrie Fisher.
"One of the reasons that Rose has a few less scenes than we would like her to have has to do with the difficulty of using Carrie Fisher's footage in the way we wanted to," Terrio told Awards Daily.
He continued, "We wanted Rose to be the anchor at the rebel base who was with Leia. We thought we couldn't leave Leia at the base without any of the principals who we love, so Leia and Rose were working together … As the process evolved, a few scenes we'd written with Rose and Leia turned out to not meet the standard of photorealism that we'd hoped for. Those scenes, unfortunately, fell out of the film."
When it comes to Tran's role in Star Wars: The Rise of Skywalker, there is no clear answer as to why she barely appeared in the movie. Based on Terrio and Brandon's reasons, it seems those behind the movie do not have any satisfying answers either.